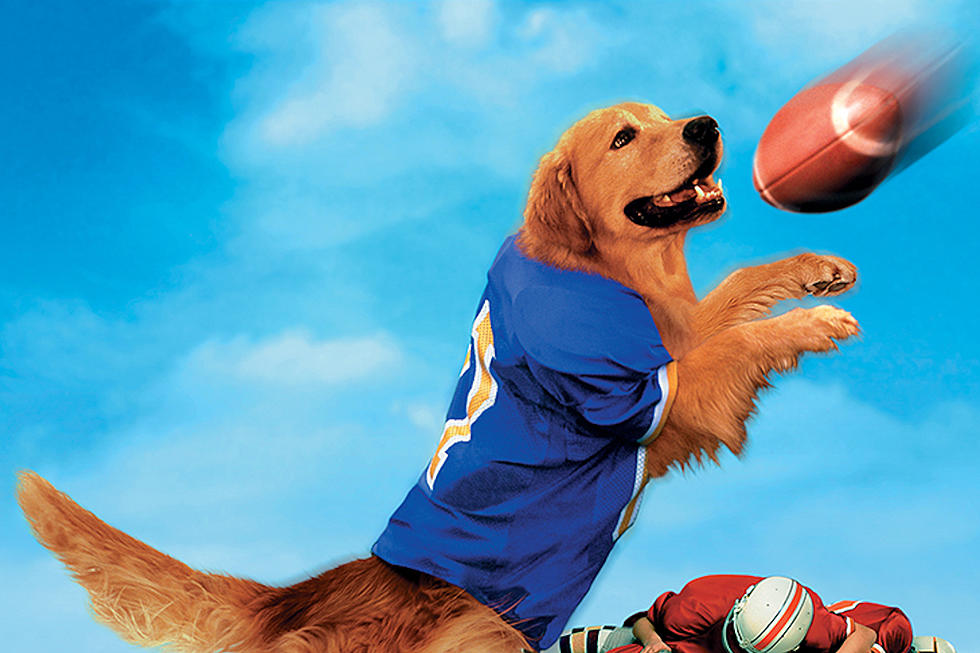 All Five 'Air Bud' Movies Are Finally Coming to Streaming
Disney
It's been pretty ruff out there for Air Bud fans. Options for watching the signature late '90s / early 2000s kid series were as empty as a food bowl at the end of a long day. Oh sure, you could watch one of the five Air Buddies films (including the obvious highlight of the franchise, Spooky Buddies) or you could watch one of the three Santa Paws films (even the dregs of the lot, Santa Paws: The Legend For Curly's Gold) but if you wanted to go with the pristine classic O.G. Air Bud or its four similarly themed films about a preternaturally talented dog athlete you were out of luck.
UNTIL NOW.
At last, the full Air Buddy quintet will begin streaming on Disney+.  Every Air Bud movie will begin streaming there in a matter of days.
READ MORE: The Best Disney+ Movies You've Never Seen
The five films available (as if you didn't know the titles, years, and plot descriptions of every Air Bud film already) are...
Air Bud (1997)
While struggling to make the basketball team, a shy young student meets a stray golden retriever named Buddy with amazing basketball skills. Together they help take their school's team to the state finals in this hilarious and touching story.
Air Bud: Golden Receiver (1998)
This time out, Buddy, the hoop-shooting, hotshot canine, tackles a new sport-football. When his teenage owner reluctantly becomes the school's new quarterback, Buddy catches the spirit and joins the team. Soon, the two find themselves leading the Timberwolves to the state championship. But victory hopes are sidelined when two sinister Russian circus owners take a bite out of everyone's plans and dognap Buddy for their star attraction. Give three cheers for Disney's hilarious hit that goes the whole nine yards for outrageous fun and adventure.
Air Bud: World Pup (2000)
Air Bud, the world's most talented pooch is back in a heartwarming and hilarious sports adventure. When Buddy meets Molly and they have puppies, the hotshot hound is in for an all-new challenge, but the fun is just beginning. Catch all the action as Buddy joins his teenage owner Josh on the field in pursuit of the state soccer championship.
Air Bud: Seventh Inning Fetch (2002)
Air Bud knocks one out of the park when he takes up baseball in this all-new fun and heartwarming Disney adventure! This time, Buddy joins in and shows that he's a natural baseball player with major-league talent! In the midst of the season, however, a terrible discovery is made: Buddy's now-grown puppies have mysteriously begun to disappear from their new homes! It's up to Buddy to stop the dog nappings and find his pups before it's too late!
Air Bud: Spikes Back (2003)
Disney serves up another adventure starring everyone's favorite sports-playing golden retriever, Buddy! This time, he masters the coolest sport under the sun . . . beach volleyball! But there's plenty of action off the court as well -- a rash of mysterious crimes has been puzzling everyone ... and the paw prints seem to point to Buddy! So it's up to Buddy to lead the authorities to the real culprit!
The Air Bud film series will be available on Disney+ starting on October 1. Bad boys need not concern themselves. (Also: Gritty modern Air Bud reboot when?)
Sign up for Disney+ here.
Huge Hits That Initially Flopped in Theaters
These movies prove that sometimes word-of-mouth hype or a couple decades of reclamation can turn a flop into a runaway hit.