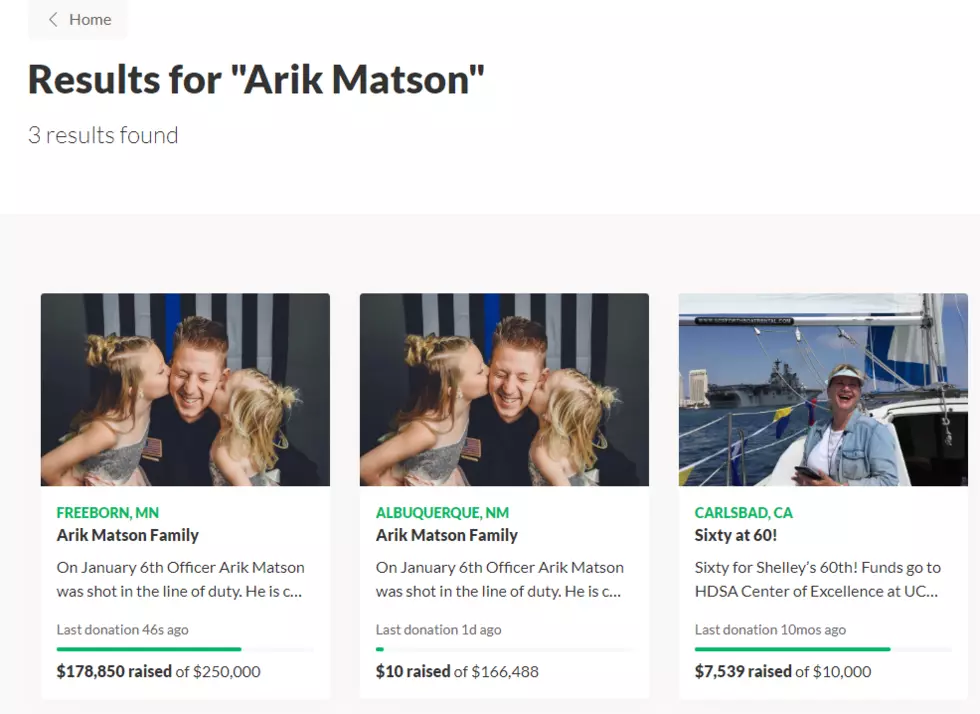 Beware! A Fake Arik Matson GoFundMe Page Has Launched!
Image Credit: GoFundMe.com
Southern Minnesota and law enforcement have rallied around the family of Arik Matson, the Waseca police officer shot in the line of duty on January 6th, and now it appears that someone is trying to take advantage of that generosity and good faith online.
In what appears to be a fake GoFundMe someone has spoofed the Ark Matson page and information, the telltale sign of the fake is it lists the campaign as being out of Albuquerque, New Mexico rather than Freeborn, Minnesota. Someone has even contributed money to this fake campaign.
Don't be duped and donate to a fake campaign, check the location of the campaign, and organizer of the campaign.
The false GoFundMe was started two days ago, by someone with the name Cadeau Sebihunga.
The real GoFundMe campaign can be found here. So far over $170,000 has been raised by people all over to go towards the medical bills and everyday needs that the family may experience during this time.
In another show of support, the Waseca boys and girls hockey teams are changing their jerseys for the remainder of the season to honor Officer Matson.

Enter your number to get our free mobile app