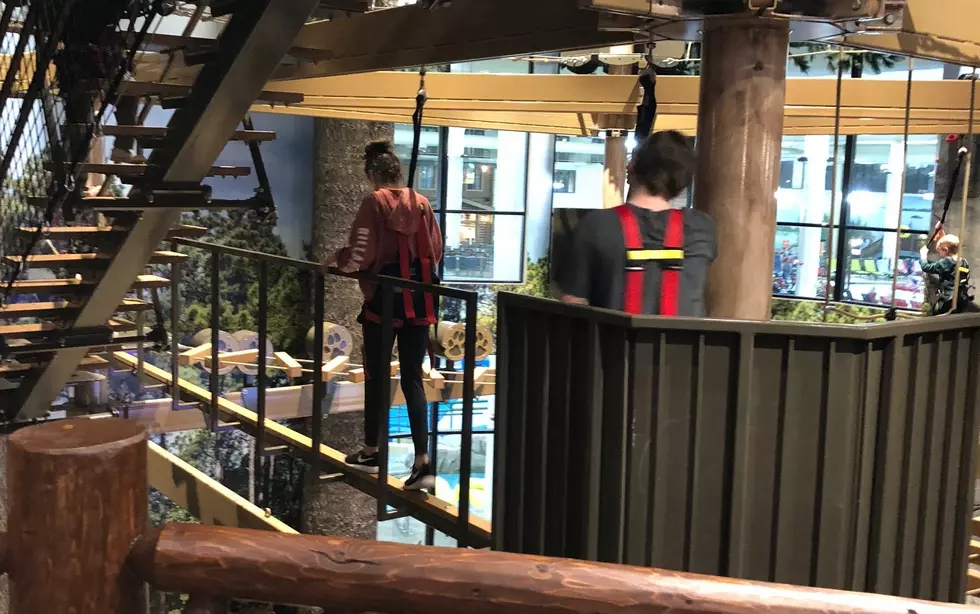 Danielle Teal's Trip To Great Wolf Lodge
Danielle Teal/TSM
I surprised the kids New Year's eve with a trip to The Great Wolf Lodge in Bloomington, Minnesota. I liked that it was only a little over an hour away. With the temps dipping below zero, this could not have been a better excuse to escape indoors and gain the full experience of an epic water park!
We arrived expecting it would be busy on a holiday weekend and it was. Yes, it was busy. Yes, there were lines. Yes, it was expensive. With that said, we had an absolutely awesome time!
The Great Wolf Lodge was recently remodeled and the interior really showcases that. Our room had a queen bed with bunk beds. It was super cute and the kids really thought it was the coolest part of the hotel room. It's easy to spend money at Great Wolf Lodge - they really capitalize on the "one stop shop" concept. The entertainment consists of MagiQuest, an interactive role playing wand game that takes you all over the hotel exploring treasure troves and hidden gems. The wands are expensive so expect to pay close to $50+ for the entire experience. There's also a ropes course, climbing wall, gem stone mining, bowling alley, kids spa (not to be confused with a salon), arcade, creation station where you build a stuffed animal and of course, the WATER PARK! Access to the Water Park is only available to patrons staying at the hotel and not available to the public. They don't have day passes available. All the other stuff people can do and there are passes available for those.
Our favorite spot was the water park. It had a lazy river the went around the water park, through the wave pool and under a cave (really cool!). There's an area where you can shoot some hoops in the pool, a kiddie pool section for the little ones and plenty of places for parents to lounge and enjoy watching their kids. Life jackets are available for use. I recommend getting to the water park early if you want to snag a lounge chair in a good spot.
Food and beverages are available in their restaurant and bar. There's also a Dunken Donut (be prepared for a line) and some pizza near the ropes course.
Below is an overview and tour of The Great Wolf Lodge Dunken and Samm did.