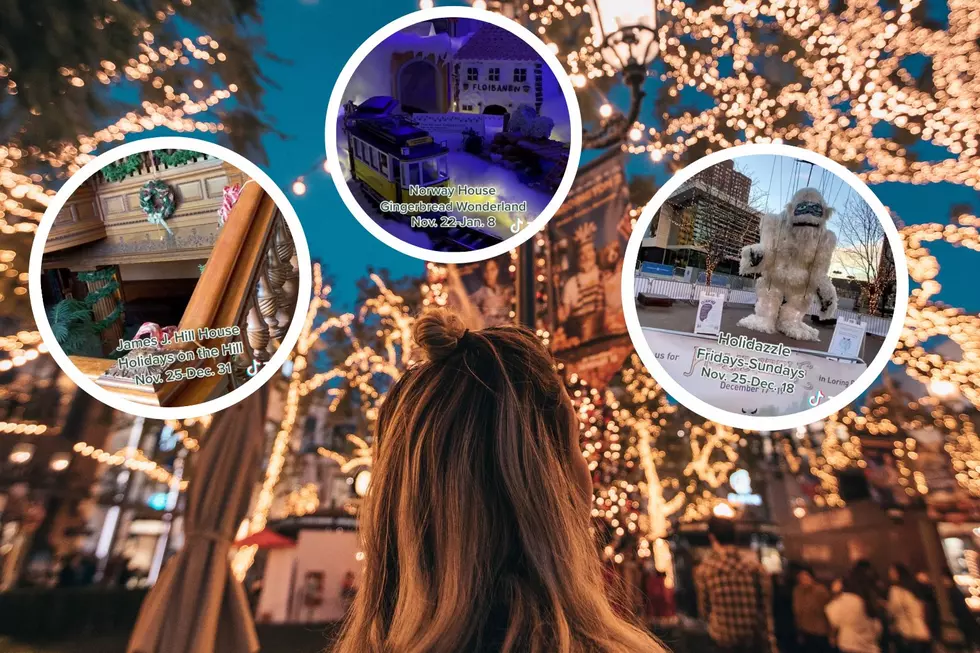 Every Winter Event in Central Minnesota this Holiday Season
Photos from @kristeninmn on TikTok and Roberto Nickson on Unsplash
It may be cold outside, but there are still fun and enjoyable things to do! Plus, what if you want to try some new activity but don't know where to start? I got the whole list
The Holidazle festivities are almost done, but not quite yet. Until December 18th, you are free to visit Holidazle on Fridays, Saturdays, and Sundays with many things to do. This includes local foods, beverages, and shopping from area small businesses, interactive art installations, kids activities, fire pits, photo ops, and more.
It's not here yet, but get ready! Starting January 5th, this 10-day event is an ode to Minnesota winters, highlighting local artists, and cultural traditions, and bringing in conversations about climate change. It will be open until February 5th.
Now until December 31st, you can see Guthrie Theater's 48th annual production which will repeat last season's adaptation by Lavina Jadhwani. Noted by Guthrie's website, in 2021, the Guthrie invested in a new physical production of the family favorite, including new scenic, costume, prop, lighting, and sound designs. So there will be new elements added to this family classic.
This year, the Ice Castles will be in New Brighton. While you will be in awe of the beautifully crafted Ice Castles there is also an ice bar to buy drinks from. The Ice Castle is open every day except Tuesdays. In addition, Dates and hours are weather dependent and I would recommend going on a weekday to save money!
As you already know St Paul's Glow light show has a new location this year at CHS Field. This festival is a fun way to get outside this winter and enjoy the holiday season in Minnesota with OVER ONE MILLION lights. Tickets are $20.75 for Adult General Admission, $12.75 for kids ages 4 - 12.  Kids who are 3 and under are free.
Sever's Fall Festival might be long gone, but don't worry, they have their own light show to see during the holiday season. Their light display includes a "2,500,000+ holiday light display" synced to great Christmas tunes, plus food and drinks vendors. This event runs Nov. 24 - Jan. 1.
Norway House's annual Gingerbread Wonderland display is a collection of models of Twin Cities houses, structures, and buildings, and is open for the public to view during the holiday season until January 8th. General Admission is $10, $5 for Members, and free for kids 12 and under.
For one magical, amazing night (February 5th) head to Lake of the Isles and walk, snowshoe, or ski the course. Minneapolis St. Paul Magazine shares that you can "Grab a hot chocolate while taking in the night sights, and visit food trucks along the lake for a pre or post-snack."
Now through January 8th, the American Swedish Institute kicks off its 72nd annual holiday celebration. Explore an immersive all-ages holiday installation within the historic Turnblad Mansion, festive holiday events, and educational classes and workshops.
The Minnesota Landscape Arboretum is home to not only beautiful gardens but you can check out their winter lights and holiday fairs from now until Christmas.
As you have probably heard the popular Ice Maze has moved into the highly anticipated Winter SKOLstice festival! There is also pond hockey, ice skating, and curling at the Vikings Lakes.
Ice Skating and Sledding
Minneapolis St, Paul Magazine also shares that "Minneapolis and St. Paul parks sites offer a list of local ice rinks and sledding hotspots around the cities."
Also, now until December 31st, you can experience Christmas in 1910 in the James J. Hill House. Admission includes self-guided access to holiday-themed exhibits and a 60-minute guided tour highlighting holiday stories and memories from both the Hill family and their staff as noted by visitstpaul.com. Admission is $18 and free for Kids 4 and under.
Benefitting Special Olympics Minnesota, many businesses in Minnesota have decorated trees on the North side of the MOA.
Bravenewworkshop.org shares "The Twin Cities' funniest holiday tradition returns for the first time since 2019 with The Best Christmas Show in Three Years, a hilarious collection of sketches and songs that promise to fit three Christmases into one stocking." (Nov. 11 - Jan. 28)
With a variety of holiday-themed shows, spend your evening with holiday music and performances by local drag artists, a Queer Circus, and a night of jazz holiday music featuring The Champagne Drops.
Again, while this one is not here yet, get excited and mark your calendars! This year's Winter Carnival festivities will take place between downtown Saint Paul near Rice Park and the Landmark Center, as well as at the Minnesota State Fairgrounds. Jan. 26 - Feb. 5.
Minneapolis St. Paul Magazine shares that "for little ones looking to get involved in the holiday spirit, the North Pole Express offers a festive ride on an authentic steam engine. Complete a visit from Santa, and climb aboard for a memorable holiday night." While the first weekend festivities already happened you are still able to attend Dec 8-11th.
Another Holiday Train event coming to Minnesota is The Canadian Pacific Train event. The train will be making multiple stops in Minnesota including through Union Depot on December 12. The festive express will reveal a stage and play a concert, before getting on its way. Proceeds from VIP tickets will go to local food shelves.
On December 10th, this event will host over 30 local bakeries and food vendors. Mspmag.com notes to be sure to go early because the first 200 attendees will walk away with a goodie bag.
Hope this list helps share some new events for you to try! Also, let me know on Facebook if I missed any. Some information is credited to the article from mspmag.com.
You Can Stargaze in This Cute and Cozy Airbnb on Lake Superior!
I was recently recommended this Airbnb, and now I am dying to go, so I thought I'd share it as well. The 16'x20' cabin sits between the forest and Lake Superior. It also shares property and driveway with Agua Norte Loft which is an occasional vacation rental about 4 miles from Grand Marais, but the cabin contains a private unobstructed view of Lake Superior, so you will never really know there is a loft.
Listed in the description of the website this wonderful cozy cabin "is filled with windows to capture the amazing Lake Superior vistas plus a big skylight above the bed to stargaze and watch the Northern Lights. Grab your coffee and walk down to the pebble beach across the road or hang out on the large cedar deck and watch the waves crash on Five Mile Rock." Like, how can you not immediately want to plan a weekend trip to stay here?