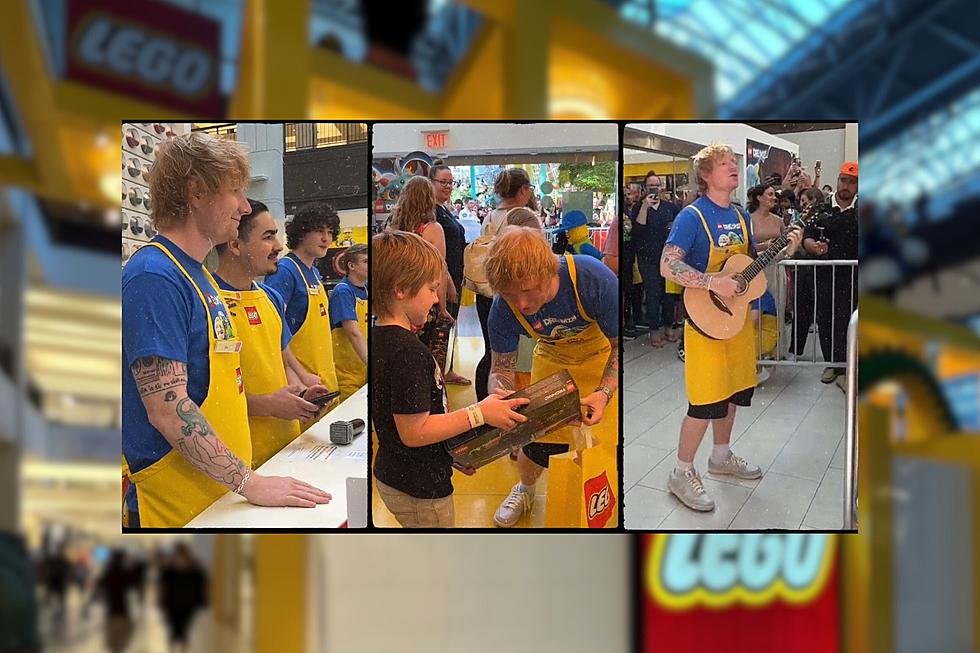 WATCH: Ed Sheeran Joined MOA Lego Store Staff Before Minnesota Show
Lego on Twitter
Ed Sheeran had a few surprises up his sleeve after he announced late last year he'd be performing at US Bank Stadium in Minneapolis this summer. The first surprise came in the form of a smaller, more intimate show at the Hennepin Theatre the night before his big Minnesota stadium show on August 12.
Another surprise came on Saturday, the day of his show - and this one is super cool!
Just south of Minneapolis at the Mall of America in Bloomington, Ed made an appearance at the Lego Store. This nod to his 2011 hit 'Lego House' gave him the chance to surprise and interact with fans, even performing a little before heading back north to Minneapolis for his big show at 'The Bank'.
While Sheeran was at the Lego Store, he posed as an employee of the store. He helped customers, even taking a turn behind the cash register.
READ MORE: The 'Most-Attended Family Event For LEGO Fans' Is Coming To Minnesota This Fall
Duluth TV personality Renee Passal posted a message on social media, sharing that she and her son had an interaction with Ed. Sheeran helped her son Weston make a Lego figure before Renee grabbed a quick photo of her son and Ed in the store.
During Ed's appearance at the MOA Lego Store, he gave a brief acoustic performance of his hit 'Lego House' (because, how could he not?). The singer stood outside the store with his guitar, wearing his Lego Store apron and shirt, singing to an excited crowd.
After Ed's appearance at the Mall of America, he went on to play for a record-setting crowd at US Bank Stadium. He performed for a massive crowd of 72,102, which is a new attendance record at the venue.
Sheeran performed "in the round", providing more seating than some other shows. The previous record-holder was Garth Brooks and his show there a couple of years ago.
Celebrities Who Lived in Haunted Houses
Below, check out 25 stars who claim to have lived in haunted homes.