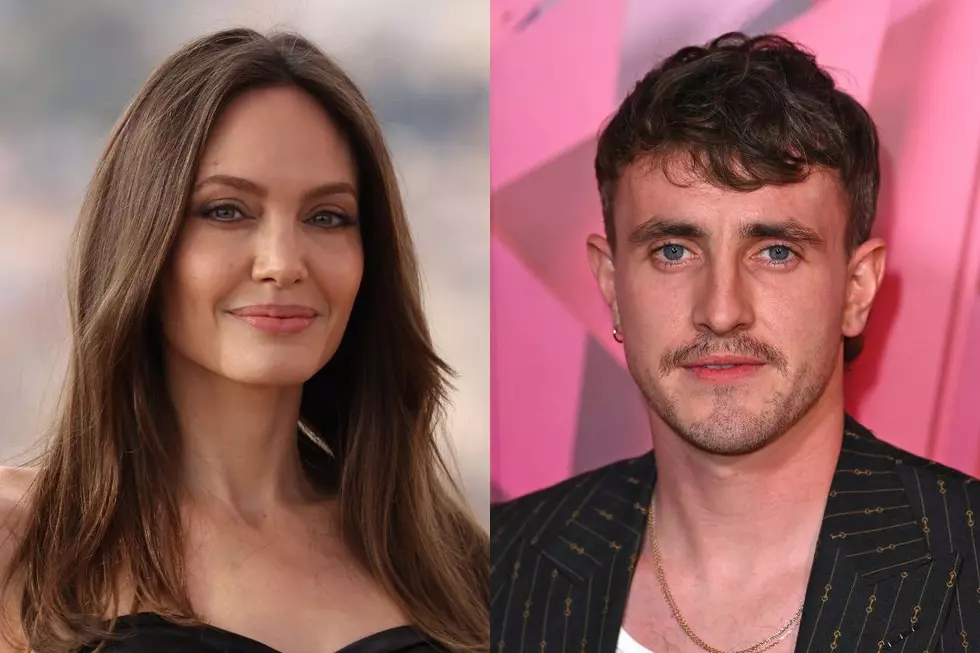 Angelina Jolie Spotted Having Coffee With Irish Actor Paul Mescal
Vittorio Zunino Celotto / Eamonn M. McCormack, Getty Images
The rumors of a split between singer Phoebe Bridgers and Irish actor Paul Mescal have ramped up after Mescal was spotted on a cozy coffee outing with Hollywood A-lister Angelina Jolie and her 16-year-old daughter, Shiloh.
A fan spotted the trio grabbing coffee in London after Mescal's stage performance in A Streetcar Named Desire.
The snap was originally posted by the @paulmescalpics fan page on Instagram.
"Angelina Jolie saw 'A Streetcar Named Desire' yesterday and after they grabbed a coffee at the @almeida_theatre cafe! Her daughter was there as well," the account wrote on Instagram.
Rumors of a breakup between Bridgers, 28, and Mescal, 26, have been swirling online since Bridgers was spotted out and about with comedian Bo Burnham, 32.
Bridgers and Mescal were reportedly engaged but neither ever confirmed the engagement, aside from an alleged leak from The 1975 frontman Matty Healy.
The couple apparently began dating in August 2020 before making their public debut on the LACMA Art+Film Gala red carpet in November 2021.
Most recently, Bridgers fueled more breakup rumors after her Dec. 23 appearance on YouTube series Chicken Shop Date, where she gave "heartbreak advice," according to Page Six.
"You just have to do it. And it's gonna end at some point but you can't make it end, that's my tip," Bridgers said.
Now, fans are convinced the pair have indeed broken up, taking the sighting of Mescal and Jolie, 47, together as further confirmation.
"Sorry but if phoebe gets bo f---ing burnham and paul ends up with angelina jolie…. clear breakup winner here," one fan tweeted.
"ANGELINA JOLIE AND PAUL MESCAL MY WORLDS COLLIDING," another person wrote on Twitter.
"paul mescal spotted with angelina jolie i am TREMBLING," another fan shared.
"Nah I might have to believe the rumors about Paul mescal and phoebe breaking up," someone else tweeted.
Meanwhile, Jolie is seemingly single after her divorce from fellow actor Brad Pitt. The pair were declared legally single in 2019.
Pitt is reportedly dating jewelry designer Ines de Ramon.
Celebrity Couples Whose Breakups Broke Our Hearts