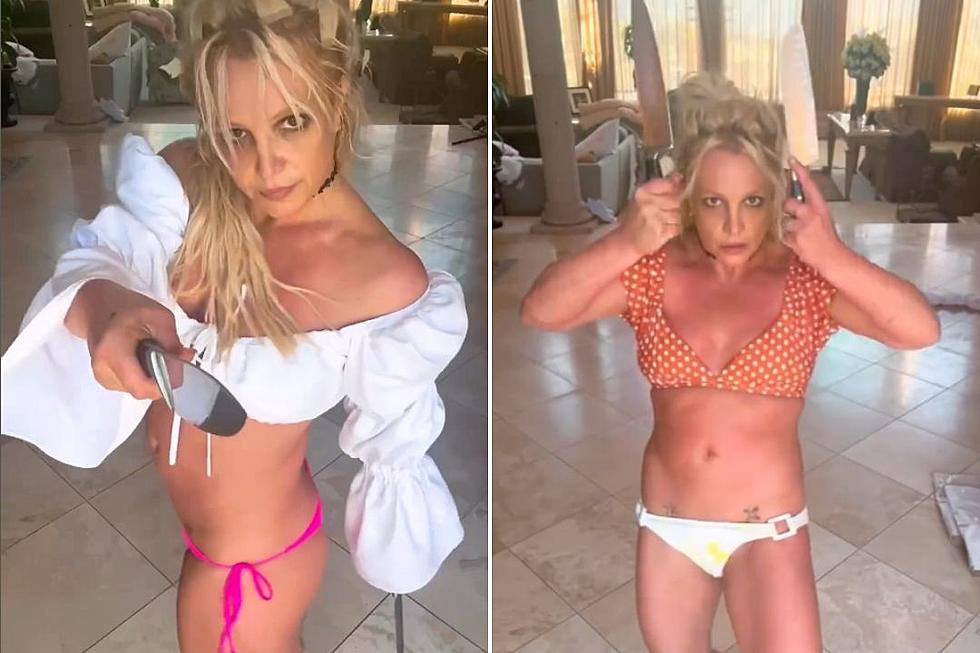 Britney Spears Saves Prop Store After Dancing With Fake Knives
@britneyspears via Instagram
Britney Spears just helped save a small business.
Speaking to TMZ, the owner of Los Angeles-based prop rental shop The Hand Prop Room said that sales of prop knives from their store increased by 50 percent after Spears posted a video of herself dancing with two prop knives she got from their shop.
Additionally, both phone calls and online traffic to The Hand Prop Room doubled, the owner said.
The owner thanked Spears for helping save their store, which has been experiencing lower sales amid the Hollywood strikes.
Spears first posted a video of herself dancing with two prop knives on Sept. 25.
"Don't worry ... they are not real knives!" the pop star shared in the caption.
The video sparked concern among some fans who ultimately orchestrated a wellness check on the pop icon.
According to ABC News, officers performed a wellness check at Spears' home on Sept. 27, during which the police determined Spears was not in any danger.
READ MORE: Britney Spears' Team Allegedly Worried She Can't Handle Interview
The following day, Spears reiterated that the knives were fake and explained she was imitating Shakira's 2023 MTV Video Music Awards performance, during which the Colombian star danced with knives.
"I know I spooked everyone with the last post, but these are fake knives that my team rented from Hand Prop Shop in LA. These are not real knives. No one needs to worry or call the police. I'm trying to imitate one of my favorite performers, Shakira … a performance I was inspired by! Cheers to us bad girls who aren't afraid to push boundaries and take risks," Spears wrote.
Then, on Oct. 1, Spears addressed the wellness check in a scathing Instagram post aimed at the police, calling their involvement "unwarranted."
"So unacceptable for cops to listen to random fans and come in to my home unwarranted ... Jesus Christ ... can I make calls and make others feel threatened in your home?" Spears began.
"The officers came to my home and said they would not leave until they spoke to me as people did [four] minute performances with knives. I am getting an apology. I've been bullied in my home for so long now ... IT'S ENOUGH!" she continued, adding that "it's about power for cops."
See her full post below:
Infamous Deleted Celebrity Instagram Posts
From cringe-worthy captions to subtle shade, celebrities are not immune from orchestrating their own social media mishaps. Whether they purged photos of an ex or received backlash from fans for tone-deaf selfies, we've rounded up some of the most questionable celebrity posts to ever be deleted from Instagram.
Gallery Credit: Michele Bird