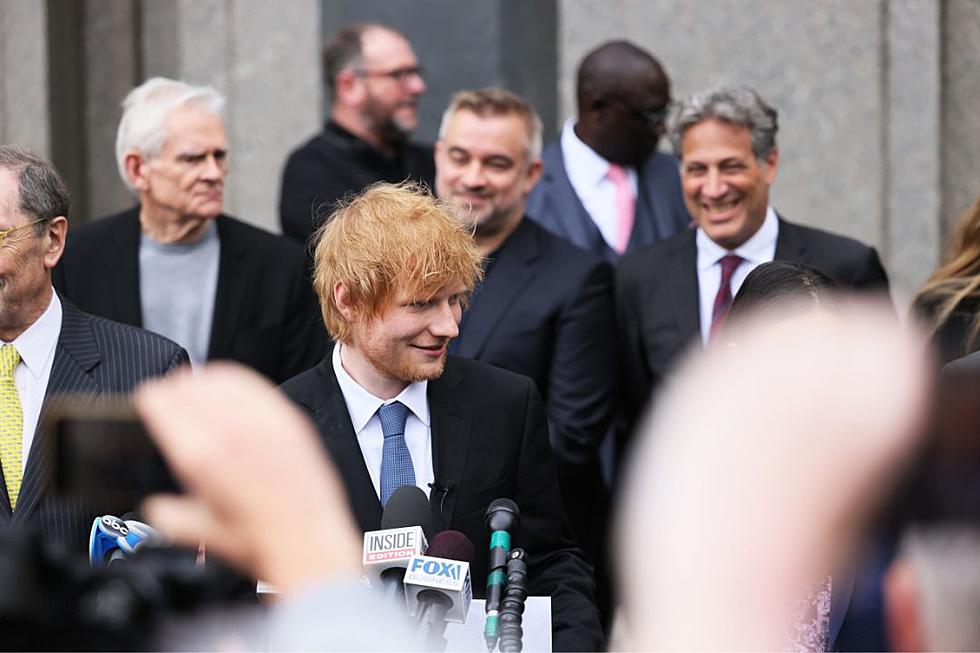 Ed Sheeran Not Quitting Music After All, Wins 'Thinking Out Loud' Copyright Case
Michael M. Santiago, Getty Images
Ed Sheeran has won his copyright infringement trial.
A Manhattan jury has determined that Sheeran did not copy Marvin Gaye's 1973 hit song "Let's Get It On" for his own 2015 track, "Thinking Out Loud."
The ruling was made after three hours of deliberation Thursday (May 4).
According to ABC News, Sheeran hugged his attorneys when he found out he had won his case.
"I'm obviously very happy with the outcome of the case. And it looks like I'm not having to retire from my day job after all. But at the same time, I'm unbelievably frustrated that baseless claims like this are allowed to go to court at all," the singer said in a statement outside the courthouse.
The plaintiffs declined to make a statement regarding the ruling.
READ MORE: Ed Sheeran Says He Doesn't See the Point in Music Reviews
In the suit, which was filed in 2016, the decedents of Ed Townsend, who co-wrote "Let's Get It On" with Gaye, claimed Sheeran's song was too similar to the 1974 hit.
The plaintiffs were seeking $100 million in restitution.
During the case, Sheeran's legal team argued the musician did not intentionally copy Gaye's song.
Listen to Ed Sheeran's "Thinking Out Loud" Below:
Listen to Marvin Gaye's "Let's Get It On" Below:
During the trial, Sheeran took the stand to sang and play guitar. At one point, he performed a mashup of "Thinking Out Loud" and "Let's Get It On" to demonstrate the commonality of the two songs' four-chord progression.
This week, Sheeran said that if he was found guilty in the case, he would quit music altogether.
"If that happens, I'm done, I'm stopping. I find it really insulting to devote my whole life to being a performer and a songwriter and have someone diminish it," he said in court.
Sheeran previously won a copyright infringement case involving his song "Shape of You."
Pop Stars Hit With Music Lawsuits