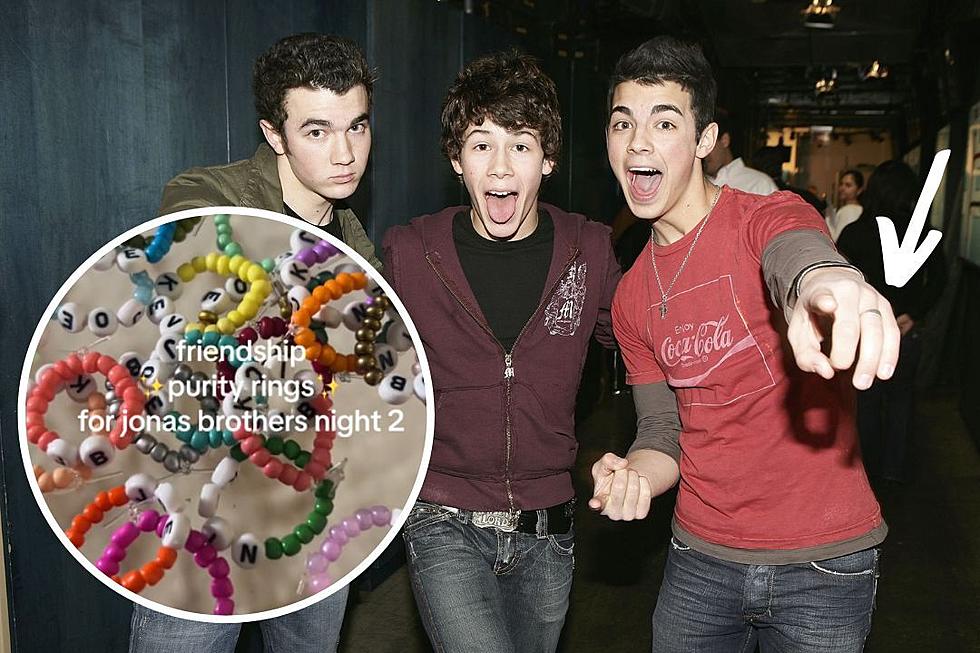 Jonas Brothers Fans Are Making 'Friendship Purity Rings' for the Band's Tour
@aracelicsandoval via TikTok / Scott Gries, Getty Images
Say goodbye to friendship bracelets! Jonas Brothers fans are setting a new trend for the group's Five Albums One Night Tour: friendship purity rings.
The tongue-in-cheek beaded rings are a reference to the brothers' infamous purity rings, which they wore during their Disney Channel days.
A viral TikTok video shows one fan unveiling her ring designs for the concert, including the brothers' names, "hot" and "cold" in reference to the band's hit song "Burnin' Up" and "SOS" after their other early classic off their self-titled sophomore album.
"I'm crying laughing this is amazing," one fan commented on the video.
"Now THIS is innovation," another fan joked.
"Wasn't planning on going to a JB concert but now I feel I have to just to make these," someone else wrote.
In another TikTok video, a fan showed herself making friendship purity rings to trade with other fans at the concert.
Notably, Taylor Swift fans made it a trend to trade friendship bracelets with each other, including celebrity fans, during Swift's Eras Tour.
The Jonas Brothers famously wore purity rings to signal their commitment to maintaining their virginity during the early days of their career. Each brother ditched their respective ring quietly after a few years.
In May, Nick opened up about the rings during an episode of Watch What Happens Live. "Well, in theory, they're not a bad idea. But you should know what you're signing up for before you sign up for that," Nick said.
"When you're 12 versus when you're, like 16, it's a very big difference," Joe added.
READ MORE: Etsy Shops Banking Thousands From Taylor Swift Friendship Bracelets
The JoBros also spoke out about the rings during their appearance on Carpool Karaoke with James Corden in 2019.
According to Insider, Joe said that they were never planning to "talk about it," until an interviewer joked about writing that the brothers were in a cult if they didn't elaborate on the rings.
They explained that they began wearing the rings at age 12 because they grew up going to church and their dad was a pastor.
"That's what people ran with forever. That was a running joke. And we found the humor in it sometimes, but of course, we just kind of decided at one point, like, look, this is not who we are," Joe shared.
Celebrities Who Waited Until Marriage
Sex and Hollywood seem to go hand in hand, and in this day in age, it might be hard for some to imagine famous and attractive celebrities embracing virginity or celibacy. Below, discover 23 celebrities who remained virgins or celibate until marriage, below.