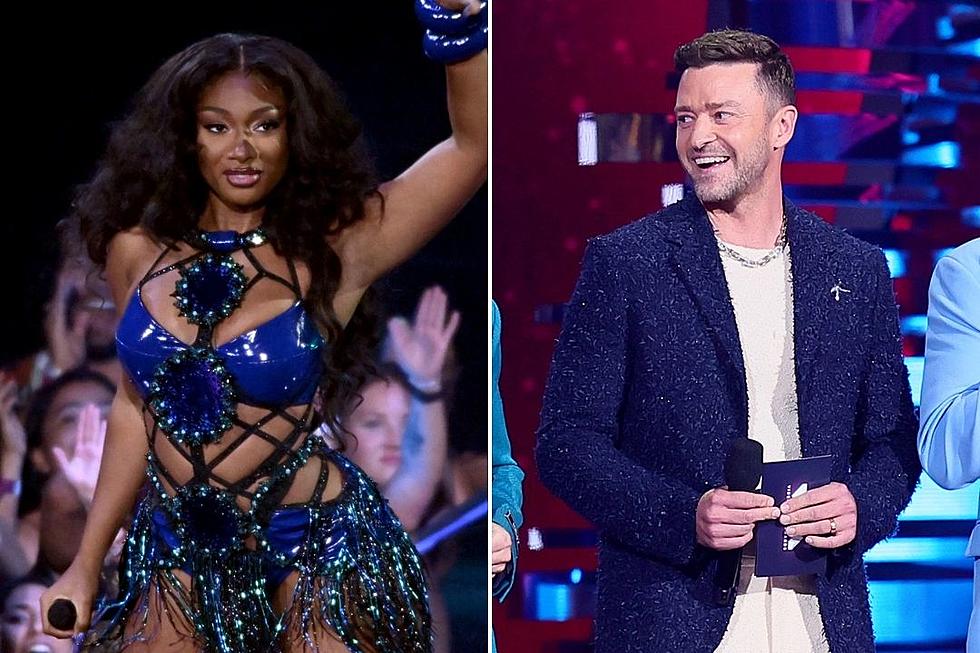 Megan Thee Stallion and Justin Timberlake Appeared to Have a Tense Moment Backstage at the VMAs
Noam Galai / Theo Wargo, Getty Images
A seemingly tense moment between Megan Thee Stallion and Justin Timberlake backstage at the 2023 MTV Video Music Awards has gone viral, but don't worry... It wasn't what it looked like!
A livestream camera caught what appeared to be a not-so-friendly moment between the rapper and pop star backstage at the Prudential Center in Newark, New Jersey, Tuesday (Sept. 12).
In a video making the rounds on social media, Timberlake appears to approach Megan, who is getting her hair touched up by her glam team. Suddenly, she begins to shake and point her manicured finger at him, shouting, as he walks onward.
*NSYNC member Joey Fatone appears to chuckle at Megan, who seems, upon first glance and without the context of their conversation, agitated by Timberlake.
Watch the moment unfold, below:
Despite how the situation appeared to many, however, a source told Variety that it was actually a positive encounter and that there was "zero fight" between the two artists.
"He said, 'It's so nice to meet you,' and she said 'No, no this don't count, this don't count. We gotta meet proper.' It was very cute," the source alleged.
READ MORE: See the Full List of 2023 MTV VMAs Winners
Justin and the rest of the *NSYNC members were on hand at the 2023 VMAs to present the Best Pop award to Taylor Swift for her song "Anti-Hero."
It's also rumored the boy band will reunite for the third installment of DreamWorks' Trolls franchise, Trolls Band Together. In the film, Justin's character, Branch, reunites with his childhood boy band. In a preview trailer for the film, *NSYNC's song "I Want You Back" played in the background.
*NSYNC's last performance together took place 10 years ago at the 2013 VMAs when they performed a medley of their greatest hits in honor of Timberlake's Video Vanguard award.
All members aside from Timberlake reunited in 2019 to perform with Ariana Grande at Coachella.
2023 MTV Video Music Awards Red Carpet Fashion
From Olivia Rodrigo's stunning silver number to Doja Cat's barely there spider web gown, these 2023 MTV VMAs looks had us doing a double take.