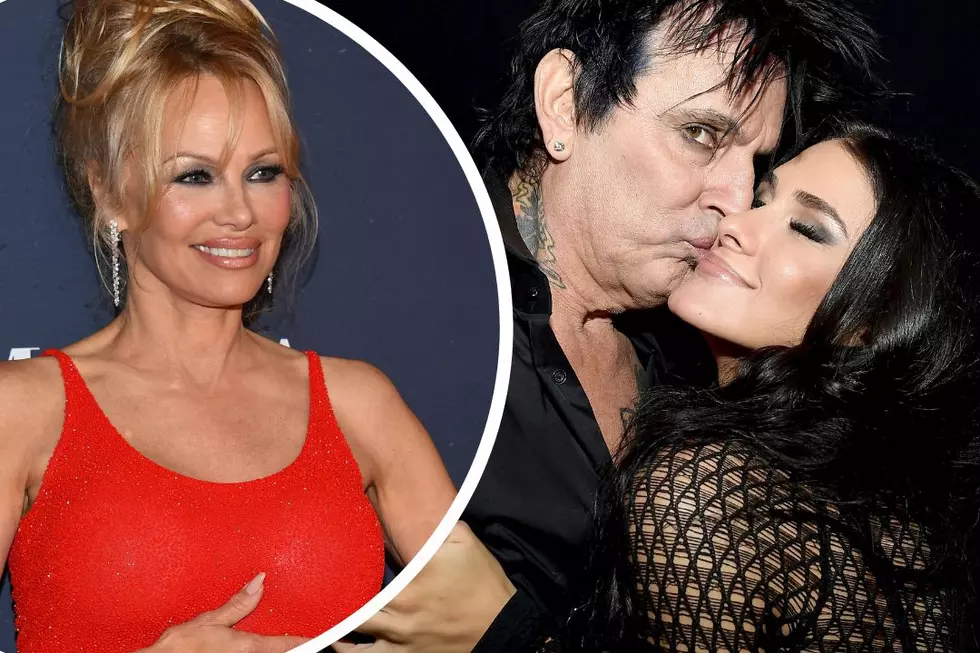 Did Tommy Lee's Wife Brittany Furlan React to Pamela Anderson's New Memoir and Documentary?
Matt Winkelmeyer / Jon Kopaloff, Getty Images
In her new Netflix documentary, Pamela, a love story, Pamela Anderson says she'd "rather be alone than not be with the father of my kids [Tommy Lee]."
Speaking to The Wall Street Journal, Anderson said that her new memoir and Netflix documentary, which came out Jan. 31, would likely "annoy" Lee's wife Brittany Furlan, as the '90s icon delves deep into her iconic relationship with Lee in both.
"I'm sure it's going to be annoying to his wife. I'd be annoyed," Anderson told the publication.
It seems like that might be the case. On Jan. 23, amid Anderson's press spree and just days before the book and documentary released, Furlan posted a TikTok video alluding to the women that came before her and Lee's relationship.
"So I have this mascara now and I LOVE it but when I think about how many other people used my mascara before me I kinda want to throw up," Furlan wrote in text over her video.
"This isn't about mascara," she clarified in the video's caption.
The "mascara" trend on TikTok usually sees a content creator sharing a deeply personal or intimate revelation by using mascara as a metaphor.
In this case, it appears Furlan's "mascara" represents Tommy Lee. In the comments section, some TikTok users pointed out that Anderson had the "mascara" first.
"That mascara [for real] been around, and with Pamela Anderson? I'd simply cease to exist," one user commented.
"Yeah but my confidence would skyrocket knowin' Pam Anderson used [your] mascara too," someone else wrote.
"Anyway stan Pamela Anderson," another user antagonized.
Lee himself also weighed in, sending support to his wife. "Whatever with all these idiots. I love YOU," the Mötley Crüe drummer wrote.
It seems the actress and influencer might currently be struggling with Lee's rock star reputation as his past is scrutinized for the second time over the past year or so.
In 2022, Lee and Anderson's iconic romance was thrust back into the spotlight with the release of Hulu's controversial docuseries, Pam & Tommy, which chronicled the rocker and model's rise and fall as one of the It couples of the '90s.
The show, which explored the couple's infamous sex tape scandal, was met with mixed reactions by its namesake subjects. While Lee initially showed his support for the show, Anderson was reportedly upset by Pam & Tommy opening up old wounds, and didn't give her blessing or permission for the series.
For her part, Furlan appeared to stay out of the controversy surrounding the show last year. However, in February 2022, Furlan did seemingly acknowledge the drama surrounding Pam & Tommy in a humorous TikTok video.
This time around, Furlan appears to be making her feelings known, albeit in subtle ways.
In an alleged screenshot that's been making the rounds on Twitter, Furlan appeared to claim in a comment under her "mascara" video that Anderson has been "messaging" Lee "nonstop saying how much she misses it."
However, the alleged comment is currently unavailable on TikTok. It's unconfirmed if the screenshot is real or if the comment was simply deleted over the past week.
Plus, in a tweet posted Jan. 28, Furlan alluded to not living in the past.
"You know what's good for your mental health? Living in the present," she tweeted, which some on Twitter perceived as shade toward Anderson.
Furlan and Lee appear to be going strong four years into their marriage.
The couple began dating in 2017. They announced their engagement on Instagram on Valentine's Day 2018, and they got married exactly one year later.
In September 2022, Furlan hyped her husband on Instagram with a post celebrating the end of his band's U.S. tour.
Celebrities Who Ran Into Serious Tax Troubles
Below, you'll find 21 famous celebrities who ended up owing anywhere from hundreds of thousands to millions of dollars to the IRS in taxes.