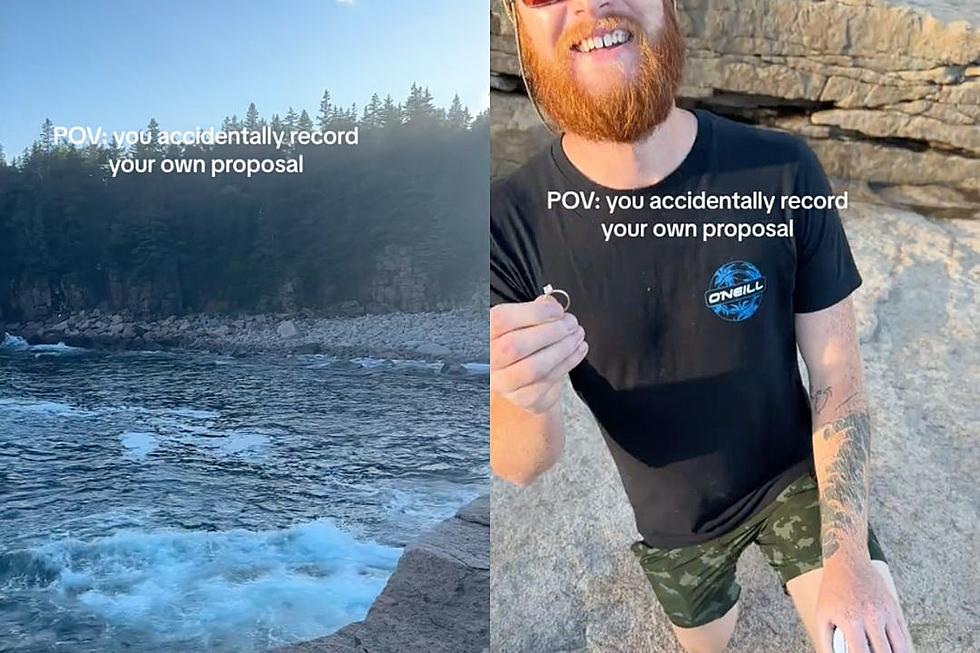 Woman Accidentally Records Her Own Proposal: WATCH
@siarra.brielle on TikTok
A woman on TikTok went viral after she accidentally recorded her own proposal while trying to get a good shot of the pretty landscape around her.
The video features the camera panning over rushing water, cliffs and tall evergreen trees before landing on her fiancé giggling while kneeling. The woman gasps when she realizes what's happening.
"Best moment of my life but I cannot get over the timing of this," she captioned the sweet clip.
The video has been viewed over 8.5 million views on TikTok as of publishing.
Watch below:
Viewers were tickled pink in the comments section.
"The way he giggled like 'girl if only you knew what you're about to see,'" one viewer commented.
"The giggle before you realize what is happening is the BEST," another wrote, to which the TikToker replied, "Hahaha I genuinely had no idea!!"
The comments also revealed that the woman's fiancé apparently hid the ring in a ZYN tin, which is a nicotine pouch alternative to tobacco.
"Wait congrats ofc but was that a Zyn can and did he store the ring in there?" one person asked in the comments.
"It sure was hahaha and I suspected nothing bc of it," the TikToker confirmed. She also agreed with another commenter who called the ZYN tin-ring combo a "pro move."
Plus, she replied to another comment confirming that she indeed said yes to his proposal.
READ MORE: Mother of the Bride Makes Hilarious Wedding Gift Blunder
In a follow-up video on TikTok, the woman showed off her new ring.
"People asked to see the ring, so here is the reveal," she said, showing off her new rock for the camera.
"I wanted something like pretty simple and timeless, and then I'll probably get something a little more fun for the band. I love it!" she shared, calling it "exactly" what she wished for.
"Thanks for all the love on that video. I did not think it was gonna blow up like that," she added, calling it "funny and also cute."
See her engagement ring, below:
Celebrity Couples Who Secretly Got Married
Below, discover 25 famous pairs who tied the knot in secret, private wedding ceremonies away from the glare of paparazzi cameras.