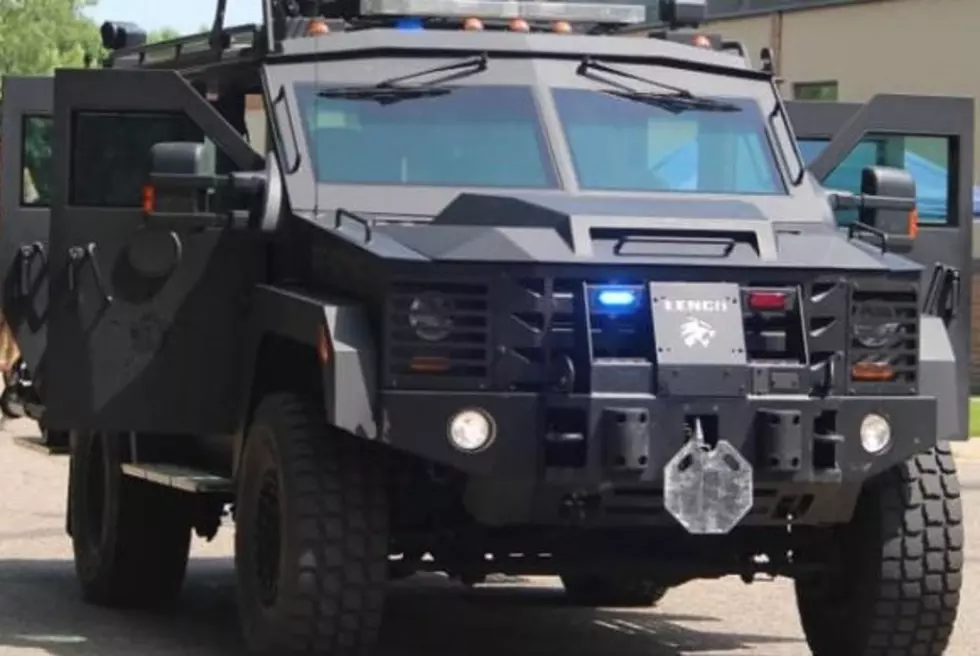 Charges: Pine Island Man Fired At Least 20 Shots During Standoff
Goodhue County Sheriff's Office photo
Pine Island, MN (KROC-AM News)- Prosecutors have brought charges against the man accused of firing gun shots at law enforcement during a lengthy standoff in Pine Island over the weekend. 
The criminal complaint against 37-year-old Michael Molitor indicates the incident started around 10:45 a.m. Saturday when a Goodhue County Sheriff's Deputy was dispatched to residence Molitor was at on a welfare check after he had reportedly made suicidal statements and threatened he would commit suicide by cop. While in contact with dispatch and the deputy, Molitor said he was armed and holding a woman hostage. He told law enforcement they needed to come get her, the complaint states. 
The deputy began conversing with Molitor around 11:20 a.m. The conversation lasted for almost an hour and included Molitor saying he had several firearms and threatening to shoot at the deputy's squad vehicle. The complaint says Molitor was seen in the garage of the residence with an AR-15, wearing body armor and drinking beer. 
Goodhue County SWAT and the Rochester Police Department/Olmsted County Emergency Response unit arrived on scene and began forming a plan to get Molitor to surrender. Law enforcement made their first move at 6:10 p.m. when tactical teams deployed a flash bang in front of the home and Molitor was then seen at the rear of the residence. The complaint says Molitor then emerged to the front of the home around 7:30 p.m. and was seen wearing body armor and a rifle on his upper body as he spoke with negotiators by phone outside of the residence. 
He held the rifle in a "low ready position" towards an armored law enforcement vehicle before going back inside the home, according to the complaint. The SWAT team then used an arm of the armored vehicle to breach a window in the home. Officers fired five chemical rounds into the residence to try and isolate Molitor into a single room. 
While deploying the chemicals, law enforcement reported gunfire erupting from inside the residence and estimated Molitor had fired between 20 and 22 rounds, one of which struck below the drivers side window of the armored vehicle and another struck a nearby house. Moments later Molitor reappeared in the garage but refused to comply with law enforcement demands to get on the ground and still appeared to be armed. A member of the tactical team fired a paper ball at Molitor which caused him to retreat, the complaint states. 
 Molitor reappeared a second time and was brought into custody. Emergency teams searched the home and did not find another person inside. No injuries were reported. Molitor is charged with first-degree assault of a police officer, second-degree assault, terroristic threats and committing a crime while wearing body armor. 
Molitor made his first court appearance Tuesday morning. Conditional bail was set at $750,000. The standoff lasted for roughly eight hours and prompted a shelter in place in the immediate area. 
If you or someone you know is having suicidal thoughts, visit the National Suicide Prevention Lifeline website. Resource information is provided for free as well as a chat message service. To speak directly to a professional, call 1-800-273-8255. You are not alone and help is available. Every life is important.
Man Admits to Murder Charge in Chatfield Teen's Overdose Death
The 25 Best Places to Live in Minnesota
Stacker
compiled a list of the best places to live in Minnesota using data from
Niche
. Niche ranks places to live based on a variety of factors including cost of living, schools, health care, recreation, and weather. Cities, suburbs, and towns were included. Listings and images are from
realtor.com
.
On the list, there's a robust mix of offerings from great schools and nightlife to high walkability and public parks. Some areas have enjoyed rapid growth thanks to new businesses moving to the area, while others offer glimpses into area history with well-preserved architecture and museums. Keep reading to see if your hometown made the list.