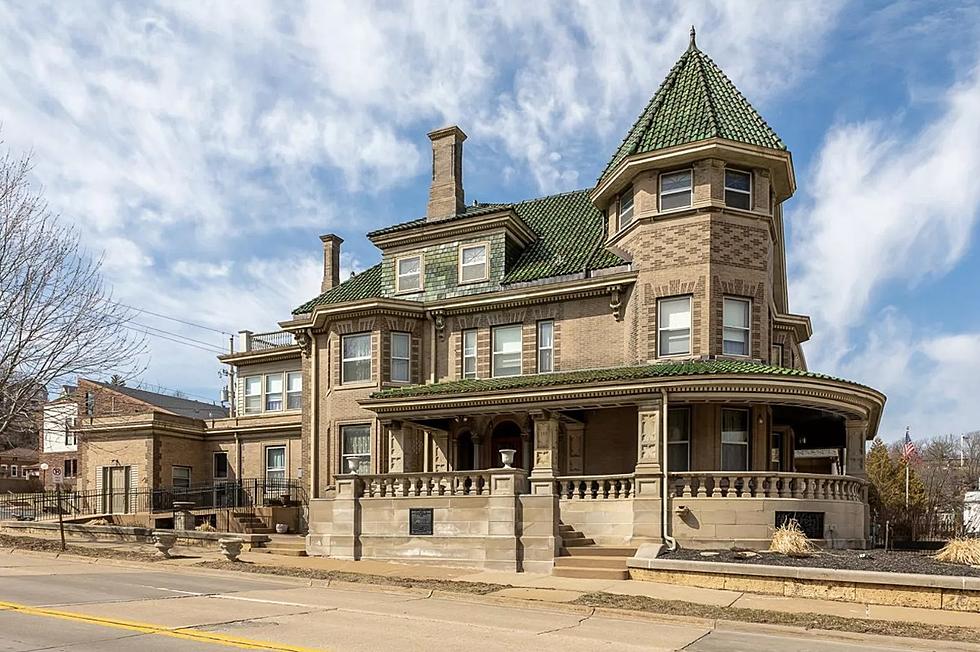 10-Bedroom Mansion Built in 1900 For Sale in Eastern Iowa [PHOTOS]
Ruhl Homes
This is a home with an amazing history. One nearly as incredible as the man it was built for.
It's not every day you see a 10-bedroom 9-bathroom home but that's exactly what's inside that stately mansion in the photo above. The real estate listing calls it an "Edwardian masterpiece of the Mississippi."
Previously reported to have been built in 1908, Ruhl & Ruhl Realtors says the home was actually built a few years earlier. The 5,659-square-foot home was built in 1900 by architect Fridolin Heer, the man behind many Dubuque mansions of that era. The home was designed for Nicholas J. Schrup and his family.
Schrup emigrated from Luxembourg to the United States in 1855, when he was just two years old. The family set up a farm in Dubuque County, where Schrup would have phenomenal business success later in life.
Mr. Schrup taught school for five years in Cascade and also sold insurance. By the early 1880s, he helped in the organization of the first of several banks and insurance companies that he was part of in Dubuque.
In 1884, Schrup married Mary Kransz. According to the Iowa Legislature, she was "a pioneer of the North Side of Chicago."
In 1910, Schrup became a state senator. Encyclopedia Dubuque says he was elected "by the largest majority ever given a candidate until that time." He would serve two terms and the King of Belgium also knighted him for his help with the country's relief efforts in World War I.
Charles Joseph Schrup, one of Nicholas and Mary's four children, succeeded him as president of American Trust and Savings Bank.
When Nicholas Schrup passed away in 1924, the Iowa Legislature said, "Senator Schrup had a great influence in the good management of public and private business affairs. He was never willing to sacrifice a principle in order to gain a place, and as time goes on he will always be referred to as one of the outstanding figures of his part of the state. With him Iowa loses a notable figure in her list of worthy citizens."
The majestic home built at 199 Loras Boulevard in Dubuque was in the Schrup family until the mid-1950s when Nicholas' wife Mary Anna passed away (in 1948). It was then sold to Blessed Virgin Mary Nuns. They used the home for approximately two decades before The Clio says it became "a halfway house for juvenile delinquent children."
The house later became home to a law firm with college students living on several levels of the home.
In 1988, it opened as The Mandolin Inn Bed and Breakfast, named after a piece of stained glass in the home. It is of the patron saint of musicians, St. Cecelia, holding a mandolin. The stained glass window is visible in the photo below.
In recent years, the house has been a private residence.
You can see more photos from inside the home below.
Historic 10-Bedroom Mansion for Sale in Eastern Iowa
It was built
in 1900
for
Nicholas J. Schrup
, an ultra-successful Dubuque businessman who also became an Iowa State Senator. After being restored, it opened as The Mandolin Inn Bed & Breakfast in 1988. Located at 199 Loras Boulevard in Dubuque. The home is listed at $430,000 by
Ruhl & Ruhl Realtors
.
Historic Iowa Home of One of Von Maur Founders Has Sold
The Roland Harned House in Davenport was designed in 1902 and built in 1906. Harned's name was part of the Von Maur
store name
until 1989 when the store's name was changed from "Petersen, Harned Von Maur
"
to "Von Maur". The 6,000+ square foot home, at 830 Mississippi Avenue in Davenport, is priced at $649,900. Listing agents are Sara DeWulf and Brad Gibson of
Mel Foster Co
.
Vintage Cedar Rapids Postcards Show Us City's Amazing Past
Take a look through some historic postcards of Cedar Rapids. Enjoy this trip back in time.