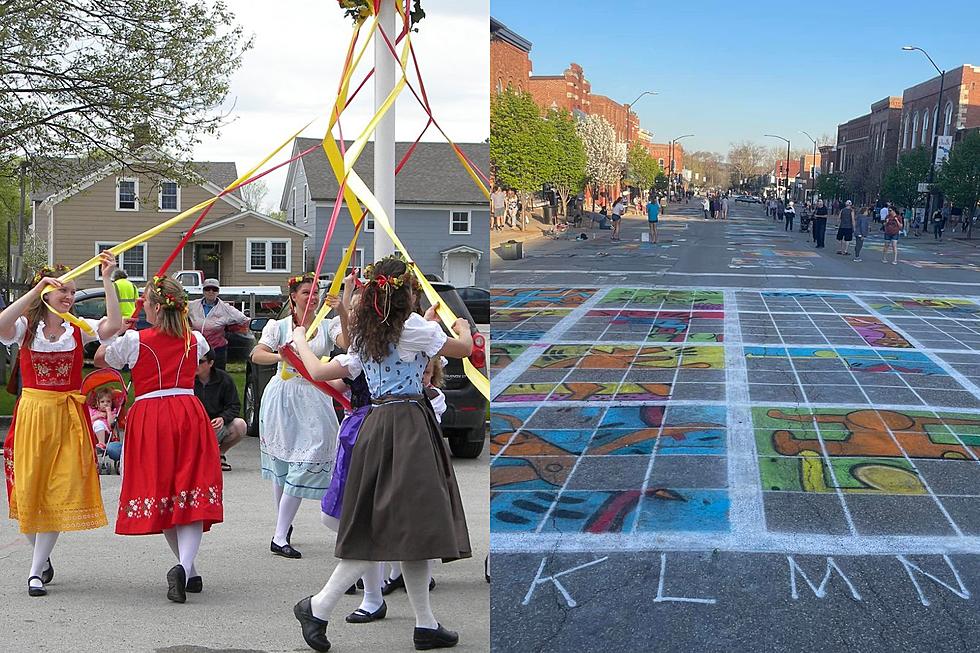 Two Big Spring Festivals are Coming Up in Eastern Iowa
Amana Colonies Festivals Inc./Chalk the Walk, Facebook
A couple of big events will be taking place in two different Iowa towns in early May!
Let's start over in the Amana Colonies! On May 6th and May 7th, Maifest will take place across the villages. The spring celebration will feature live music, Maipole dancers, kids' activities, face painting, food, and more. Here are some of the highlights:
"Take a Bite" Food Truck Fair

Festhalle Barn
Saturday, May 6th from 11 a.m. to 3 p.m.

Wine & Chocolate Walk

Participating businesses
Sunday, May 7th from 11 a.m. to 4 p.m.

Maifest Parade

220th Trail
Saturday, May 6th at 10 a.m.
For a full schedule of events at this year's Maifest in the Amana Colonies, you can check out the brochure HERE.
Also happening May 6th and 7th is the 18th annual Chalk the Walk in Mount Vernon. Chalk the Walk is Iowa's biggest Madonnari Festival and will feature more than 500 artists of all ages and abilities.
Every year at Chalk the Walk, anyone can take part in a community mural chosen by the event's committee. This year's mural will be Van Gogh's "Artist Bedroom at Arles." The Visit MVL website reads:
"For a $10 donation to the festival, any interested festival participant will be given a set of chalk sticks to create a single 2' by 2' square of a portion of the Van Gogh image. When finished, a recreation will appear on Mount Vernon's Main Street as a giant image."
In addition to the community piece, there will also be artists creating original pieces in 8' by 10' rectangles on Main Street. Those pieces of art will be judged and winners will be awarded around $1,375 in cash prizes. Even if you're not interested in creating any chalk art, you're welcome to attend the festival and admire the work of the artists, listen to live music, and enjoy food from local vendors.
Chalk the Walk 2023 will take place May 6th & 7th from 10 a.m. to 6 p.m. You can get updates on the event HERE.
10 of the Most Unique Places to Stay in the State of Iowa
Iowans Share Their Coolest Vacation Photos
Iowans have been on some epic vacations! Here are some of their best photos!