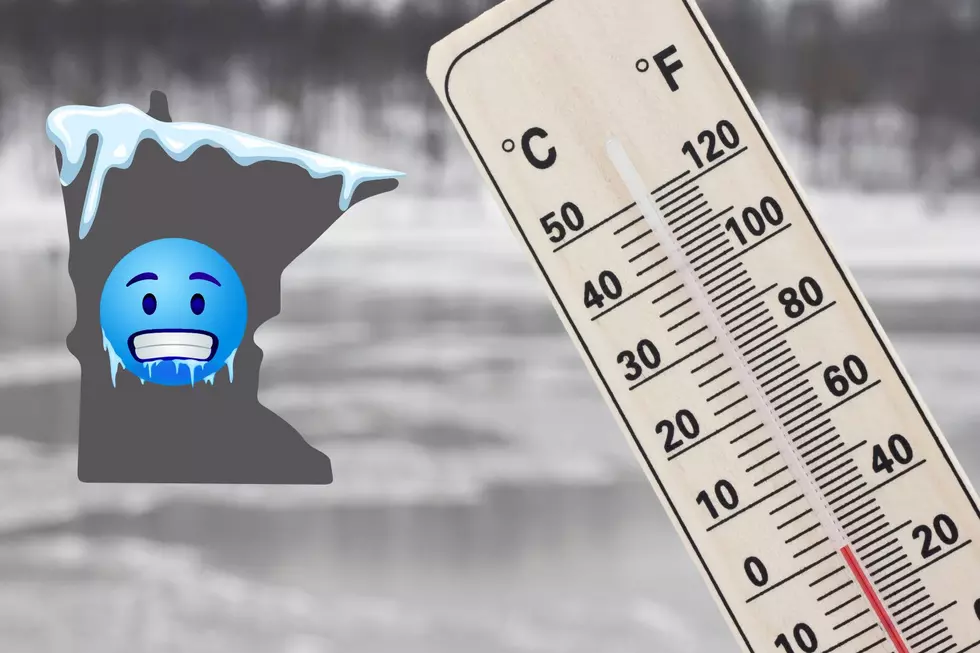 What Is the Coldest It's Ever Been in Minnesota?
Canva
We may have been shivering our way through more frigid sub-zero temperatures this week, but just how close are we to the coldest temperature ever recorded in Minnesota?
Sure, it's been cold in Minnesota lately, right?
Our latest bout with all that bitter Arctic air has had many of us shivering in our boots for the past several days. I mean, when your thermometer says -13 F when you wake up in the morning, as ours did Tuesday morning, you know it's a wee bit nippy. (BTW, the correct way to pronounce that temperature is "13 below zero..." or "13 below..." and NOT "minus 13" or worse, "negative 13..." am I right?)
Of course, it was even colder up north in the Land of 10,000 Lakes. According to the National Weather Service, temperatures dipped to 35 degrees below zero Monday morning at the Evelyth-Virginia Airport north of Duluth! So, yeah, that's definitely cold.
But is that the coldest it's ever been in Minnesota?
As it turns out, nope, it's not. Because in order to tie Minnesota's All-Time Record Low, the mercury will have to dip all the way to 60 degrees BELOW ZERO. That's right, the coldest temperature ever recorded in the Land of 10,000 (Frozen) Lakes was -60 F, which happened up in Tower, Minnesota back on February 2, 1996.
According to the Minnesota DNR, the air mass that produced the record low at Tower 25 years ago also produced bitterly cold temperatures across the rest of Minnesota. "The Twin Cities (at MSP airport) recorded -32 F, and has not recorded a temperature of -30 or colder since that time. International Falls bottomed out at -45 F," it noted. Rochester was a bit warmer during that stretch-- only hitting -20 F, a temp we matched back on Sunday, February 7th, 2021.
While we're proud of our ability to withstand such ridiculously-cold weather, Minnesota doesn't hold the record for the coldest temperature in the U.S., though. The DNR says the national record is -80 F, set at Prospect Creek, Alaska. Even here in the lower 48 states, Montana (-70 F), Wyoming (-66 F), and Colorado (-61 F) have all recorded colder record lows than Minnesota.
Part of the reason we're able to withstand such bone-chilling cold temperatures is the fact that Minnesotans know what to do to keep warm-- and also what NOT to do. Keep scrolling to check out 13 Things You Should NEVER Do When It's Below Zero in Minnesota, as well as the Most Extreme Temperatures Ever Recorded in Every State!
Listen to Curt St. John from 6 to 10 am
Weekdays mornings on Quick Country 96.5
LOOK: The most extreme temperatures in the history of every state
Stacker
consulted 2021 data from the
NOAA's State Climate Extremes Committee (SCEC)
to illustrate the hottest and coldest temperatures ever recorded in each state. Each slide also reveals the all-time highest 24-hour precipitation record and all-time highest 24-hour snowfall.
Keep reading to find out individual state records in alphabetical order.
13 Things Minnesotans Should NOT Do When It is Below Zero