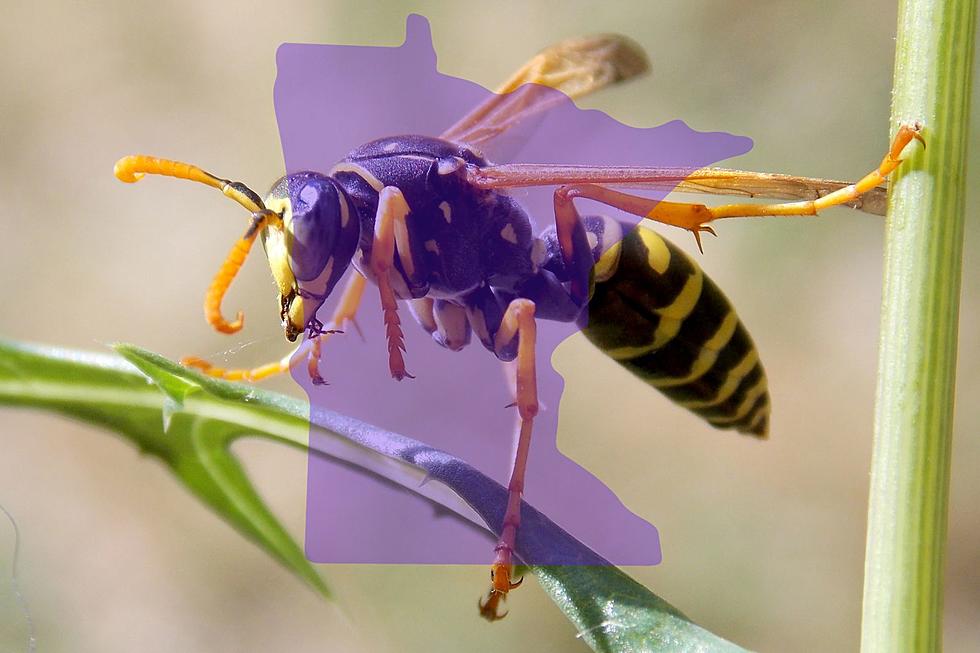 Here's Why There Are So Many Wasps in Minnesota Right Now
Canva
Have you noticed that Minnesota seems to be inundated by wasps this year? Here's why there are so many of those buggers flying around the North Star State right now.
Throughout much of this summer, I seemed to notice that there seemed to be many more wasps flying around our backyard here in Minnesota. Then, last weekend, after my wife was stung by a wasp at an outdoor wedding, there were so many wasps flying around our deck that instead of enjoying a beautiful early fall morning, we just high-tailed it back inside.
If you've noticed a similar phenomenon here in the Land of 10,000 Wasps Lakes, you're not alone. And, as is usually the case, there is some science to back up my anecdotal research about an increase in wasps in Minnesota.
The University of Minnesota Extension says that wasp populations usually swell around this time of year in the Bold North:
Yellowjackets and other social wasps are found in large numbers in late summer and fall. Yellowjacket populations peak during late summer when each nest may have up to approximately 5,000 wasps. Some yellowjacket species become aggressive scavengers and can disrupt outside activities where food or drink are served.
Dr. Mohammed El Damir is an entomologist specializing in public health pests and is a past president of the Minnesota Pest Management Association. He posted an article on Linked-In that says our particularly toasty weather this year might have also helped the wasp population become particularly robust this year.
He noted that with warmer temperatures (which we've seen numerous times this summer), social wasps are likely to be more active, saying that our Minnesota heat 'acts as a stimulus, prompting them to engage in foraging, nest construction, and reproduction. As a result, we can expect to see a higher presence of wasps as they take advantage of the favorable conditions to expand their colonies,' Dr. El Dami said.
So if your yard, like ours, has seemed to be full of wasps this fall, the U of M Extension has a few tips on how to try to get a handle on them:
Control of social wasps and scavenging yellowjackets is difficult, as there are no effective pesticides to keep them away.
It is possible to spray soapy water on individual yellowjackets to kill them.
The best strategy is to minimize attracting them.
Wait to serve food and drink until people are ready to eat.
Promptly put away food when done and throw garbage into a container with a tight-fitting lid.
Examine glasses, cans, and other containers before drinking from them to check for yellowjackets that may have flown inside. If a yellowjacket flies into your food, wait for it to fly away or gently brush it away.
If there are only a few yellowjackets, ignore them. You could also capture them with a net and crush them.
You can use traps, but traps are able to catch only a very small number of wasps.
Listen to Curt St. John in the Morning
Weekdays from 6 to 10 a.m. on Quick Country 96.5
Minnesota Counties With The Most Reported Lyme's Disease Cases
Lyme Disease cases have tripled in Minnesota since the year 2000. What counties are reporting the most confirmed cases?