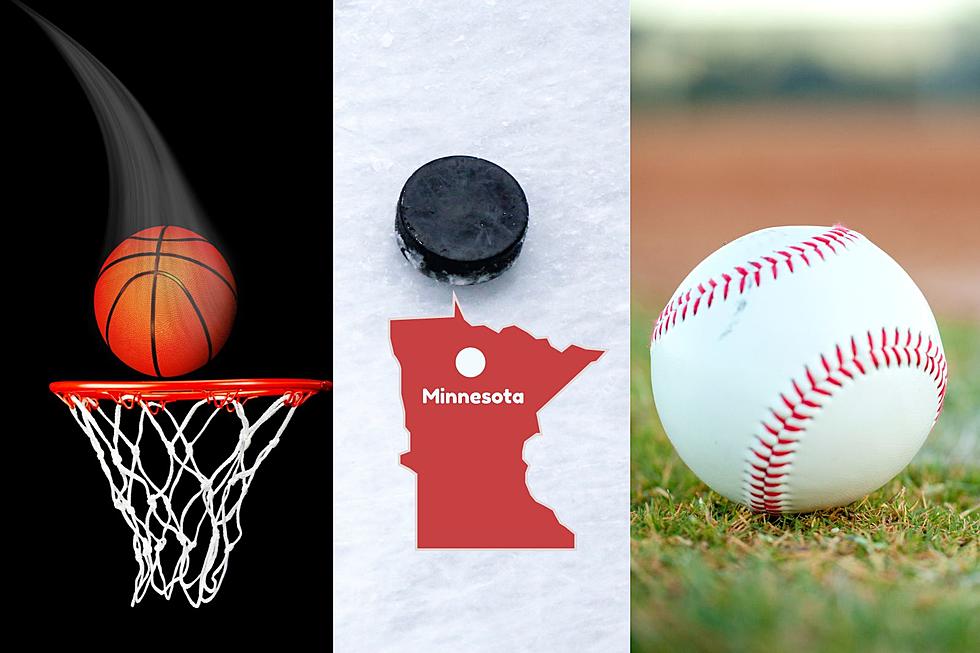 Rare Sports Trifecta Set To Hit Minnesota This Weekend
Canva
It doesn't happen too often but a rare sports trifecta involving three of our professional sports teams is set to hit Minnesota this weekend.
Spring in the Land of 10,000 Lakes is an exciting time of year if you're a sports fan. There's the college basketball tournament in March when Minnesota hosted the Big Ten Women's Tournament this year.
The Minnesota Twins Major League Baseball regular season gets underway, as does for Major League Soccer and the Loons of Minnesota United Football Club. Plus, the post-season begins for both the Minnesota Wild of the National Hockey League (NHL) and the Minnesota Timberwolves of the National Basketball Association (NBA).
And, seeing as both the Timberwolves and the Wild are actually IN the playoffs again this year, a scheduling fluke has led to quite the rare pro-sports trifecta this weekend in the North Star State.
Here's what's happening: The Twins, the Timberwolves, and the Wild are ALL set to play home games here in the Bold North on Friday, April 21st, 2023.
The Minnesota Twins get the party started as they return to Target Field following a 7-game East Coast road trip that took them to New York to take on the Yankees, followed by a stop in Boston for a 3-game series with the Red Sox. They're set to host the Washington Nationals at Target Field on Friday night, with the first pitch set for 7:10 pm.
Then, not too far away from Target Field in downtown Minneapolis, the Minnesota Timberwolves are set to play game 3 in the first round of the NBA playoffs, hosting the Denver Nuggets at Target Center. The Wolves are down 0-2 in that series, and tip-off is set for 8:30 pm on Friday, as well.
Meanwhile, just down I-94 from Minneapolis, the Minnesota Wild are ALSO in action on Friday night. They're set to play game 3 of the first round of the NHL playoffs at the Xcel Energy Center in St. Paul, hosting the Dallas Stars. That series is tied at 1-1, with the puck ALSO set to drop at 8:30 pm.
So if you're a Minnesota sports fan, there are a LOT of choices for Friday night when it comes to cheering on your favorite team. What are the chances they'll ALL come out of it with a win?!?
Listen to Curt St. John in the Morning
Weekdays from 6 to 10 on Quick Country 96.5
The 10 Highest Paid Athletes in Minnesota
Who are the 10 highest-paid professional athletes in the Land of 10,000 Lakes? Take a look...