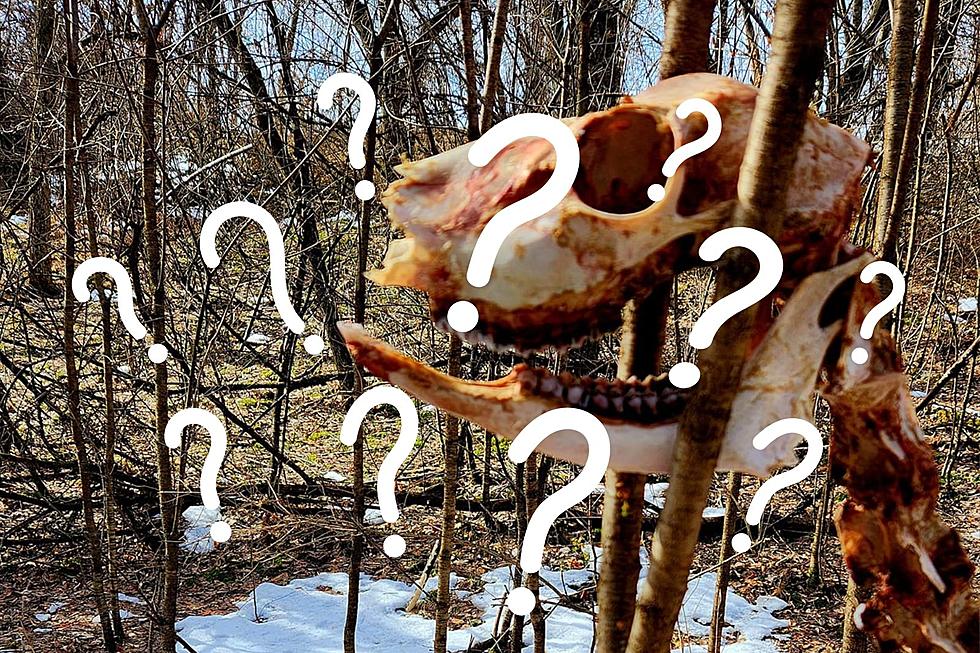 Weird Animal Skeleton Found Stuck in a Tree in Wisconsin; What Could It Be?
Deano David via Facebook, Canva
A man recently discovered a weird skeleton stuck in a tree near Black River, Wisconsin, and now people are trying to figure out what kind of animal it was.
Strange Wisconsin
We all have our own favorite website/Facebook pages and groups to check out daily, right? For me, it's the Strange Wisconsin Facebook group.
I've gained a lot of quirky and interesting knowledge about our neighbors to the North thanks to this group. I've watched a lot of "UFO sighting" videos, and sometimes I find really weird things like this...
What exactly are we looking at in that picture? Good question.
That man that discovered this weird skeleton in the woods, Deano David, posted this message along with the picture in the Strange Wisconsin Facebook group;
Found this Skelaton jammed in this tree. What kind of Animal is this??? Eye sockets seem to big for deer.Found by Black River.
What Kind Of Animal Was It?
I may be far from an animal expert, but I agree that the head of that skeleton looks too big to be a deer...even if it was a massive buck. So, what kind of animal could it have been if it wasn't a deer? Some of the suggestions from commenters on the Strange Wisconsin post included;
Bigfoot's pet
Velociraptor
Elk
Cow
Bear
Horse
While many people think the above skeleton belonged to a deer due to the teeth, the guy that suggested it could be a horse may be on to something. This is what a horse skull looks like...
When you do a side-by-side comparison and consider that the front/nose piece of the skeleton in question has broken off, the two do look similar...
BUT, the teeth are clearly different and so is that eye socket, so now I'm thinking maybe it really was a deer.
Deer do like to scratch their faces on tree trunks, so maybe this poor deer misjudged the spacing between the limbs, got stuck, starved to death, and died? Maybe a hunter shot the deer and it ran into the tree? Either way, now I want to cry.
What do you think this animal was? Send us a message on the app and help us solve the mystery!
States with the most registered hunters
Stacker
analyzed data from the U.S. Fish and Wildlife Service to determine which states have the most registered hunters. Read on to see how your state ranks on Stacker's list.
LOOK: 30 fascinating facts about sleep in the animal kingdom