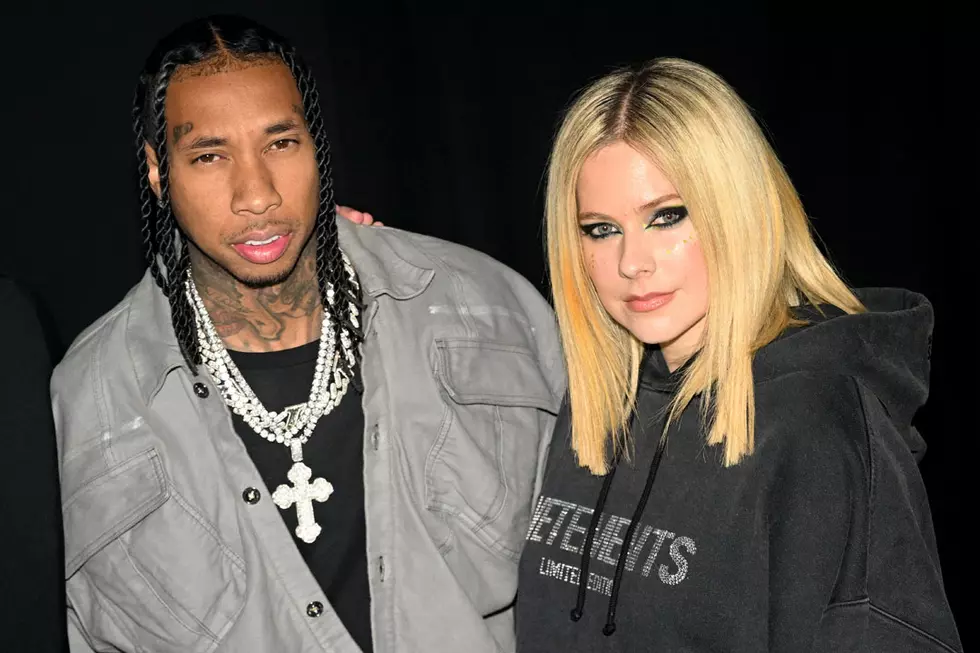 Tyga and Avril Lavigne Kiss, Confirm Dating at Paris Fashion Week Event
Stephane Cardinale - Corbis/Corbis via Getty Images
After shocking fans on both sides late last month with a rumored romance, Tyga and Avril Lavigne are confirming they're dating with a kiss at a Paris Fashion Week event today.
On Monday (March 6), the two artists attended the Mugler x Hunter Schafer party as part of Paris Fashion Week at Pavillon des Invalides in the famed city. While at the event, Tyga and Avril were chatting with friends and all smiles. They also held hands and embraced. A photographer even captured the moment they kissed. See the image at the bottom of this post.
Last month, rumors began surrounding the rapper and singer. People wanted to know whether or not Tyga and Avril were dating when paparazzi caught them hugging outside L.A. hot spot NOBU on Feb. 19. The moment kickstarted the dating chatter. The pair were waiting for their car to arrive from valet, and left together in the same vehicle. Sources said that Tyga and Avril were spending more time together recently.
The romance took fans by surprise considering Tyga, 33, and Avril, 38, haven't been connected as friends or otherwise in the past. Tyga has dated Blac Chyna and Kylie Jenner. Avril was engaged to artist Mod Sun for about a year.
When news circulated that Tyga and Avril were possibly dating, supporters of Avril and Mod were left confused, considering neither she nor Mod had announced they broke up. However, nine days after Avril and Tyga were spotted at NOBU together, Mod admitted in an Instagram post that his "entire life completely changed."
"In 1 week my entire life completely changed…I just know there's a plan for it all," he wrote. "I'll keep my head up + always listen to my heart, even when it feels broken 💔 Being surrounded by love every night on tour has been an absolute blessing. I have the best friends in the entire world, thanks for always having my back. See you on stage," he wrote on IG Feb. 28.
Avril's team confirmed she and Mod Sun broke up. Just two days (Feb. 21) after she began making headlines for possibly dating Tyga, a rep confirmed the split. The same day, Mod's rep revealed the artist was unaware of any breakup.
"They were together and engaged as of three days ago when he left for tour, so if anything has changed, that's news to him," Mod Sun's rep said.
The sentiments surrounding the new couple of Tyga and Avril Lavigne are shock and surprise, according to many fans.
"Avril Lavigne and Tyga dating? That's more shocking than if you told me Trump and Greta Thunberg were dating.," a Twitter used posted.
"This Tyga and Avril Lavigne link up is wild. My boy surprises me every time he pop out with somebody.," another tweeted.
"Tyga and Avril is so random this man really got no type," another person tweeted.
Take a look at fans' reactions and Tyga and Avril caught in a kiss after that.
See Fans' Reactions to Tyga and Avril Lavigne Dating Below
See Tyga and Avril Lavigne's Kiss Below
See the Definitive List of Bizarre Tweets From Rappers