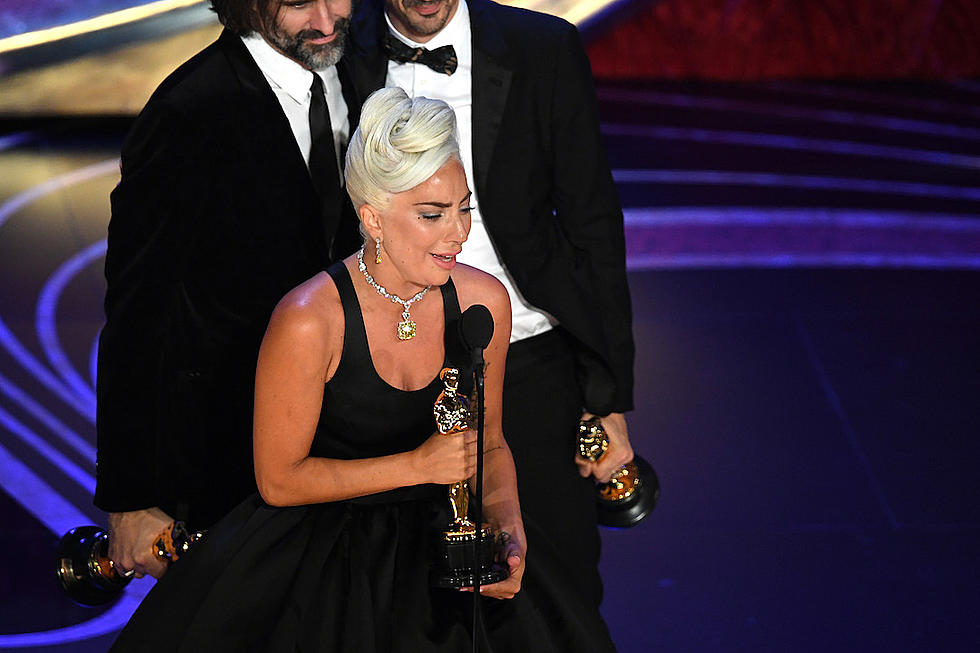 Lady Gaga Just Won Her First Oscar and Cried Through the Acceptance Speech
Getty Images
Lady Gaga delivered an emotional acceptance speech during the 2019 Oscars following her performance with Bradley Cooper.
The pop singer cried after she was announced as the winner in the Best Original Song category. She took the stage flanked by Mark Ronson, Anthony Rossomando and Andrew Wyatt as she accepted the award for "Shallow" from A Star is Born. The win came moments after she and Cooper performed together at the show.  Although the song has been a major success, Gaga noted in her acceptance speech that it's about so much more than "winning."
"It's not about winning," she said through tears. "What it's about is not giving up. If you have a dream, fight for it. It's not about how many times you get rejected, or you fall down, or you're beaten up. It's about how many times you stand up and are brave and you keep on going"
Cooper did not join Gaga on stage to accept the award. He was, instead, seated in the front row next to his wife, Irina Shayk. Gaga thanked him, telling him there was no other man fit to sing the song with her.
"Shallow" has now won a Golden Globe, a Critics' Choice Movie Award, and two Grammy Awards. Gaga and Cooper are nominated for Best Actor and Best Actress for the film, too.
Before Gaga's win, she and Cooper delivered an intimate performance of their hit single. They began the song singing opposite one another, before Cooper joined his co-star behind the piano. It appeared, at one point, that they may kiss. They did not, but that did not stop rumors from swirling about the nature of their relationship.
Oscars 2019 Red Carpet (PHOTOS)