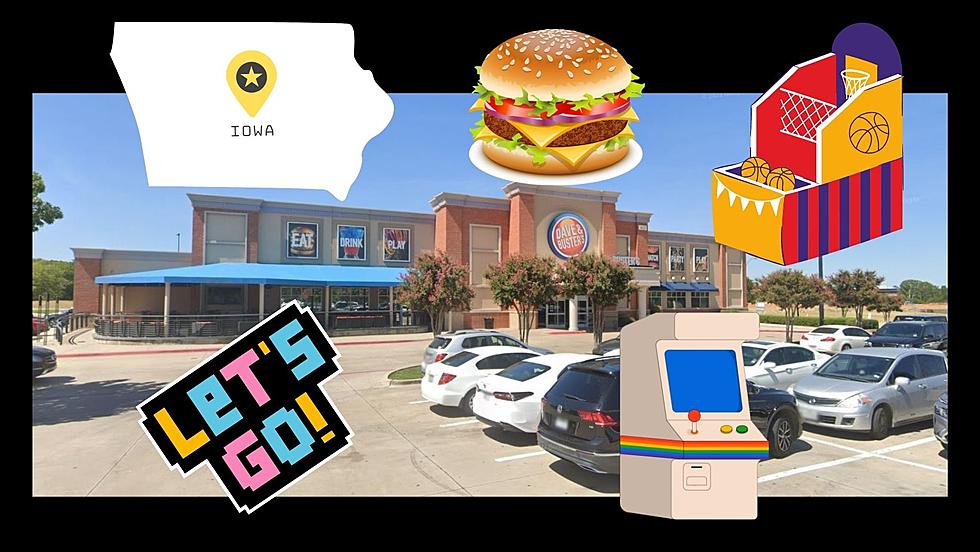 Popular Texas Company Brings Food & Games To Iowa
Credit: Google Map / Canva
I've only ever been to a Dave & Buster's once. And it was AEWSOME! I'm a huge gamer and a huge foodie, so combining the two is a no brainer for me. And now it just got even easier to visit as a new location opens for the first time in Iowa.
Unfortunately it will be a bit of a drive for me, but since I have family in the area a trip to Des Moines is definitely worth it come July 31st when a brand new Dave & Buster's 21,000 square foot facility opens at Jordan Creek Parkway near the Residence Inn by Marriott east of Jordan Creek Town Center Lake and just south of Jordan Creek Town Center near the cinemas.
The closest locations to Dubuque, Iowa are currently all located in Illinois with 4 establishments centered around Chicago: in Vernon Hills, Addison, Rosemont, and Orland Park. There are also 3 locations in Wisconsin: Green Bay, Madison, & Wauwatosa.
According to reports, the space will include more than 100 arcade games, and what Dave & Buster's calls a massive 40-foot "WOW" Wall; featuring dozens of HDTVs for sports viewing. Games include "Wicked Tuna,"
a "Top Gun: Maverick" VR game,
and dodgeball. You will also be able to enjoy classics like Pac-Man and Skee-Ball, all located on Dave & Buster's Million Dollar Midway.
Not only are the games a blast the food is good too! Their menu offers barbecue flatbread, Philly cheesesteak, boneless wings, and also includes gluten-friendly and vegetarian options.
 

 

 

View this post on Instagram

 
The Des Moine Dave & Busters will offer pick-up, delivery, and reservation opportunities to make sure you can enjoy your experience. Hey, when in doubt, plan it out!
The location is currently hoping to hire around 175 people across all aspects of the restaurant and entertainment area. The very first Dave & Buster's opened in Dallas in December of 1982. The company now features more than 140 locations across the United States.
Check out these local favorites and hotspots!
A Tour of Potosi Brewery
A brief look at Potosi Brewery in scenic southern Wisconsin.
A Look Inside Blaum Bros. Distillery in Galena
A look at Blaum Bros. Distillery's bar, distilling process, cocktails and more!
Bowl, Eat, and More at Round Two in Peosta, IA
An afternoon of fun at Peosta's newest entertainment center!