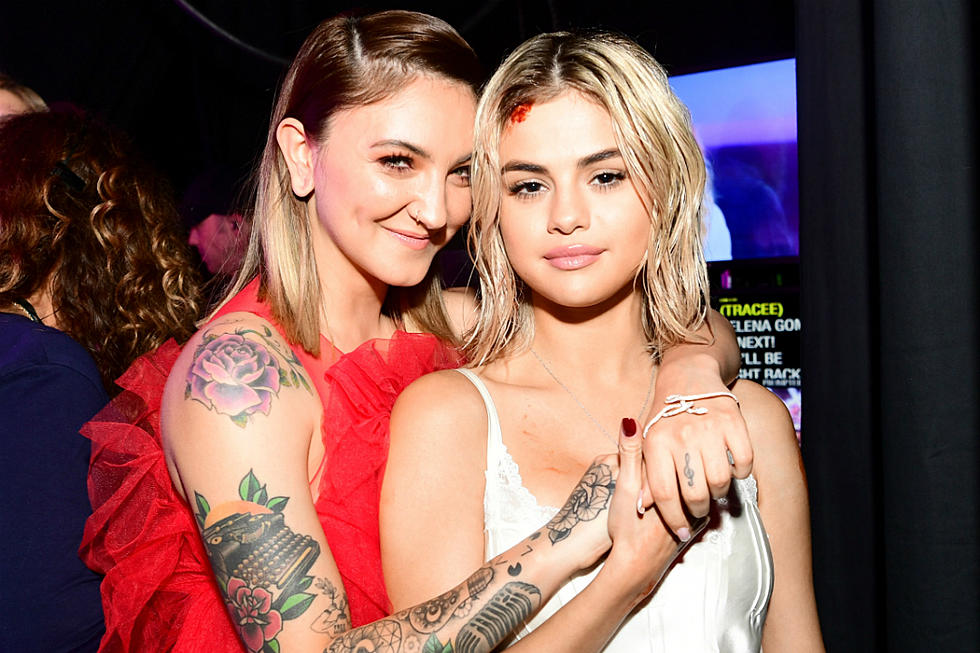 Selena Gomez and Julia Michaels Release New Song 'Anxiety': Read the Lyrics
Emma McIntyre, Getty Images
Julia Michaels just dropped a brand new song called "Anxiety," from her new album Inner Monologue Part I, that features SelGo—and guys, the lyrics are DEEP.
According to Gomez, the song means a great deal to her since she's experienced anxiety herself. To celebrate the release of the duet, the "Back to You" singer, who only recently made her social media comeback after a four-month hiatus, shared a heartfelt message to her friend and longtime collaborator on Instagram.
"My sweet soul sister. Julia you have been a huge part of my life. You have taught me how to have courage when I have self-doubt. This song is extremely close to my heart as I've experienced anxiety and know a lot of my friends do too. You're never alone if you feel this way. The message is much needed and I really hope you guys like it!" she wrote.
Read the full lyrics to "Anxiety" below:
[Verse 1: Julia Michaels]
My friends, they wanna take me to the movies
I tell 'em to fuck off, I'm holding hands with my depression
And right when I think I've overcome it
Anxiety starts kicking in to teach that shit a lesson
Oh, I try my best just to be social
I make all these plans with friends and hope they call and cancel
Then I overthink about the things I'm missing
Now I'm wishing I was with 'em
[Pre-Chorus: Julia Michaels]
Feel like I'm always apologizing for feeling
Like I'm out of my mind when I'm doing just fine
And my exes all say that I'm hard to deal with
And I admit it, yeah
[Chorus: Julia Michaels]
But all my friends, they don't know what it's like, what it's like
They don't understand why I can't sleep through the night
I've been told that I could take something to fix it
Damn, I wish it, I wish it was that simple, ah
All my friends they don't know what it's like, what it's like
[Verse 2: Selena Gomez]
Always wanted to be one of those people in the room
That says something and everyone puts their hand up
Like, "If you're sad put your hand up
If you hate someone, put your hand up
If you're scared, put your hand up"
[Pre-Chorus: Selena Gomez]
Feel like I'm always apologizing for feeling
Like I'm out of my mind when I'm doing just fine
And my exes all say that I'm hard to deal with
And I admit, it's true
[Chorus: Selena Gomez]
But all my friends, they don't know what it's like, what it's like
They don't understand why I can't sleep through the night
And I thought that I could take something to fix it
Damn, I wish it, I wish it was that simple, ah
All my friends they don't know what it's like, what it's like
[Bridge: Julia Michaels, Selena Gomez]
I got all these thoughts, running through my mind
All the damn time and I can't seem to shut it off
I think I'm doing fine most of the time
I think that I'm alright, but I can't seem to shut it off
I got all these thoughts, running through my mind
All the damn time and I can't seem to shut it off
I think I'm doing fine most of the time
I say that I'm alright, but I can't seem to shut it off
Shut it, shut it, yeah
[Chorus: Julia Michaels, Both]
But all my friends, they don't know what it's like, what it's like
They don't understand why I can't sleep through the night
I've been told that I could take something to fix it
Damn, I wish it, I wish it was that simple, ah
All my friends they don't know what it's like, what it's like
[Outro: Selena Gomez]
Li-i-i-i-ike
What it's like, what it's like
Hmm-mm-mm, mmm
What it's like
I love this song
Selena Gomez Through the Years