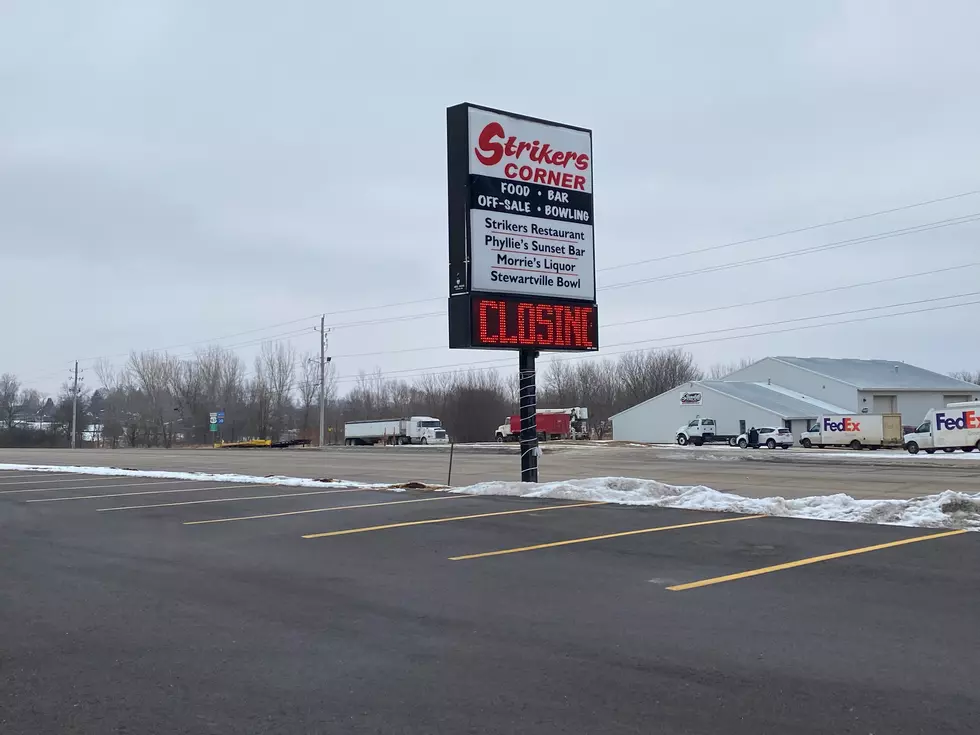 Stewartville Bowling Alley Closes Its Doors
LL/TSM Roch
The COVID-19 pandemic has aided in the closing of another local restaurant. The town of Stewartville will be without their bowling alley for at least sometime after Strikers Corner closed as of Thursday.
Enter your number to get our free mobile app
The off-sale is still open as of now and running from Noon to 9pm on Monday through Saturday and Noon to 6pm on Sunday, but the bar, kitchen and bowling alley will not be opening come Monday when the restrictions are eased on bars and restaurants across the state.
On their sign, they had a rolling message that read "We Are Closing All Off Sale Is 25% Off Until Gone!"
Strikers Corner posted on their Instagram that the rumors were true that the bowling alley was closed.
"Looks like this page is still up. Unfortunately the rumor is correct. They have decided to close our doors. Thank you for so much throughout the years. Maybe we'll be back one day"
I was certainly disappointed when I heard that rumors that Strikers Corner was closing its doors. Personally, this is where I learned to bowl and where I met a lot of people. In fact I still (or I guess, used to) bowl league there on Thursday nights. I even had a chance to work there in college and it was a great experience.
Nobody likes to see local businesses shut down and I know that many people in the Stewartville community will miss having this place to enjoy food, drinks, and conversation, especially once Monday comes around.
It was a place to plenty of live music shows from many different local bands and artists, and a place to hang out and catch a game with other Vikings fans (and Green Bay fans, too).
I hope that someone is able to pick up this business and run with it, and I think many people in the Stewartville area would be there as customers once again.
We reached out to the owner of the establishment but the owner declined to comment at this time.
21 Restaurants + Stores We Miss in the Rochester Area