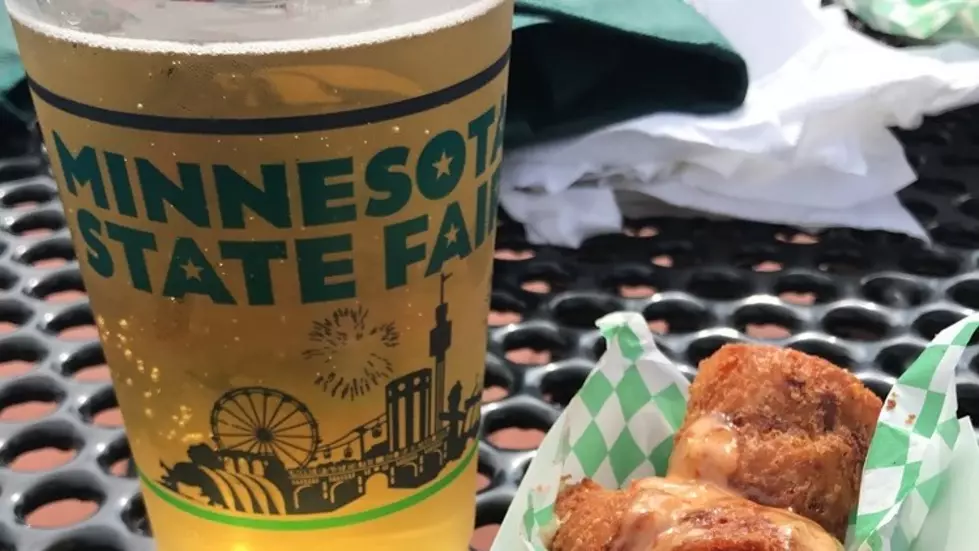 What Is It Like To Work At The Minnesota State Fair?
Photo by Megan Zee
I have had a crazy number of jobs over the years including car washes, watch repair, retail work, serving jobs, delivery driver, day care provider.... the list is pretty long. However, I never did get a job at the Minnesota State Fair.
Every year the stories about the Sweet Martha's Cookies booth making 20 bajillion dollars (fun fact: there is no red line under 'bajillion' as I type this which means it's a real word I guess) combined with several posts about the price of everything, including some jerk complaining about the cost of parking.
Someone on Reddit recently asked folks what it is like to actually hold down a job at the Minnesota State Fair. Here were some of the responses:
(These are just people's comments and have not been verified in any way)
SWEET MARTHA'S COOKIES 
Via u/ErisAdonis
I worked 5 fairs at Sweet Martha's , it's busy fast work and time does go by quickly bc there almost always a customer. Most customers are fun and work with you, some are D**KS and try to hustle you, or worse scam you with fake bills (happens 1 or 2 times a day per store).

 

After year 2 I started working in the back making cookies and eventually worked my way up to learning the recipe and cookie cutting my whole 6 to 8 hour shift.

 

There really is a secret trade going on at the fair. The owners don't like it but you can trade food for food if you work at popular booths.

 

There is typically a reject tray once every hour or so for employees to "take home" I'd throw a pack of zip locks in my bag and trade gallon bags of cookies for fries, burgers, sandwiches and the occasional pizza.
Another user commented that the pay for Sweet Martha's was (again allegedly) $15.50 per hour.
DNR BUILDING 
via U/Capnshiner
I interned for the DNR in 2005 and spent a shift working in the DNR building sitting by an oil drum covered in zebra mussels talking about invasive species. It was hot, crowded, claustrophobic, but it was fun to talk to so many people (albeit repetitively) and see the behind the scenes of the fish tanks and the staff areas of the DNR building.
UNSPECIFIED FRIED PICKLE STAND
via U/Majorscheiskopf
I did fried pickles. Ownership sucks, working near the fryers sucks, the hours suck, the pay sucks, and you get sick of the free food really quick. Worth it if you're in high school and just want a few hundred bucks before school starts, but not for anyone else.
HAUNTED HOUSE 
via U/bthnywhthd
Many years ago I worked in the Haunted House. It was the absolute worst job I have ever had. At the time (and maybe now too?) all male employees could be the monsters and all the female employees had to stand in the corners to help people who were too scared get out via the back entrances.

 

As a female, I was basically beaten the entire shift because in the dark people assumed that the lurking shape in the corner was a monster ready to scare them, so they would hit, kick, throw things, flail. And then all the monsters would grope me constantly as they could not get in trouble for sexual harassment as we could not actually identify anyone.

 

We had to buy all of our own entrance tickets, and if we worked all 12 days of the Fair the owners would pay us back for all the entrance tickets, but if we left before the 12 days were up, nothing. I was too poor to not work all 12 days.

 

After that year I sold admission tickets, which was a lot more dignified and bearable.

 
MINI DONUTS 
via U/thankyourob
I worked for a mini-donut place for the summer of '96 when I was 17, doing small carnivals/fairs around the state - which was fun. The summer ended with doing the State Fair, which wasn't fun…as someone else said, it was long days/very hot/repetitive.

 

Some people just can't hang and I was one of them. Quit after 1 day of doing the Fair. Never again, it wasn't for me.

 

I've only been back the Fair a handful of times since then…but most importantly, I still love mini-donuts. So the experience didn't ruin that for me.
Here is the lineup of The 2023 Minnesota State Fair Grandstand Concert Series