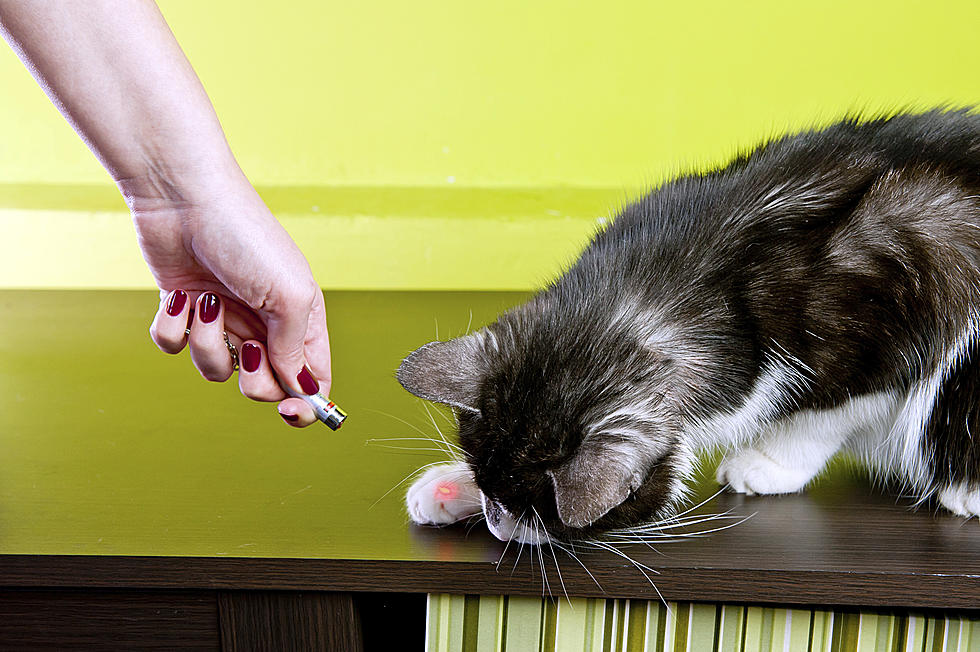 Wisconsin Woman Shoots Man While Using Gun to Play With Cat
Has this been the type of laser pointer used, it'd have been just fine. It wasn't. (borzywoj)
I thought the magazine had been taken out...
In Kenosha, Wisconsin, you'll find the Outta Sigh Kite Flight, Cheese-A-Palooza, and Tribute Island, a three day music fest featuring tribute bands from the Midwest. And a dough-head who doesn't know you don't play with guns.
The 19-year-old (technically, that's old enough to know better), was playing with the cat. You know how cats love chasing and pouncing on little red lights...so that's what she was doing. Where'd the red light come from?
The laser sight on the handgun. I said the laser site on the HANDGUN.
She Learned the Hard Way A Gun Is Not A Toy
According to ABC News, the woman was "visiting an apartment on Tuesday where a 21-year-old man had brought a handgun."
Police reports say she had been drinking, and, wanting to play with the cat, took the handgun, "turned on the laser sight and was pointing it at the floor to get the cat to chase it..." and that's when the gun discharged, the police complaint that was filed Thursday stated.
The shot went into the 21-year-old man's thigh. He left and went to another apartment.
By the time police got there, they found the man, put on a tourniquet, and then taken to the hospital. He's facing charges because his bond conditions say he can't have a weapon. No news on his condition or what crime he's been bonded out on.
The complaint says the woman didn't check, but thought the magazine had been removed from the gun and said it went off "accidentally." I'm sure it's a traumatic situation that's bringing a lot of unwanted attention. 
It's also a situation that screams, "This is why gun safety is so important."
As always, if you have a comment, complaint, or concern about something I wrote here, please let me know: james.rabe@townsquaremedia.com
Security Shot of Bakery Tip Jar Suspect in Duluth Minnesota
Just so you won't think I'm always attacking Wisconsin people as dough-heads...
Someone stole the tips from a new business in Duluth, Minnesota. What a disappointing and disheartening experierience for a brand new bakery.
Duluth followers, if anyone sees or knows this gem of a man, he stole all of the cashiers hard earned tips today and was caught on camera. 3:51pm in the Miller Hill Mall
Sorry bud, but don't mess with me!!! (link)
See the other security camera screen shot and read More: Security Shot of Bakery Tip Jar Suspect in Duluth Minnesota |
Listen to James Rabe and Jessica Williams Weekday from 6 - 10 AM on Y-105 FM
Check out this Minnesota pizza spot that loves superheroes so much, they dress up like them!
Is Galactic Pizza the coolest pizza place in Minnesota? If you love superheroes, the answer is "yes"! Plug in 2917 Lyndale Ave S., Minneapolis into your Google Maps, and get ready for amazing pizza, desserts, and a superhero experience you will never forget. If you can't drive there now, at least learn a bit on
their website
how this pizza joint is doing more than just making pizza...they are helping save the world!