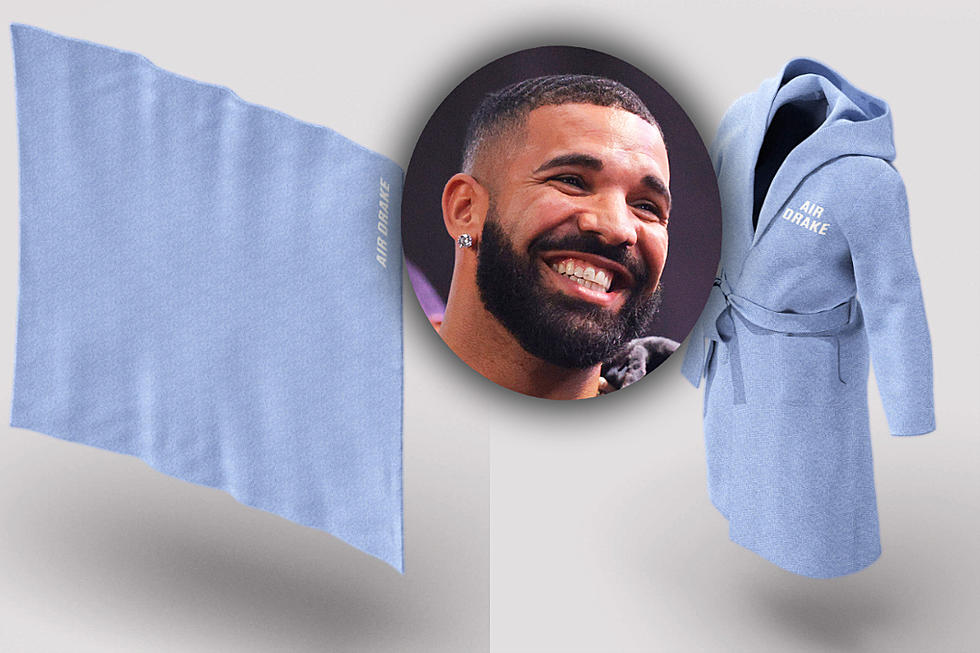 Drake's Wildly Expensive Air Drake Merch Line Includes a $4,100 Blanket, Fans React Accordingly
drakerelated.com/Amy Sussman/Getty Images
Drake's wildly expensive line of merchandise, Air Drake, which includes things like a $4,100 blanket and more, is garnering quite a reaction from his fans.
On Friday (May 12), Drake launched a luxurious line of clothing and other items to celebrate the anniversary of Air Drake, the Toronto rapper's personal Boeing 767 private jet. The Air Drake merch collection, which, according to DrakeRelated.com, is in partnership with high-profile fashion brand, The Elder Statesman, has fans blasting off on social media over the sky-high price point.
The first-class, inflight-themed periwinkle blue Air Drake collection listed in the gallery below finds The Elder Statesman leaning heavily into Drake's often-noted affinity for the finer things in life. Products like a $3,515 cashmere robe and a pair of $415 socks made up of the same bougie material all lend themselves to having a Champagne Papi-like experience while globetrotting around the world.
However, even the lowest-priced Air Drake items such as $150 hoodies, both versions of which are of course sold out, are leaving Drake fans with a heightened sense of inferiority over the elevated retail prices.
"$415 for some blue socks?" one quick-witted Drake fan commented on DrakeRelated's Instagram post introducing the line. "Do I get a speed boost?"
Another Drizzy enthusiast used the Air Drake collection to make reference to Drake's equally expensive ticket prices for his It's All a Blur Tour: "Bro, a pair of socks cost the same as a tour ticket fr."
"Umm? Do I get to meet him or fly on Air Drake with these prices?" one user chimed in.
This isn't the first time the focal point of the outrageously priced luxury liner, Drake's private jet, has made headlines of its own. In December of last year, impressive video footage of Air Drake landing on an airstrip next to a bunch of beachgoers in St. Maarten went viral across social media.
See Drake's Wildly Expensive Air Drake Merch and More Fan Reactions Below
See Drake's Wildly Expensive Air Drake Merch Line
Wildly Expensive Hip-Hop Songs Based on Prices of Luxury Items Mentioned
XXL takes a look at the estimated price tags of the luxury items rappers like Lil Uzi Vert, Travis Scott, Nicki Minaj and more mention on their songs.