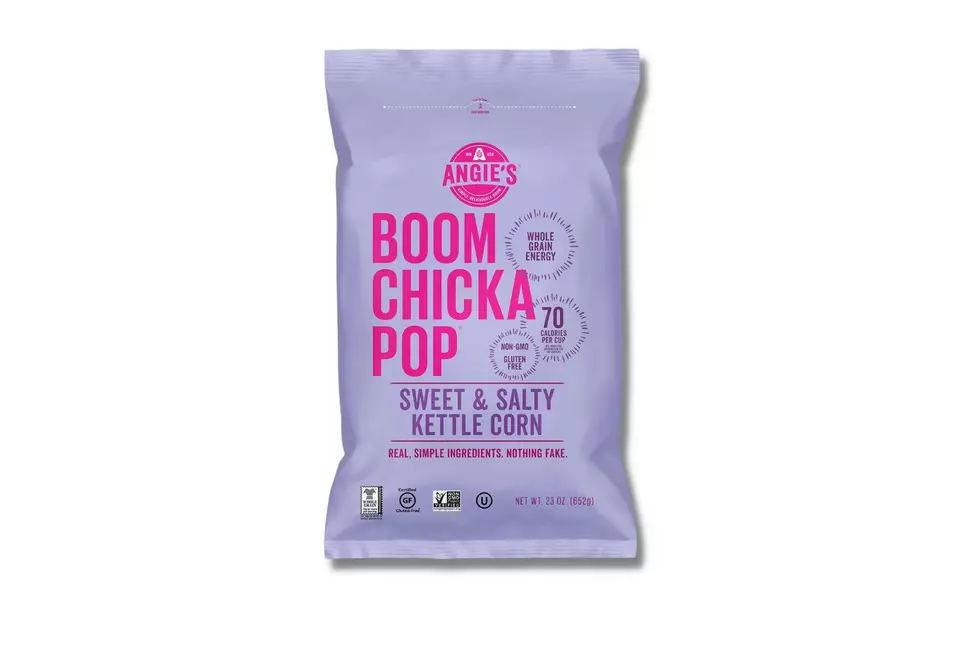 Did You Know Boomchickapop Is Mankato Minnesota Born and Raised?
Amazon
If you're like a lot of people, you never noticed the "Angie's" above the BoomChickapop. Not because you don't notice things, but holy-moly, that Chickapop is so huge! But now that you know about it, did you know Angie's Boom Chickapop was born in Minnesota? #Truth.
Angie is Angie Bastian, and according to their website, she and her husband Dan were worried about how their kids would go to college. They didn't have a college fund and together they had good jobs (Angie a nurse practitioner and Dan taught Spanish) but was it enough to cover the costs of college for their two toddlers?
In an artfulliving.com story, Angie said, "Dan came across an Internet ad that said, "Make thousands of dollars every weekend"...So we bought a kettle and started popping kettle corn in our garage." That garage was in Mankato, Minnesota. And that's where they started selling; local events, street fairs, and even at neighborhood events.
You read that right, Boomchickapop was born and raised a little less than 90 minutes away from Rochester, Minnesota.
That's Not Going to Fill A College Fund
Small events would fill a college fund, but it'd be a lot of constant work and diligence. Which they were prepared to do. BUT, what if they could sell at larger venues? It'd still be a lot of work, but for a much greater reward. So in 2002, they landed the Minnesota Vikings kettle corn contract. It was their break.
In 2004 Boomchickapop was in grocery stores and got bigger every year. Eventually, big brands noticed, and in 2017, ConAgra Brands bought Angie's Artisan Treats for $250 million. From their garage and neighborhood events to being bought out for $250 million in 15 years.
How Did Angie's Boomchickapop Do It?
In a Brit+CO story, Angie Bastian said it was a lot of hard work and it couldn't have happened without friends and family.
Grandparents jumped in and helped pick up our kids from school and spent time with them when the business started getting crazy. My parents even helped us pop popcorn at a couple of events in the very beginning.

We had friends that bought our products, gave us honest feedback, and helped us taste test. We had a group of friends and family weigh in anonymously on Survey Monkey as one of our first consumer insight groups.

Dan's brother became our CFO and his dad helped us deliver to local stores early in the business. We hired a lot of our friends and their kids who were going to college and needed summer jobs.

Our friends, family, and the larger community in Minnesota were incredibly supportive, and we couldn't have done it without them. We are abundantly grateful!
PS - In May they debuted the Boomchickapop engagement ring! For a meager $50,000 it can be yours
In our Top Ten list of Minnesota Made/Born snacks, you'll find all kinds of tasty treats...including Boomchickapop.
Gallery - Top Ten Made in Minnesota Snacks
Minnesota is home to many delicious things, from hot dishes to pronto-pups. But a much smaller amount is created in and made in Minnesota. So, get munchin', sippin', and satisfyin'!
Click each image if you wnt to see what they cost, where to get 'em, etc.
As always, if you have a comment, complaint, or concern about something I wrote here, please let me know: james.rabe@townsquaremedia.com
Listen On-Demand with the Y105FM app, and on the following podcast platforms: Apple Podcasts | Google Podcasts | Spotify