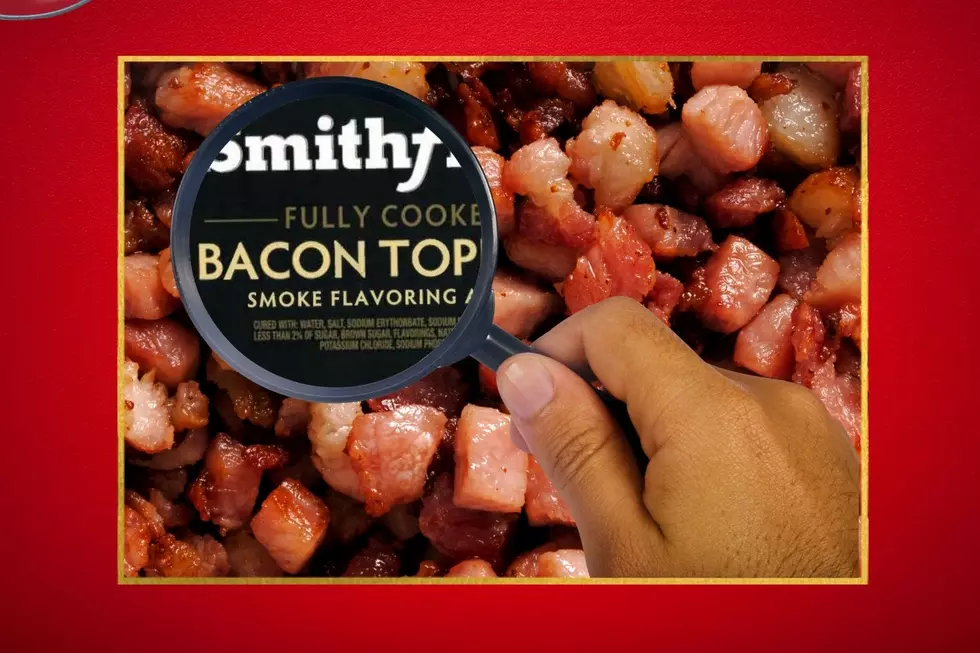 Over 185,000 lbs. of Bacon Recalled in Minnesota, More Expected
Rabe Canva
The Smithfield Packaged Meats Corporation, in Sioux Center, Iowa, is recalling approximately 185,610 pounds of ready-to-eat (RTE) bacon topping products. According to the US Department of Agriculture, this bacon may be contaminated with foreign material.
What's In My Bacon That's Causing the Recall?
According to information from the Food Safety and Inspection Service (FSIS), you may find metal in your bacon toppings. They found out about it because a customer complained. FSIS says there are likely to be more bacon recalls having to do with this issue, so keep your eyes on our app.
Scroll down to see the labels.
The RTE item was produced on various dates between Feb. 21, 2022, to Feb. 23, 2022, and March 3, 2022, to March 5, 2022. The following product is subject to recall -
5-lb. packages containing "Golden Crisp PATRICK CUDAHY PRECOOKED BACON TOPPING" SKU 43200 12002 with lot codes 2054, 2062 and 2063.
5-lb. packages containing "Smithfield PRECOOKED BACON TOPPING" SKU 43200 12003 with lot codes 2063 and 2064.
5-lb. packages containing "Golden Crisp PATRICK CUDAHY FULLY COOKED BACON TOPPING APPLEWOOD SMOKED" SKU 43200 12296 with lot codes 2053 and 2062.
5-lb. packages containing "Smithfield FULLY COOKED BACON TOPPING" SKU 43200 12663 with lot code 2064.
5-lb. packages containing "MEMBER'S MARK FULLY COOKED BACON CRUMBLES" SKU 78742240923 with "BEST IF USED BY" date of "2022-11-18."
Smithfield Packaged Meats Bacon Topping Recall Labels
Nothing fancy here, just the labels you need to see.
More information on the Bacon Toppings Recall
The products subject to recall bear establishment number "EST. 27384" inside the USDA mark of inspection.
These items were shipped to distributors and retail locations in Minnesota, Iowa, Wisconsin, Illinois, and the rest of the nation.
These products should be thrown away or returned to the place of purchase.
Some of the bacon products may have been used to produce other products.
Consumers with questions about the recall can contact Smithfield Consumer Affairs hotline at 1-844-342-2596.
As always, if you have a comment, complaint, or concern about something I wrote here, please let me know: james.rabe@townsquaremedia.com
Click Play to Hear The Y-105FM Early Morning Show Radio-On-Demand Podcast!
Listen On-Demand with the Y105FM app, and on the following podcast platforms: Apple Podcasts | Google Podcasts | Spotify
On the lighter side...did you know you can buy a basement with no house on top?
I was today years old when I found out such a thing was available (besides the sod house Ma, Pa, and kids Ingalls lived in on the Banks of Plumb Creek.
Unusual Basement Home for Sale in Illinois is Ultimate Man Cave!
If a guy is looking for a bachelor pad or his very own man cave, a house popped up on the market in Illinois that is basically perfect, and it is cheap.
213 N. Mason Street in Deer Creek, Illinois showed up on the real estate market just a few days ago with a price tag of only $35,000! It features 832 square feet and has 2 bedrooms and 1 bathroom, and yes, it is all underground.
As far as the photos showing off this place, you'll see that it's not the most well-kept place...I mean, there are boxers on the floor in a bedroom...so, yeah.