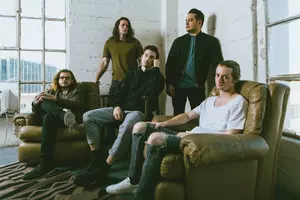 Grayscale's 'In Violet' Video Is a Gorgeous Emo-Pop Ode to Loss and Grief: Premiere
Courtesy of Fearless Records
Grayscale give the concept of death new light in their emotionally-charged music video for "In Violet," premiering exclusively on PopCrush.
The Philadelphia pop-rock band explore concepts of life, death and grief on their latest song and music video, giving listeners their own interpretation of the slight glimmer of hope in the face of a typically dark life experience.
The music video begins with a woman dressed in black walking up to a church where a funeral being held. When she approaches the casket, she realizes that the body is missing. Dressed in white, the woman who passed away suddenly appears, throwing the church doors open and revealing a crowd of other people dressed in white. The funeral-goers realize that the crowd is comprised of their late loved ones, and reunite in an emotional crescendo. All the while, Grayscale perform while violet smoke billows around them and begins to dye their skin the same color.
"When I die, I want people to celebrate my life and enjoy each other's togetherness, rather than mourn my death in a miserable way," lead vocalist Collin Walsh says of the song. "I've dealt with a lot of loss and long episodes of grief the past couple of years, and it made me realize how much it can wear on you. When I go, I want everyone you to celebrate, sing, laugh, and dress in violet."
It's a visually stunning and captivating video that is sure to leave fans both intrigued and wanting more.
Watch the "In Violet" music video, below:
Grayscale will release their sophomore album Nella Vita on September 6.
See the full track list to Nella Vita, below:
1. "Just Right"
2. "Baby Blue"
3. "In Violet"
4. "YOUNG"
5. "Twilight (My Heaven)"
6. "Old Friends"
7. "Painkiller Weather"
8. "What's on Your Mind"
9. "Asbury"
10. "Desert Queen"
11. "In My Arms"
12. "Tommy's Song"
Best Albums of 2019