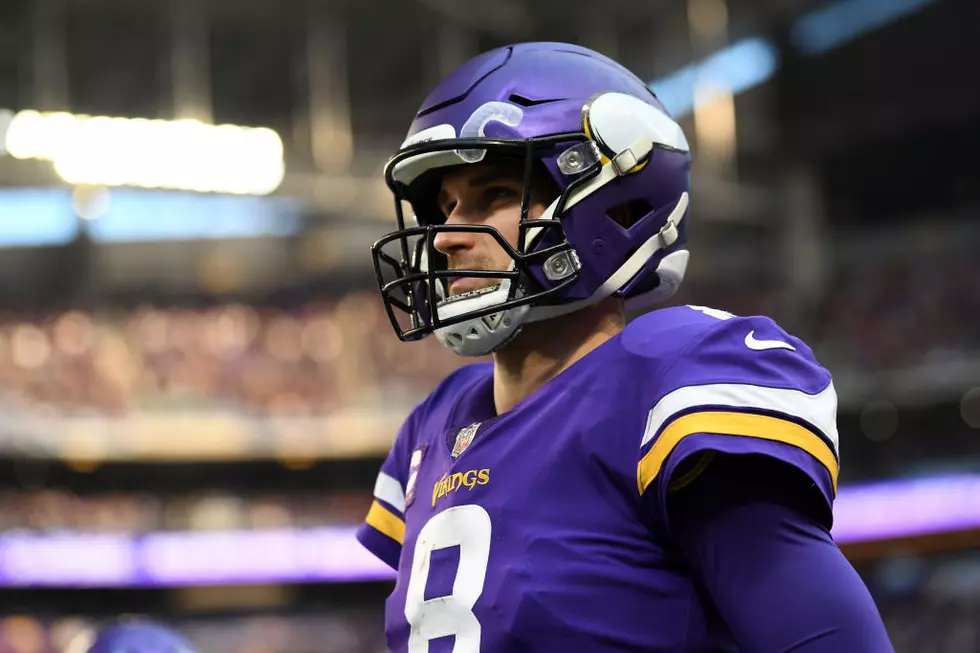 Kirk Cousins Tests Positive for COVID-19, Will Miss Minnesota's Preseason Opener
Getty Images
Normally, preseason games draw minimal interest but with the Vikings kicking off a new era with new head coach Kevin O'Connell, the curiosity level with Vikings fans has been raised.
The Minnesota Vikings preseason opener is this Sunday in Las Vegas, but the team learned Friday they will be without the services of their starting quarterback.
Multiple sources are reporting that Kirk Cousins has tested positive for COVID-19 and will be forced to miss Sunday's game against the Raiders.
The news was initially announced by head coach Kevin O'Connell, who went on to say that Cousins is currently experiencing minimal symptoms. Cousins can return to the Vikings training facility as early as Tuesday, which is when his five-day isolation period ends.
Per CBS Sports, the National Football League has done away with its COVID-19 protocols this season. Gone are the requirements of masking, testing, or contact tracing. However, NFL teams are still expected to adhere to local COVID-19 requirements.
If symptoms are reported, team personnel can be tested. Cousins reportedly noticed symptoms on Thursday and was then sent home to await test results, which came back positive.
This isn't the first time Kirk Cousins has missed a game due to contracting COVID-19. He also missed the Vikings Week 17 game against the Green Bay Packers last season.
For the preseason opener, quarterback duties will be split by Kellen Mond and Sean Mannion, although O'Connell hasn't announced who will start.
If there's a positive in this, it's that it is just the preseason and Kirk Cousins would likely have only played a series or two anyway. Hopefully for Vikings fans, on Tuesday he'll be good to go and he will have plenty of time to get ready for the season opener against the Green Bay Packers.
TACKLE THESE: Check Out the Best Uniforms In Each NFL Team's History
CHECK IT OUT: 100 sports records and the stories behind them