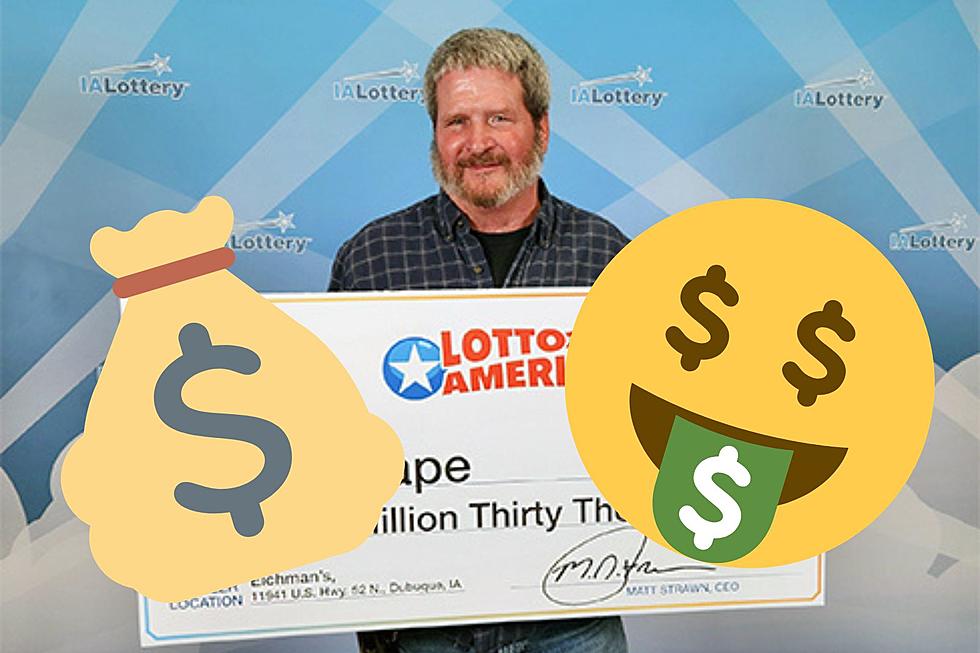 Iowa Man Breaks Record With $40 Million Lottery Prize
Iowa Lottery, Canva
If you look up Lottery Pranks on YouTube, I'm sure you'd find some disappointed people who thought they won big but found out it was a cruel joke. A man in Dubuque thought he was the butt of an April Fool's joke when he saw his Lotto America lottery ticket was the winning ticket of more than $40 million. It doesn't help when the drawing was on April Fool's Day.
Luckily for Earl Lape of Dubuque, it wasn't an April Fool's joke. Instead, he won himself $40.03 million that he plans to do a lot of good with. The place he bought the winning ticket from also gets a nice bonus too.
Dubuque, Iowa Man Wins Big With Lotto America
We have a winner ladies and gentlemen. Earl Lape of Dubuque claimed his $40.03 million jackpot prize on Monday at Iowa Lottery headquarters in Clive.
In the winner press release from the Iowa Lottery, Lape, 61, a retired mechanic, said he finally started to believe the news when he took his winning ticket to Eichman's, a restaurant and convenience store at 11941 U.S. Highway 52 N. in Dubuque where he bought it and had it checked on the lottery terminal. Lape told the Iowa Lottery,
"I had already signed it, so I handed it to her. She scanned it and then smiled and said, 'You are the winner!'"
Lape told first told his childhood best friend  Randy Davis who was with Lape for moral support as he claimed his prize.
For selling the winning ticket, Eichman's will receive $5,000 from the Iowa Lottery.
Iowa Man Breaks Lotto America Record With Win
With his winning ticket, Lape sets the record for the biggest win in Lotto America history, according to the Iowa Lottery. The jackpot that night was a record for the Lotto America game: $40.03 million annuity, $21.28 million cash option.
The Lotto America jackpot had been growing since July 2021. Before April 1st, 2023, the game's jackpot record was a $22.82 million prize. That jackpot was won in March 2018 by a Minnesota family.
Lape says he likes to play Lotto America because it offers better odds of winning than the larger multi-state games, Powerball and Mega Millions. He chose to receive his winnings in the lump-sum option of $21.28 million.
Lape Plans To Do A Lot Of Good With His Winnings
Lape told the Iowa Lottery that he plans to invest his winnings so the money could help his family for generations to come.
He also is planning donations to organizations that benefit children with medical issues, telling the Iowa Lottery,
"If it weren't for our parents to show us the way, where would we be? That's why I want to help kids. A lot of parents don't have money and a lot of insurance companies don't cover it, but the kids still need treatment."
Specifically, Lape wants to give donations to the University of Iowa Stead Family Children's Hospital in Iowa City, and Blank Children's Hospital in Des Moines.
Lape also told the Iowa Lottery that before he won the jackpot, he was in the process of buying the home of his long-time girlfriend who passed away in August 2022. He said that winning the lottery will mean he can pay for the house as well as the repairs and updates it needs.
This is the second Lotto America jackpot won in Iowa, according to the Iowa Lottery. A Davenport man won a $4.38 million jackpot in the game in May 2018.
Drinks Will Hit 'The Spot' At New Bar In Downtown Davenport, Iowa
There's a new bar in downtown Davenport where the cold drinks, atmosphere, and friendly staff will guarantee to hit 'The Spot'. Katlin Rodriguez is the new owner of
The Spot Bar & Lounge
(226 W 3rd St) and her goal is to make sure everyone feels welcome while enjoying delicious adult beverages.
Floating Vrbo
If you're sick of the normal vacations...a stay ON the water may be what you need.