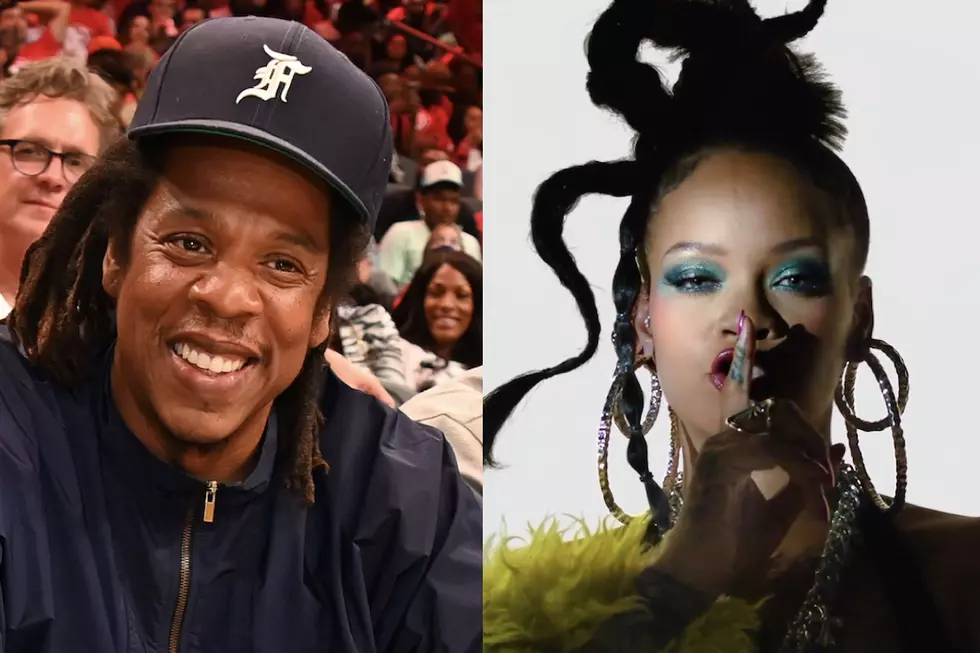 Jay-Z Helping Rihanna With 2023 Super Bowl Halftime Show – Report
Paras Griffin/Getty Images/badgalriri/instagram
Rihanna is reportedly getting some assistance for her upcoming halftime show performance at Super Bowl LVII.
According to a Capitalfm.com report, published on Friday (Jan. 13), Jay-Z and Roc Nation are reportedly helping Rihanna organize her performance for the 2023 Super Bowl halftime show at State Farm Stadium in Glendale, Ariz., on Feb. 12. As the live music entertainment strategist for the NFL, it would make sense that Hov is helping out since he also signed RiRi when he was the president/CEO at Def Jam in 2004.
XXL has reached out to Jay-Z and Roc Nation for comment.
Last week, Rihanna shared a teaser for her Super Bowl halftime show on her Instagram page. In the clip, the fashion mogul and new mom is walking towards the camera dressed in a black bodysuit with a bright yellow-colored fur coat and rocking an extreme hairstyle. Soundbites can also be heard of people talking about how she hasn't released music in six years. Rihanna then places her index finger to her lips in a "shhh" gesture before her 2016 track "Needed Me" is heard and the video ends.
As for who Rihanna will bring out as her special guests, that information is top secret. However, last November, RiRi told E! News that with only twelve minutes to perform onstage, she might have to do it alone with no guests.
"Twelve minutes? You could actually do that by yourself, but it's one of those things where you can decorate it however you want," she said. "So whether I choose to do it for myself or whether I choose to bring some of my peers on, it's...I don't know what I'm gonna do yet. It's gonna be great either way."
Nevertheless, that hasn't stopped the rumors on social media of potential setlists and guests. Fans are hoping that Eminem makes a repeat return to the Super Bowl stage, while Drake, Future and even Kanye West are rumored as possible guests.
No matter what, there's no doubt that Rihanna will deliver a spectacular halftime show for Super Bowl LVII.
You can watch the 2023 Super Bowl live on Fox Sports beginning at 6:30 p.m. ET with the Apple Music Halftime Show starting around 8 p.m. ET.
Watch Rihanna's 2023 Super Bowl Halftime Teaser Below
See 11 Rappers You Might Not Know Had Signed Record Deals With Professional Athletes