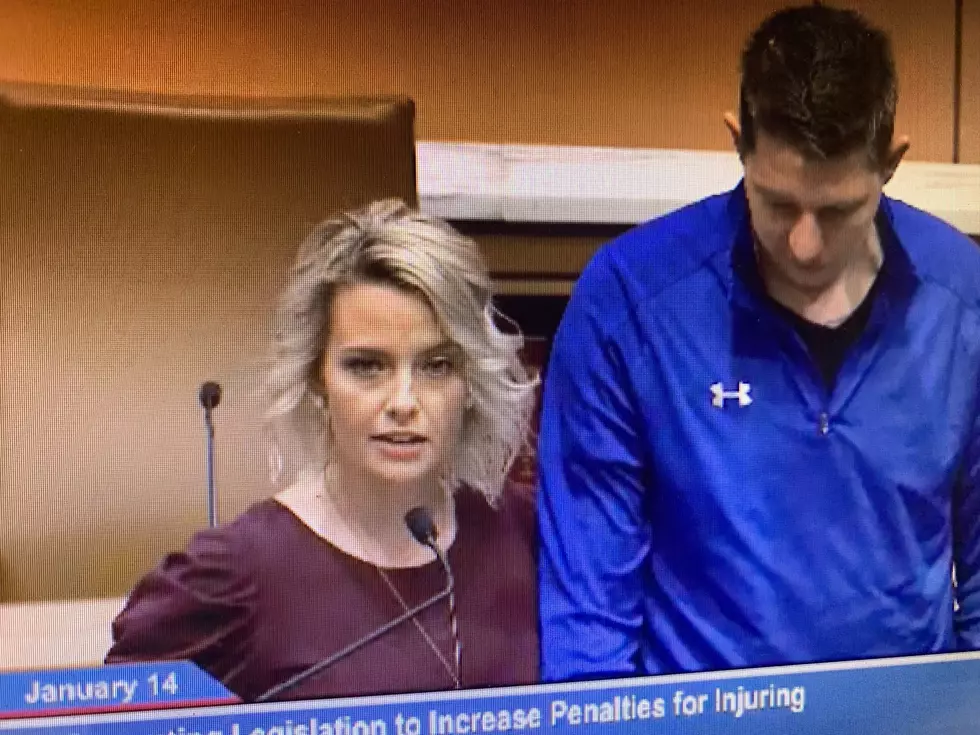 Loving Message From Arik Matson's Wife Megan, Triggers All The Feels
Megan and Aric Matson During St. Paul News Conference. Photo by Gordy Kosfeld
Waseca Police Officer Arik Matson was honored over the weekend as he received the 2020 Minnesota Police Officer of the Year award from the Minnesota Police and Peace Officer Association. It was after the ceremony had ended did a post emerge on the Matson Strong Facebook page that showed you the depth of love Arik's wife Megan has for her husband as she stated that she would "stand hand in hand with you all the way" as she thanked all those involved with the process of nominating Arik for the prestigious award.
The post from Megan Matson thanks Waseca's police chief, other officers, first responders, North Memorial Hospital, and everyone who has shown the family support as Arik continues to recover from that fateful January night in 2019.
It was after all the thanks were given that Megan wrote a note to Arik, for all to see, from the heart. It's that message that I wanted to share, it's one that shows the true character Megan has, and the depths of her love for her husband Arik.
Now Arik, I as your biggest supporter, wife, yet care taker at times. I'm so proud of you babe! I can't say that enough. Looking back on this past year in a half you have moved mountains with your recovery. Although there is still more to be moved. I will stand hand in hand with you all the way. I will push you to your limits only to make your stronger. You may yell at me in the moment but just understand I'm doing it for you. When I catch myself staring at you I can't help but smile and feel so happy for all the progress you are making . Even though you say you wish it was faster or that you could see what others see because you don't feel like you have made much in your eyes. You have soooooo many people cheering you on. So many people that have your back. So when you feel like giving up just remember we are MATSON STRONG - Megan Matson
Wow. What an incredible person.
2020 MPPOA Officer of the Year: Waseca Officer Arik Matson

This past weekend Arik & I attended the 2021 Minnesota...

Posted by Matson Strong on Tuesday, June 15, 2021
20 of the Best Good News Stories of 2021
Lots of good is happening in our world, even as we are all in the middle of a pandemic. If you are searching for some positivity right now, you came to the right spot. Here are the top 20 good news stories for 2021 so far.