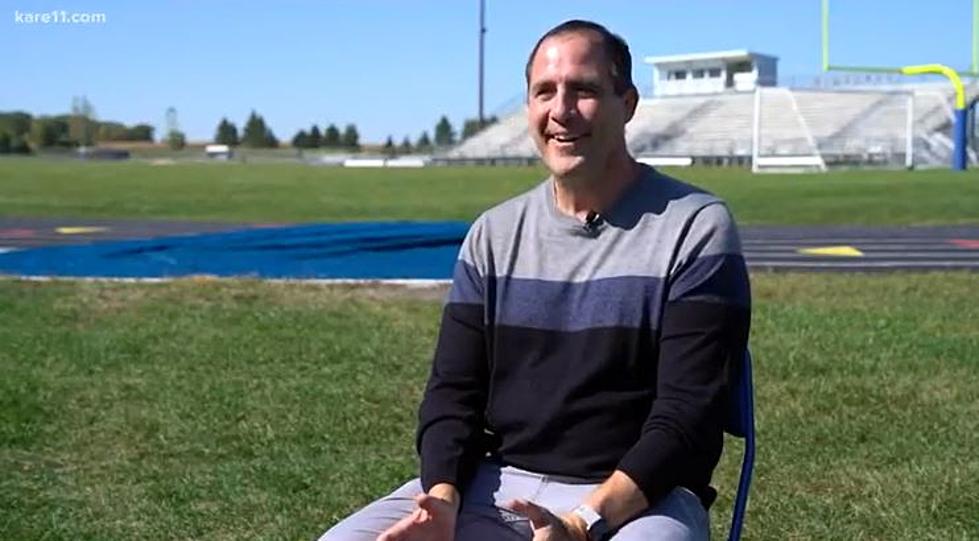 Southern Minnesota Football Coach Back After Heart Stopped on the Field
Credit: Randy Shaver via KARE 11
The Waseca, Minnesota head football coach is "in bonus time" as he puts it and he's not taking anything for granted anymore. That's because just three weeks ago Brad Wendland went into cardiac arrest on the sidelines of his team's first game and almost died. Today, he's back in the classroom teaching his students and back on the football field coaching.
There were 31 seconds left in the first game of the season for Waseca when Brad's heart stopped and he collapsed on the sidelines. Thankfully fast-acting medical personnel used an AED to revive Brad and that's why he's still here today. He spoke to KARE 11's Randy Shaver about what happened and said "'I had no appreciation for the severity of what was going on'".
Now he has an AED-type device implanted in his chest but doctors can't figure out why he went into cardiac arrest and as Brad put it, "'that's unnerving'". I'd say that's an understatement but, hey, he's still here today and that's all you can ask for.
Brad is back teaching and back coaching his team on the field. He's not at 100% just yet but he's getting there and very grateful for it. He got emotional when talking to Randy and said "'I don't have bad days anymore ... I feel blessed to be here.'"
Listen to the Get Up & Go Morning Show w/ Dunken & Carly On-Demand below, with the 106.9 KROC app, and on the following podcasting services:
Apple | Google | Spotify
If you need more good news in your life, keep scrolling to check out other good news stories from this past year.
20 of the Best Good News Stories of 2021
Lots of good is happening in our world, even as we are all in the middle of a pandemic. If you are searching for some positivity right now, you came to the right spot. Here are the top 20 good news stories for 2021 so far.