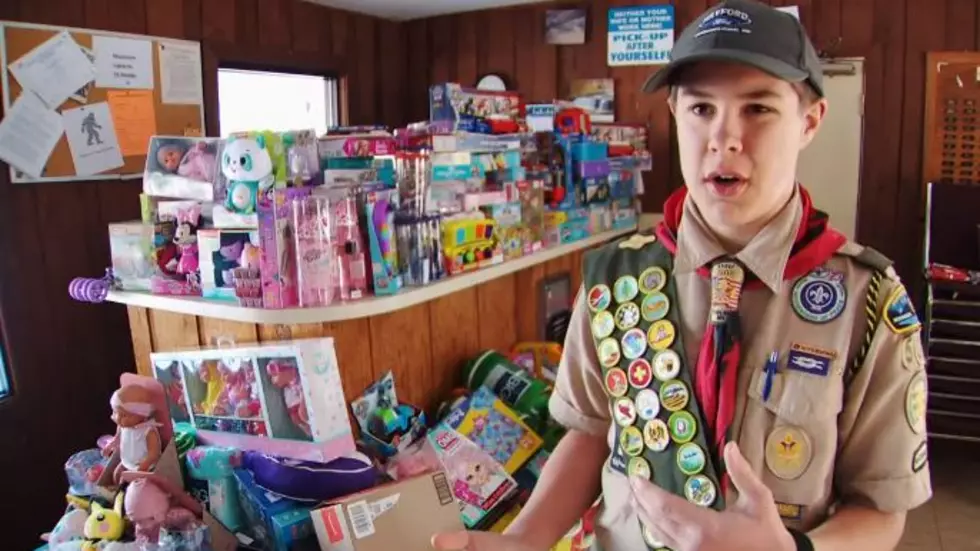 12-Year-Old Minnesota Boy Donates Over $10,000 in Toys
Boyd Huppert, KARE 11
This Cambridge, Minnesota boy, Jonathan Werner, is absolutely amazing! He makes me feel like there's way more I could do to help people. He purchased and donated over $10,000 in toys to kids in need. And he's 12, by the way!
So how did a 12-year-old get $10,000 to buy toys? Well, Jonathan is a Boy Scout and participates in all of the selling that the scouts do. One of the sales they do that you're likely familiar with is their yearly popcorn sales in the fall.
Top Boy Scout Popcorn Seller in Minnesota
Jonathan is a total pro when it comes to selling popcorn. KARE 11 says he'll set up his stand when a store opens and will stay until the store closes. When KARE 11 talked to him he was hanging out at his local Fleet Farm. He's seriously a natural at sales and has even gotten job offers according to his mom. "'He gets job offers all the time, [w]hich is funny, because he's 12.'"
To really drive home just how good Jonathan is at selling popcorn, his total popcorn sales for this year was $56,396. That's. Crazy! He's the top Boy Scout popcorn seller in Minnesota and number 3 in the country.
12-Year-Old Donates Tons of Toys to Kids in Need
With those popcorn sales, Jonathan gets a little kickback from it so this year he got $11,800, which he didn't keep. He took that money to Kohl's, Amazon, Walmart, and Fleet Farm and fulfilled the Christmas wishes of foster kids and kids in local domestic violence shelters.
He does this every year with his popcorn reward money. And he doesn't buy just anything, Jonathan takes the time to see what the kids are wishing for and will do his best to get something that they would like. This year, he bought 600 gifts for all foster kids and kids in domestic violence shelters in his 4 surrounding counties plus some in a 5th county. And he, his family, and some fellow scouts went to work wrapping all of the gifts for the kids.
Jonathan decided this is what he wanted to do with his money from popcorn sales because his dad was a foster child. And while 600 gifts is a huge accomplishment for a 12-year-old his ultimate goal is to provide gifts for all foster kids in Minnesota. What an amazing and inspiring kid!
LOOK: The top holiday toys from the year you were born
With the holiday spirit in the air, it's the perfect time to dive into the history of iconic holiday gifts. Using national toy archives and data curated by
The Strong
from 1920 to today,
Stacker
searched for products that caught hold of the public zeitgeist through novelty, innovation, kitsch, quirk, or simply great timing, and then rocketed to success.