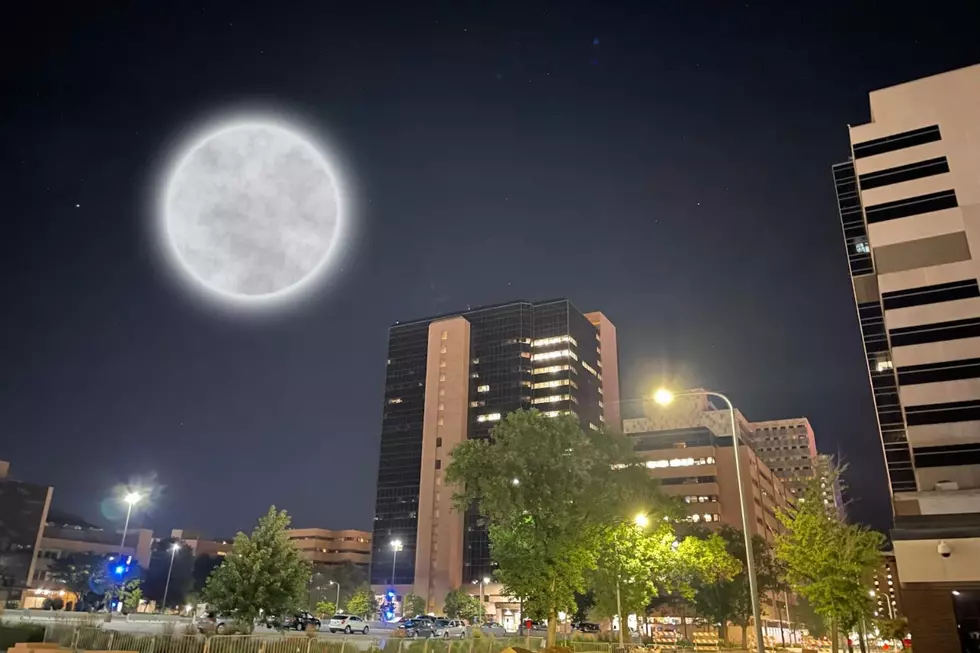 Rare Supermoon To Make Last Appearance in Minnesota This Week
Curt St John/Townsquare Media-Rochester/Preston, MN (Canva)
It only happens a few times a year, and you've still got a chance to see the rare supermoon in its last appearance this year in the sky over Minnesota this week.
Seeing as I head to work at around 4:20 when it's still dark each morning, I noticed this phenomenon earlier Wednesday morning: a massive supermoon over the southwest skies of southeast Minnesota. In case you missed it, don't worry-- this supermoon will still be visible for the next few nights, as well.
Just what is a supermoon, you ask? Well, according to the Old Farmers Almanac (OFA), a 'supermoon' is a full moon whose orbit tracks closer to Earth than usual, making it appear larger and brighter in the sky-- 'super,' you might say.
The supermoon we're experiencing right now is actually the last of four supermoons that have happened in 2022. There were already previous supermoons in May, June and most recently back on July 13th. The supermoon happening this week is also called a 'Sturgeon Moon,' because 'the giant sturgeon of the Great Lakes and other bodies of water were most readily caught during this part of summer,' the OFA noted.
Here in Rochester, the OFA  says you'll be able to see the Sturgeon supermoon through Saturday (8/13) before it starts to wane. It'll first rise in the southeastern sky at 8:44 pm Wednesday (8/10) and set again in the southwest sky at 5:09 am Thursday (8/11).
Then, on Thursday night (8/11), it'll rise in the southeast sky at 9:15 pm and set in the southwest sky at 6:32 am on Friday (8/12.)  Friday night, it'll rise in the southeast sky at 9:40 pm and set in the southwest sky Saturday (8/13) at 7:53 am. And finally, it'll rise in the eastern sky at 10:02 pm Saturday (8/13) and set again in the western sky Sunday (8/14) at 9:10 am.
If you're not sure where to look, click HERE for an exact guide specific to your location. And speaking of rare things, did you know there's a castle that looks like it's right out of Europe a little over an hour from Rochester? Keep scrolling to see the pics!
Listen to Curt St. John in the Morning
Weekdays from 6 to 10 a.m. on Quick Country 96.5
Incredibly Cool Minnesota Castle Looks Like It's Right Out of Tuscany