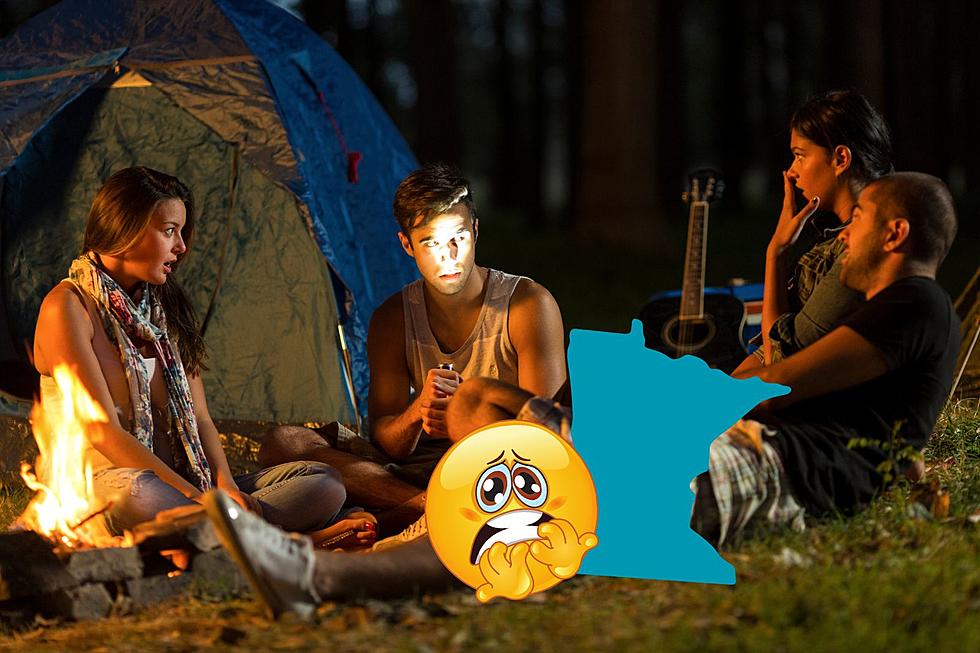 One of Minnesota's Scariest Urban Legends Comes to Life Thanks to AI (PICS)
Canva
There are many urban legends that have been told over the years. Some are more popular than others, like Bloody Mary and Slender Man. In Minnesota, we have a spooky urban legend unique not only to Minnesota but to Brainerd specifically.
Now, thanks to AI, we have a picture to go with that urban legend. More nightmare fuel, great.
Not only is there an AI-generated picture of the Minnesota urban legend, but Vivint has taken an urban legend from each state and used "the AI tool Midjourney [to] generate images of each legend in its haunted surroundings."
Midwest Urban Legends Brought to Life
So I have a picture that is thought to be what that particular urban legend would look like if it were real. Let's see which ones give us the biggest heebie jeebies.
Illinois - Halloween (the movie)
Even if you haven't seen Halloween you're at least familiar with it. It's the movie where Michael Myers has escaped a sanitarium and comes back to his hometown in Illinois to kill again.
Indiana - The Crosley Monster
The Crosley Monster is said to be a bigfoot-like creature seen in the Crosley Fish and Wildlife Area in Indiana.
Iowa - The Van Meter Visitor
Back in 1903, the people of Van Meter say they saw a giant winged monster. But to this day no one knows what really happened. Vivint says people have reported seeing this creature as recently as 2020.
Kansas - The Albino Woman
There is supposedly an albino woman who is seen roaming the Rochester Cemetery in North Topeka.
Michigan - The Dogman
This creature is supposedly 7 feet tall with the head of a dog and the body of a man. He is found in the woods of Northern Michigan.
Minnesota - The Smiling Man of Brainerd
As the name alludes, this person or creature has a wide grin. He supposedly watches or follows people quietly at night.
Missouri - The Momo
Momo is just a shorter name for 'Missouri Monster'. He's a bigfoot-like creature that people report seeing in the town of Louisiana, MO.
Nebraska - The Radioactive Hornets
The legend says that after a nuclear disaster at Fukushima Daiichi, giant mutant killer hornets were created because of the radiation exposure. Then the radioactive hornets came to Nebraska and killed several people. Allegedly.
North Dakota - The Miniwashitu
They say this creature lives in the Missouri River. Cryptidz Fandom says that it's "7-8 feet tall, has tough bison-like hide and fur, has a single eye and a single bison horn set above this eye, elk-like hooves, human hands, and a jagged and spiny backbone."
Ohio - A Nightmare on Elm Street (the movie)
A Nightmare on Elm Street is another popular movie where if you haven't seen it, you know the idea of the movie. It takes place in Ohio where Nancy and her friends are being tormented by a killer in their dreams (Freddy Krueger).
South Dakota - The Orpheum Theater Ghost
Supposedly this is the spirit of the theater's former janitor, Larry. Both staff and visitors say there are random cold spots in the theater, unexplained noises, and ghostly apparitions.
Wisconsin - The Rhinelander Hodag
This creature, which was eventually named the Hodag, was first seen in Rhinelander, WI. Today, the town loves this urban legend so much that the Hodag is now their high school mascot and you can see a statue of him in town.
Honestly, the picture that creeps me out the most is definitely the Smiling Man of Brainerd!
9 Most Haunted Hotels in Minnesota
Gallery Credit: Samm Adams