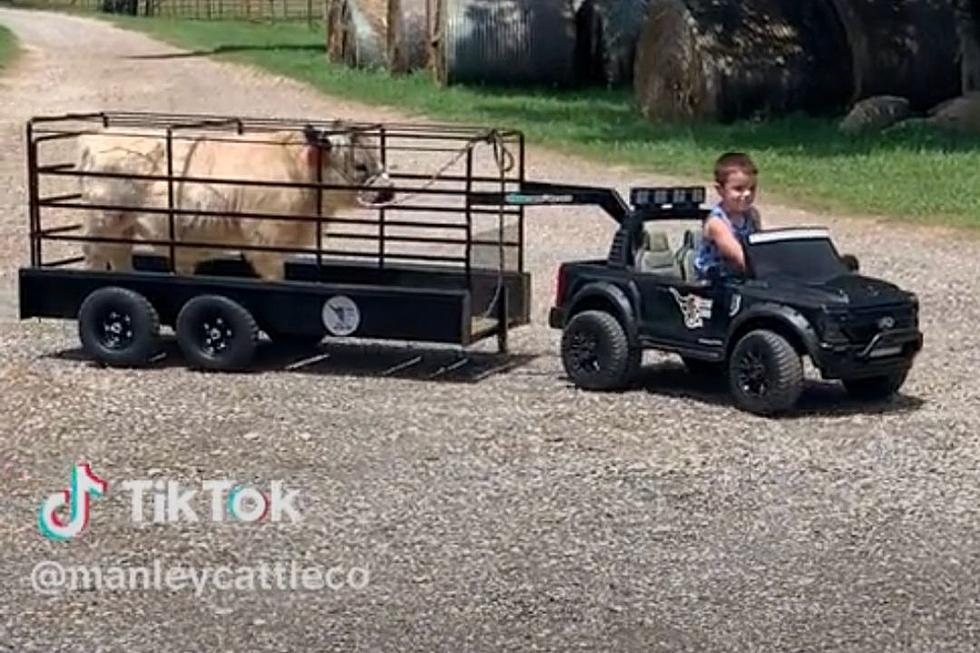 A Toddler Towing a Cow Is the Video You Didn't Know You Needed to See [Watch]
@ManleyCattleCo, TikTok
On the farm, when the cows need to be moved, sometimes it can be an all-hands-on-deck situation. For the Manley Cattle Company, this means even enlisting the help of your toddler and their Power Wheels to get the job done, with some swagger.
Manley Cattle in Northern Oklahoma posted this video of a husband and wife's toddler towing their newest mini-cow, Earl. The setup on the toddler's Power Wheels looks to be a custom job, with an added area for a fifth wheel — which looks to also be a custom mini-trailer — built just for this purpose.
They picked the perfect song to accompany the viral video: "Livin' My Best Life," by Dylan Scott. No word if Dylan Scott has seen this video yet, but when he does, as a dad himself, he will no doubt be super proud.
A glance through the comments of this viral video shows nothing but love to the family and their endeavors.
@DieselApe writes: "When they they want 15 years experience by the time your 18!!!"

@gordoibarra1993 writes: "now I need a mini cow for my son to move around lol"

@SaraAlyssa has a great question: "what's the towing capacity on that thing?"
You might want to give this TikTok page a follow if you love all things cows and cute. They have many other videos of all of their cows, mini and regular sized, that are mainly adorable and will no doubt add some good vibes to your day.
The video has garnered millions of views already, and thousands of comments. It's also being shared a ton, showing that this is a video that everyone needs to see.
Evan Paul is the host of Taste of Country Nights, a syndicated radio show heard on more than 120 country radio stations nationwide, every night from 7PM to midnight. He plays the best new country music and interviews today's top stars, like Luke Combs, Miranda Lambert, Dan + Shay, Keith Urban, Carrie Underwood, Luke Bryan, Chris Stapleton, Lady A, Morgan Wallen, + more! 
PICTURES: See Inside 'Flip or Flop' Star Christina Haack's Gorgeous $2.5 Million Nashville Farmhouse
Flip or Flop star Christina Haack has purchased a gorgeous 6-bedroom, 5.5-bathroom, 5,000-square-foot farmhouse in a rural area outside of Nashville, and pictures show a blend of country charm and luxury.
PICTURES: Look Inside Miley Cyrus' Staggering $14.5 Million Farmhouse Estate
Miley Cyrus has sold her luxurious farmhouse estate outside of Nashville, and she made a whopping profit compared to what she paid just five years ago. Cyrus sold her 5-bedroom, 5-bathroom, 6,689-square-foot luxury farmhouse for $14.5 million in an off-the-books deal, marking one of the most expensive homes sales in the Nashville area in 2022. That price represents more than double, but less than three times what Cyrus paid when she purchased the rural estate for $5.8 million in 2017.
60 Country Stars' Real Names Revealed
Now organized alphabetically to help you find the real name you're searching for.