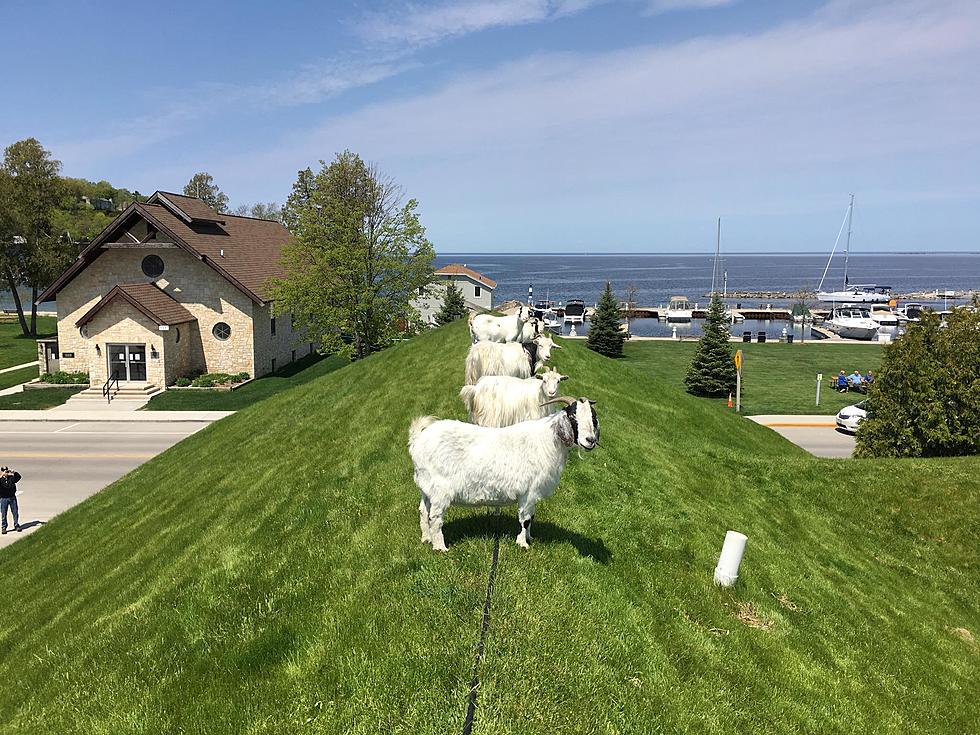 Wisconsin's 'Most Interesting' Restaurant Has Goats on Its Roof
Al Johnson's Swedish Restaurant & Butik, Facebook
When I heard that there was a Midwest restaurant with goats on its roof, I thought the goats would be fake. I was SO wrong.
In the city of Sister Bay, Wisconsin is a place called Al Johnson's Swedish Restaurant & Butik. It's a family-owned restaurant that serves Swedish dishes like meatballs, pancakes with lingonberries, and homemade pickled herring. But, it's not just the menu that sets Al Johnson's apart from other restaurants. It's the fact that there are LIVE GOATS ON THE ROOF. That's why it was named Wisconsin's most interesting restaurant by Love Food!
According to Wikipedia, Al Johnson's got its start in 1949 under the name Al's Home Cooking. In 1973, Al and his wife Ingert did a major remodel on the building, which is when the sod roof made its debut. After the renovations were complete, Wink Larson, a friend of Al's, gave him a goat named Oscar as a gag gift for his birthday. Wink decided to put Oscar on the roof of the restaurant as a joke, but it ended up getting the restaurant a lot of attention, so a new tradition was born! The Wikipedia page reads:
"In 1996, the Johnsons registered the "Goats on the Roof" trademark, so that other competing restaurants in the United States are prohibited to having goats on their roofs."
The goats at Al Johnson's are typically up on the roof from May through early October, depending on the weather conditions. There are usually four or five of them up there, and they graze from 9 a.m. until around 3 p.m. Although Oscar was initially placed on the roof via a ladder, the goats are now lead up a three-level ramp located outside the back of the restaurant. They even have a couple of live "Goat Cams" on their website that anyone can watch! You can check those out HERE.
Unfortunately, Al passed away in June of 2010, but his legacy lives on! The restaurant's website says that "his wife Ingert still owns the business, which is run by Al's three children, Lars, Annika and Rolf." You can visit Al Johnson's Swedish Restaurant & Butik daily from 7 a.m. to 3 p.m.
Iowans Share Their Adorable Pets on National Pet Day
Ridiculous Things Our Pets are Afraid Of
No matter how tough they act, our pets are all big babies! We asked listeners to share the ridiculous things their pets are afraid of, and here are some of our favorite responses!