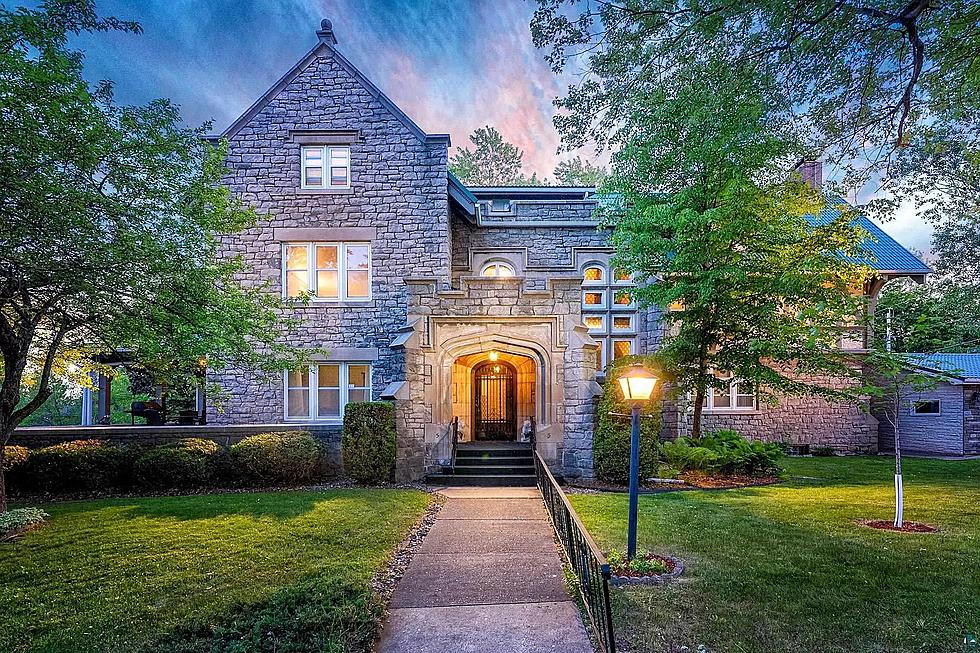 Beautiful! Duluth's Historic Cutler Mansion Just Hit the Market for Under $1 Million
Duluth's Cutler Mansion / Zillow.com
Built in 1912, the Cutler Mansion is one the most recognizable houses in the Duluth. It's not often that a piece of history is available to purchase, but this property has officially be listed for sale with a listing price that is under $1 million.
The Cutler Mansion is located at 5 N. 23rd Avenue East in Duluth and you'll likely recognize it right away with it's limestone facade sitting on a nice corner lot.
What's particularly unique and intriguing about this listing is that while it was built as a single-family mansion, it has since been made into a four-plex so the new owner could keep it that way and generate revenue. They could also revert it back to single-family home as originally intended or go in a whole new direction with the property.
Whatever the future holds for Duluth's Cutler Mansion it's definitely worth looking through. Enjoy!
Gorgeous! The Historic Cutler Mansion in Duluth Is On The Market For Under $1 Million
Featuring a limestone facade and a castle-like appearance, one of the most recognizable homes in Duluth is the Cuter Mansion. Recently, this historic home went on the market for just under $1 million.
Dwight Cutler, a building materials mogul, obviously spared no expense when commissioning the construction of this residence, which was built in 1912. The exterior stone was quarried from Lake Erie's Kelly Island and the woodwork throughout was skillfully crafted.
The mansion features 8,484 square feet including 12 bedrooms and 7 baths on a large, treed, corner lot. It also provides 4 attached garage spaces.
What's interesting about this listing is that it could be a revenue generator for the new owner. It was built as a single-family residence, but has since been converted into a four-plex.
Each unit of the four-plex features large living spaces, spacious bedrooms, full kitchens, and private laundries. It also provides gorgeous common spaces.
The home is currently being used as a rental, but it could also be used as a multigenerational home, possibly a bed and breakfast, or even converted back into a single-family home.
There are a lot of great options for the new owner. Take a look at Duluth's Cutler Mansion, which went on the market for $849,900.
North Shore Luxury! A $750K Two Harbors Listing With A Separate Airbnb Space On-Site
If you're looking to live in a north woods style home, with over 2 private acres and views of Lake Superior, then check out this prime property in Two Harbors, Minnesota.
This spacious home sits on 2.53 private acres and features 4,726 square feet of living space that includes 4 bedrooms, 5 baths, a gorgeous kitchen, bonus rooms, heated tile floors and other top-shelf finishing touches. There's also a separate Airbnb/short term rental on the property that could help pay the mortgage while still giving the homeowner complete privacy.
The location is also fantastic because not only are you not too far away from the Twin Ports area, but your also just 45 minutes or less from Gooseberry Falls, Split Rock Lighthouse, Tettegouche State Park, Grand Marais, Lutsen Resort, & the Superior Hiking Trail. It's a 'best of both worlds' scenario.
This property hit the market in November, 2021 for $750,000 and was sold by the end of the year for full asking price.
Take a look at this premiere Two Harbors listing.
Sold! Lake Superior Views Aplenty In This Duluth Home Originally Listed For $1.7 Million
Duluthians and tourists both love to visit Skyline Parkway as it provides plenty things to do as well as unbeatable views of Duluth and Lake Superior. Now, imagine living in a home that provides that 247?
That's just what this home, which was originally listed at $1.7 million, provides! You'd never tire of the views of Lake Superior that you'd enjoy from the living room, the kitchen and more. Take a look!
Update: The home ultimately sold for $1,275,000, with a closing date of 12/01/2021.