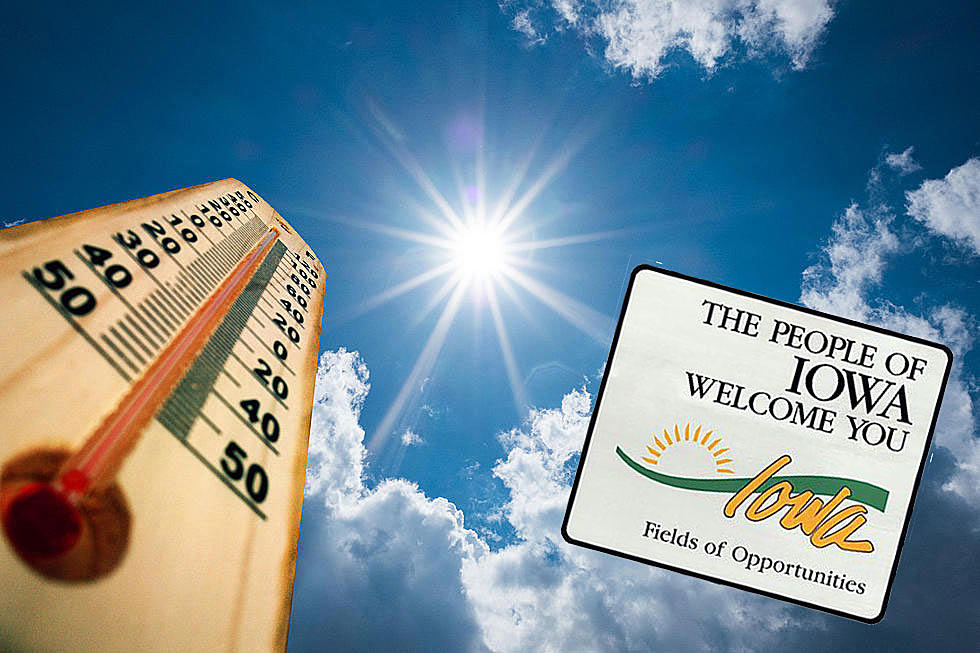 Iowa Set to Experience Unprecedented Weather This Summer
RS23204_GettyImages-8248455
Do you have plans for a summer vacation?  Is a water park on the docket?  Or maybe going to a beach down south?
With last summer ranking as the third-hottest summer in 128 years and now, the Farmer's Almanac predicting some crazy weather patterns across Iowa for this summer...you'll want to keep an eye on the weather for sure!
Why do We Listen to the Farmer's Almanac
The Farmer's Almanac has a long and storied history. It was first published in 1792 and provided useful information for farmers, including tide tables, astronomical data, and even jokes.
Its long-range forecasts were based on a complex formula that took into account a wide range of factors, including solar activity, lunar cycles, and the positions of the planets.
Over the years, the Farmer's Almanac has become an institution in American culture. Its predictions are often cited by news outlets and trusted by millions of people.
Should We Trust The Farmers Almanac's Weather Predictions?
According to an Illinois University Study, "the Old Farmer's Almanac is roughly 52 percent accurate" yet here we are still curious about what it says.
Long-term weather forecasting is a challenging task due to the complex factors that influence weather patterns, including global climate patterns, and ocean temperatures.  Local weather conditions, such as wind direction and speed, humidity levels, and air pressure all play a part.
Predicting how these factors will interact with one another to produce a specific weather pattern over a long period of time is a difficult task.
Weather To Expect for Summer 2023
The Farmer's Almanac's long-range weather outlook predicts that temperatures will soar across most of the nation, with occasional bouts of heavy precipitation and hurricane threats.
June is expected to be stormy, particularly in the areas east of the Mississippi River. By the end of June, the heat will be felt nationwide, and temperatures could even reach 100°F.
July will see some sweltering conditions in many areas, especially around the 4th of July holiday.
The middle of August will likely bring even hotter temperatures, with some areas experiencing heat indices approaching 110°F.
Above-average rainfall looks to be headed our way too.
So, get ready for a summer of sizzling temperatures and extreme weather conditions. Prepare to turn up the AC and you might as well stock up on sunscreen because summer 2023 is going to be a hot one!
Iowa's Second Oldest Bar
Frick's Tap on West 3rd St in Davenport is Iowa's second oldest bar. Cold beer, great service and a heated bar. What more could you ask for?!
Iowa's Island City
There is something unique about every town, but there is really something special about Sabula, IA. Known as "Iowa's Island City," Sabula is the only town in the state of Iowa that is entirely on an island. While not a lot of people have been to, or live in Sabula, it is a quaint little town nestled right on the Mississippi River.
Before we show you around "Iowa's Island City," let me give you the history of Sabula. Sabula was established in 1835,
according History of Jackson County, Iowa, Volume 1 by James Whitcomb Ellis.
Isaac Dorman and a man named Hinkley crossed the river from the Illinois side on a log and decided to settle on what is now Sabula. An Ohio couple, James and Margaret Woods would settle on Sabula about a year later in April of 1836. Their son, Dr. E. A. Woods would purchase Hinkley's interest in the claim. Charles Swan and W. H. Brown would soon purchase Dorman's interest. The three men, Woods, Swan and Brown later had the land plotted in 1837.
According to Island City Harbor's website
, Sabula went through a few names before landing on the official town name. In 1837, Sabula was first called Carrollport. Residents of the town didn't like the name because there was a man's name who was Carroll who had a bad reputation. The town changed its name to Charleston, after early settler Charles Swan. The only issue was that there was already a town called Charleston in Iowa which caused much confusion.
Sabula did not actually become an island until 1939. According to Wikipedia, in the 1930's, the Army Corps of Engineers constructed the lock and dam system. In 1939, Lock and Dam No. 13 between Clinton, IA and Fulton, IL was built which caused the bottomlands west of the town permanently flooded. With the Mississippi River east of the town, this created the "Island City." A levee was built around Sabula in 1957 for protection,
according to Island City Harbor's website
. This also allowed for the south sand pit to be turned into a boat harbor.
I would like to thank my mom Beth, her fiancé Matt, my brother Nolan and my wife Ellie for accompanying me to Sabula. We always have a blast on our trips and this one was no exception.
It's now time to introduce you to Sabula, Iowa, Iowa's Island City.