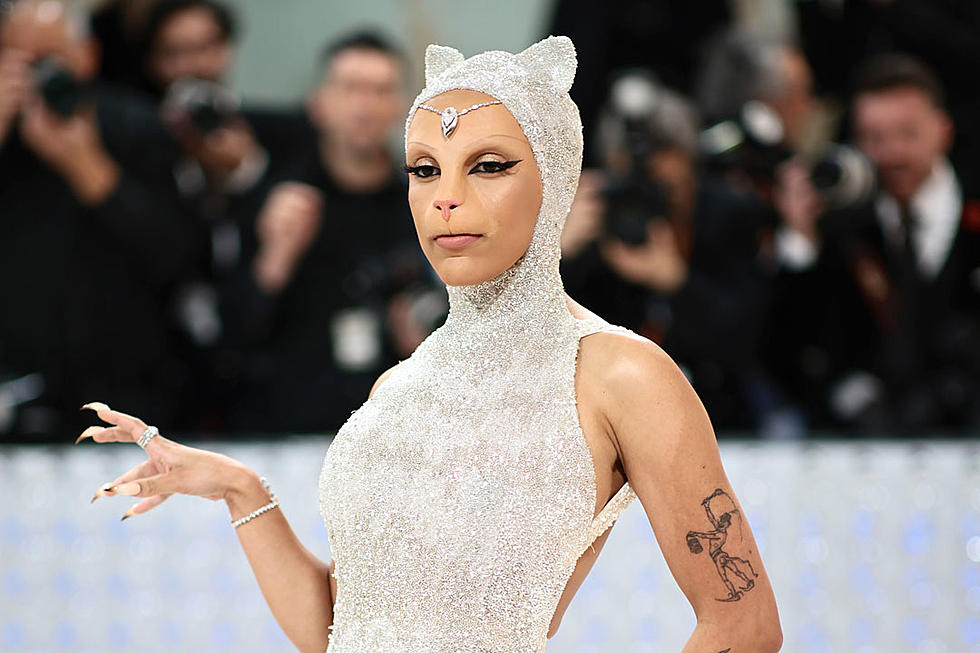 Here's How Doja Cat's Met Gala Cat Face Was Made With Prosthetics
Dimitrios Kambouris/Getty Images for The Met Museum/Vogue
Although Doja Cat probably won't be invited to the Met Gala again, it's safe to say her decision to dress up as Karl Lagerfeld's cat is sure to leave a lasting impression. If you're wondering how she pulled it off, we got you covered.
On Tuesday (May 2), the world found out just how Doja Cat arrived at the 2023 Met Gala and appeared visibly transformed into a cat via several Instagram videos posted by Instagram itself, Vogue and a special effects artist. This was thanks to the incredible work done by prosthetic artist Malina Stearns and makeup artist Ernesto Casillas. Doja's entire face took four hours of prosthetics and glam to create. Oscar de la Renta and their co-creative directors Fernando Garcia and Laura Kim designed Doja's entire look, which was in the works almost a year in advance. Her cat-inspired makeup was in honor of her name of course, and also an ode to Lagerfeld's cat Choupette. The prosthetic idea itself came from Doja, according to Brett Alan Nelson, her creative director and stylist.
Nelson then contacted Stearns and from there, Stearns took a mold of Doja's face approximately two months ago, carefully refining the shape of the sculpture over time until it was perfect. Stearns also used photos of Choupette as a guide. The cat ears were just the icing on top, as they were attached to the hood of the hand-beaded gown. Another key component was for Casillas to take a subtle approach to ensure the final look conveyed "more beauty, less costume."
"So many thank yous for this incredible opportunity to showcase my work on this runway," Stearns wrote on Instagram. "I'm always delighted to make @brettalannelson and Dojas vision come to life. Big shout out to @mannylemusfx for handling the molds on this and doing a last minute clay pour so I could do a resculpt and make some changes. You are a life saver! Thanks to my friend @jackeffects who was able to smooth the edges back down for me after the sculpt was floated off it's original cast while I was in South America. See the last pic for the first sculpt. Also such a pleasure to work with @ernestocasillas and merge the prosthetic with the beauty. It can be such a trick thing to do and Ernesto killed it."
In full cat-theme, the rapper also decided to not break character and meowed during an entire red carpet interview with Vogue at the Metropolitan Museum of Art.
See Doja Cat Transform Into a Cat for the 2023 Met Gala Below
Watch the Making of Doja Cat's 2023 Met Gala Look
See 10 Things You Need To Know About Doja Cat's Met Gala Look
See the Most Recognizable Looks in Your Favorite Rappers' Careers
Nicki Minaj, Future, Lil Uzi Vert and more.