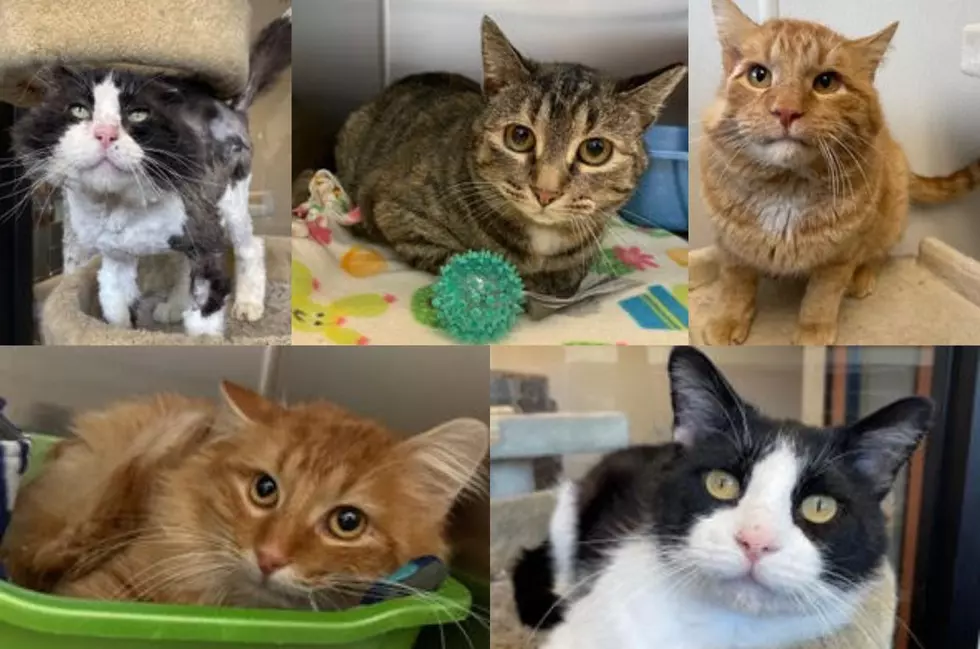 Five Special Need Cats in Rochester Searching For Forever Homes
Paws and Claws Humane Society
I'm so happy that, thanks to you, we've been able to help three cats (Scout and Jem, and Joy) find their forever homes in the past 6 months! But now there are five more at Paws and Claws Humane Society in Rochester, MN that could use our help, too.
These five cats have come from different situations but all have one thing in common, they're FIV positive. FIV (Feline immunodeficiency virus) is sometimes called cat HIV or cat AIDS. Pets WebMD says, "The virus works by killing or damaging cells in a cat's immune system, often targeting white blood cells." Cats are able to pass FIV on to other cats if the positive cat bites another cat.
Because these cats are FIV+, Paws and Claws isn't allowed to adopt them out through their website or Facebook page. Typically they send FIV+ cats to Home for Life Animal Sanctuary but they aren't taking any FIV+ cats right now until at least the end of the summer. So that's where we come in!
Since I'm a volunteer at Paws and Claws, I got an email over the weekend about these five. FIV+ cats can live long and healthy lives as long as they're indoor-only cats, have a high-quality diet, live a healthy lifestyle, and are taken to the vet regularly.
Let's get into what I know about these cats individually! If you are interested in adopting or learning more about one (or more) of them, contact Paws and Claws Cat Adoption Counselor Josie Stoeckel at catadoption@pawsandclaws.org. Or if you can't adopt, pass their stories along to someone who may be interested! Also, adoption fees are waived for all five of these cats.
---
Mittsu
Mittsu is 2-years-old and when he was found in Rochester in February his back right leg was badly injured. His leg needed to be amputated but he was still a little nervous at the shelter. He was moved to a foster home and has since warmed up and become more relaxed and friendly.
---
Orson
Poor Orson has so many mats of fur on him they had to shave them all off. He's 6 and half years old and on top of all the matting, he also had scars and scabs from past injuries, bad teeth, and damaged ears. Now that the vet has him all fixed up he's a happy guy who likes to play and get pets.
---
Scratchie
Scratchie was found in SW Rochester in February. They estimate him to be 2 years and 9 months. The people who rescued him said he was attacked by a possum and had lots of wounds. He also had some broken teeth and a mass on his cheek. While he was being neutered they did his needed dental work and also took out the mass on his check, which ended up being a benign skin tag. He's all ready to go to his forever home!
---
Snoopy
Snoopy is a 4-year-old male that was found on a farm in Zumbrota a few months ago. They say he's very lovable and loves to be petted, play, and explore.
---
Quinn
Quinn is a cute little girl who is 3-years-old. Once she feels comfortable with you she likes being petted. They describe her as being easy-going and likes to play.
Listen to the Get Up & Go Morning Show w/ Dunken & Carly On-Demand below, with the 106.9 KROC app, and on the following podcasting services:
Apple | Google | Spotify
Why do cats have whiskers? Why do they meow? Why do they nap so much? And answers to 47 other kitty questions:
Why do they meow? Why do they nap so much? Why do they have whiskers? Cats, and their undeniably adorable babies known as kittens, are mysterious creatures. Their larger relatives, after all, are some of the most mystical and lethal animals on the planet. Many questions related to domestic felines, however, have perfectly logical answers. Here's a look at some of the most common questions related to kittens and cats, and the answers cat lovers are looking for.