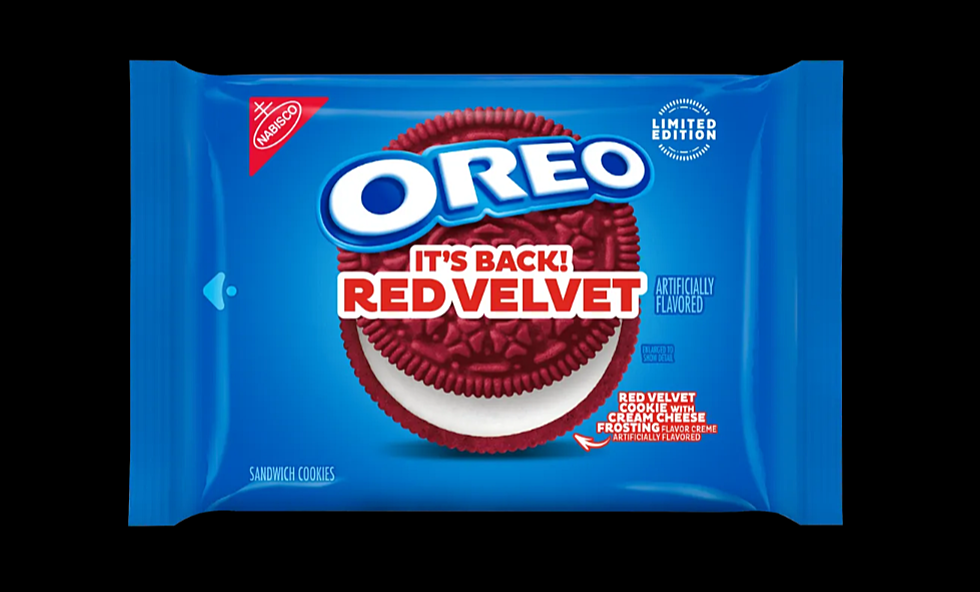 Popular Treat Back in Minnesota after 3 Year Hiatus
USA Today/Nabisco/Oreo
They're Baaaaaccckkkkk....
It's the little things that keep most of us going.  And one of those things is waiting for a seasonal treat to come back.  First it was all the pumpkin stuff (at nauseam) and a few other things - Halloween everything, fall colors... soon.  There are the orchard openings, and now, back by popular demand (not sure who is demanding) it's...
RED VELVET OREOS!
Yes, red velvet Oreos are back for a limited time beginning today, September 12th.  If you are unfamiliar with these sweet treats, they are a bit sweeter than regular Oreos.  They have the red velvet flavored cookie with a cream cheese flavored middle "stuff".  They have not been around since 2020.  But this year they are making a comeback.
From USA Today:
Red velvet is Oreo's most requested flavors, the company said. It first appeared on shelves in February 2015 and was discontinued in 2020 to make room for other flavors.

Oreo has a variety of unique flavors currently available for purchase, including toffee crunch, caramel coconut, birthday cake and java chip.
In full honesty, I haven't been a fan of many of the flavors that Oreo has come out with.  But it is kind of fun to try and figure out what the mystery flavors are when those show up.  The last one was Fruity Pebbles... at least the last one I tried to figure out.  And they usually run a contest for people to try and figure out the flavor.  What they succeed with in that situation is selling A LOT more of their cookies.  Gimmicks... gimmicks that we all fall for.  It's ok.
If you want to try the red velvet version of Oreos, they will be around for just a few weeks and are available at Target.  Probably also available at some grocery stores too, but Target is apparently carrying them.
LOOK: 25 must-visit hidden gems from across the US
From secret gardens to underground caves,
Stacker
compiled a list of 25 must-visit hidden gems from across the United States using travel guides, news articles, and company websites.
Come Visit Buckman, Minnesota in Pictures