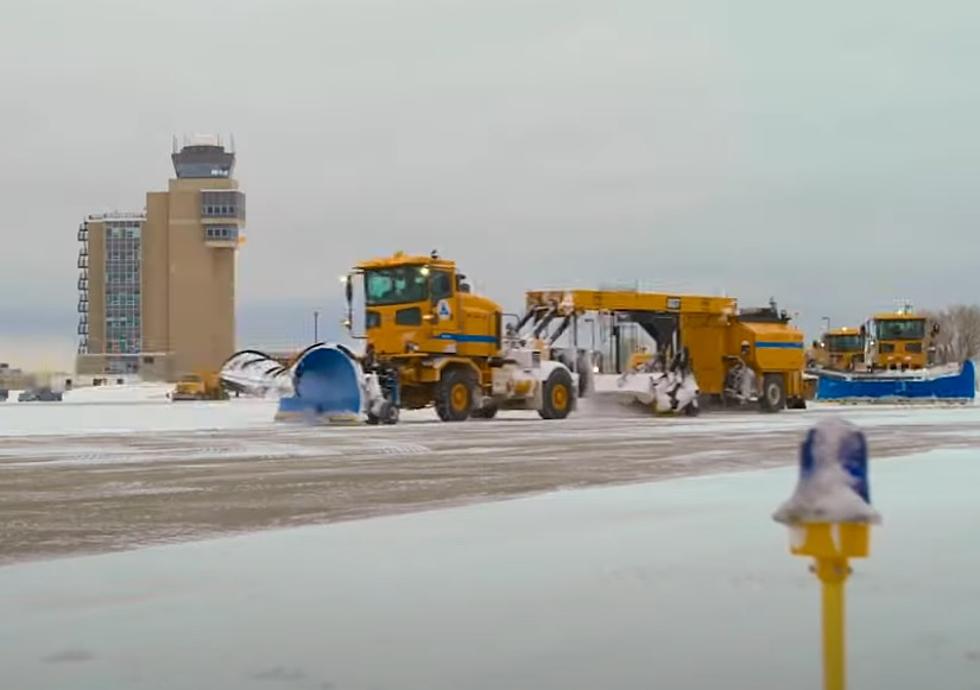 See How This Special 'Conga Line' Helps Clear Snow Here in Minnesota
YouTube
While you may have heard of a conga dance line, THIS conga line doesn't dance, but it DOES help clear snow quickly here in Minnesota.
You've likely seen a line of four or five Minnesota Department of Transportation (MnDOT) snowplows in formation, clearing snow from a multi-line highway, like I-35 or Highway-52 here in southeast Minnesota, right?
While that's impressive, I'm guessing you haven't seen how the snow removal team at the Minneapolis St. Paul International Airport (MSP) clears snow from its runways... using something it calls a 'conga line.'
With snow possible in the forecast for any time from October through May, MSP Airport has a dedicated team of over 100 snow and ice removal experts who get to work when Old Man Winter gets angry here in the Land of 10,000 Lakes.
Speaking of Flying, Click Here to See Where Can You Fly Direct to From Rochester
According to a release from MSP, the Field Maintenance Department of the Metropolitan Airports Commission (MAC) is a key piece of the team, and works along with the airlines, the FAA and the MAC's Airside Operations Department to coordinate all the snow removal operations at Minnesota's biggest airport.
The MSP crew routinely works to clear snow from 28-million square feet of pavement at MSP's airfield in Bloomington to keep it safe for airline operations and keep MSP delivering one of the best on-time performances in the country.
Once it starts snowing (like today and tomorrow), the MSP crew gets to work, using their special 'conga line' formation to keep runways clear. It consists of between 15 to 20 pieces of snow removal equipment, all working together to clear the snow. Most times, MSP says, they only have to shut down a runway for just 15 to 20 minutes-- a task that takes much longer at other airports.
It's really impressive to see. Check it out in the video below! And keep scrolling to check out rules for clearing snow here in Rochester, as well.
Listen to Curt St. John in the Morning
weekdays from 6 to 10 a.m. on Quick Country 96.5
Rochester's Sidewalk Snow Removal Rules (Scroll Slowly)
I say scroll slowly in the title because there's a lot of info here.
Rochester Minnesota's Rules About Snow Plows and Your Mailbox
The City of Rochester, MN, has a set of rules for just about everything, and you betchya there's a set for when one of the city snowplows hit your mailbox. Scroll slowly, take in all the rules, then good luck with winter!