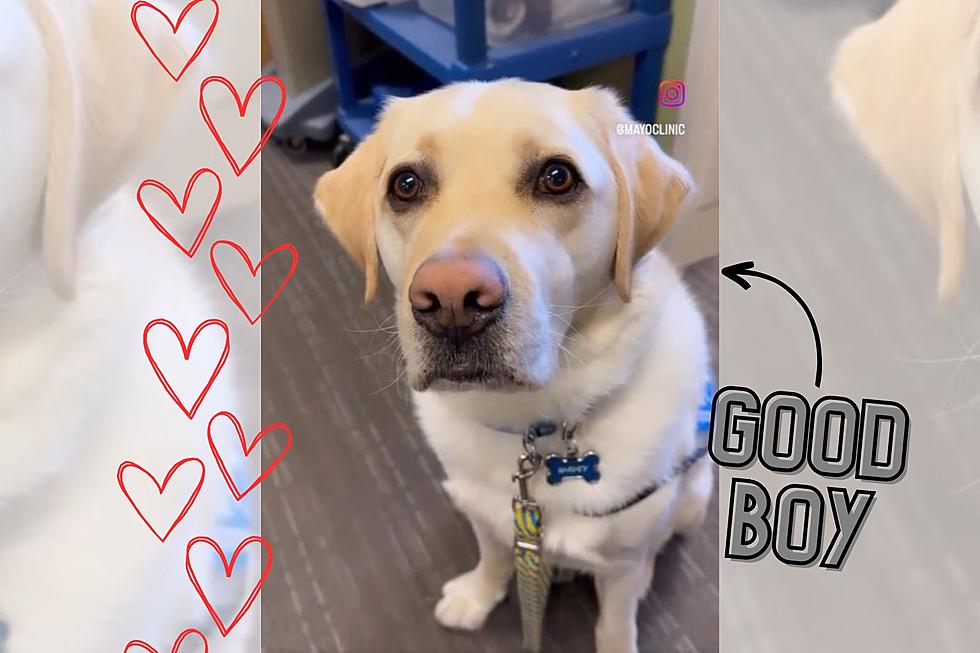 Meet the Adorable Dog You Might See While Visiting Mayo Clinic
Mayo Clinic via Facebook
Animals can really help with our mental and even physical health. And if you ever visit Mayo Clinic in Rochester, Minnesota you may be able to get a little healing assistance from a special four-legged friend!
I had no idea that Mayo Clinic had what they call "trained facility dogs". They're basically the same thing as a therapy dog but, as MedicalMutt.com says, "Facility Dogs generally 'work' full-time at the facility. They also require special training to fit the needs of that institution."
I learned on Mayo Clinic's Facebook page that there are two facility dogs there that you may meet if you're ever at Mayo Clinic. One is named Alicia and the other, who we got to meet via video on their Facebook, is named Wavey.
Wavey is a yellow lab who is the definition of a good boy. On the Facebook post, Mayo says that Wavey "is trained in over 45 commands, such as retrieving dropped items, pushing open doors, giving a high five, and only barks on command." They say he's a sweet, calm, and curious guy and when he's not on the job he loves to explore and play in the water.
While he's at work he "excels in comforting patients during procedures, de-escalating patients that are stressed and anxious, and helping promote activity." Aren't animals just amazing? And I'm really happy to hear that Mayo Clinic has two incredible dogs like this to help patients who need it.
I'm pretty sure my cats would epically fail any test needed to be certified to help people in hospitals but even they are a comfort to me at home. I can imagine that these very well-trained dogs work wonders for the people they meet at Mayo.
RANKED: Here Are the 63 Smartest Dog Breeds
Does your loyal pup's breed make the list? Read on to see if you'll be bragging to the neighbors about your dog's intellectual prowess the next time you take your fur baby out for a walk. Don't worry: Even if your dog's breed doesn't land on the list, that doesn't mean he's not a good boy--some traits simply can't be measured.