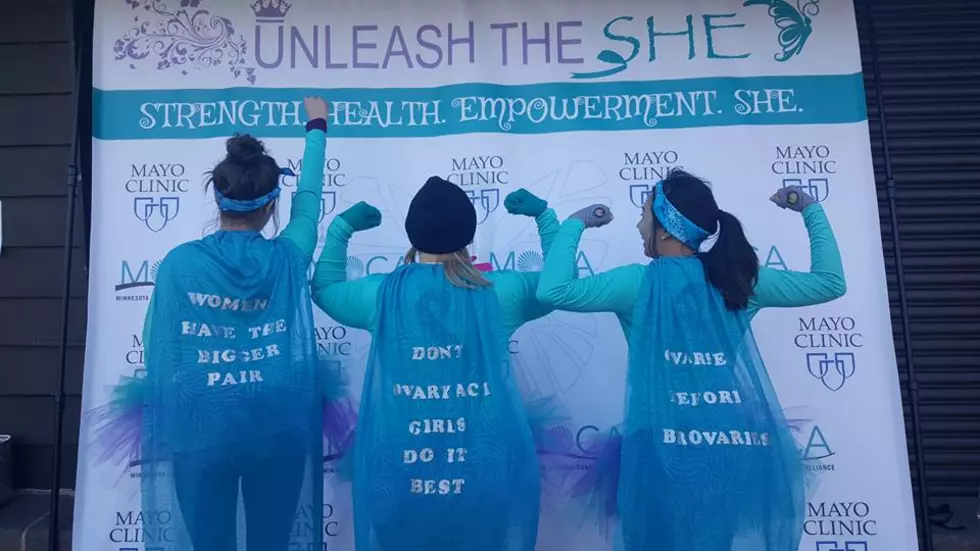 Support the Fight Against Ovarian Cancer at Big Rochester Event
Unleash the She Facebook
The big annual event, Unleash the SHE is back in Rochester, Minnesota! It's coming up soon so make sure to get signed up to help raise awareness for ovarian cancer and raise money for the Minnesota Ovarian Cancer Alliance (MOCA).
What is Unleash the SHE?
The event is a running/walking event that, like I mentioned earlier, raises money for MOCA. Also, SHE stands for Strength, Health, and Empowerment.
There are different races you can be involved in. There's a 5k women-only run, a 10k women-only run, and a 5k walk for everyone.
When is Unleash the SHE, Rochester, MN?
The Unleash the SHE races are coming up Saturday, October 29th at Mayo High School. The 5k and 10k runs will begin at 9 AM and the 5k walk begins at 9:20 AM.
After the races are complete there will also be special guest speakers from Mayo Clinic and MOCA. That will begin at 10:30 plus an ovarian cancer survivor will speak around 10:35.
How to Sign Up for Unleash the SHE, Rochester, MN
If you'd like to participate in this year's Unleash the SHE you can sign up on their website. Registration is $45 for the women's 10k and 5k and $38 for the co-ed 5k. $5 of each registration will go to MOCA and if you'd rather race virtually, the registration price is slightly reduced.
Also I'll be there emceeing again this year! I'll see you there and cheer you on from the sidelines.
13 Crazy Ways Nature Predicts a Harsh Winter in Minnesota
Nature is pretty amazing and can do some strange stuff that sometimes we don't totally understand. Some of those crazy things are ways that nature can predict there will be a harsh winter for Minnesota, Iowa, and Wisconsin. These are according to the
Farmer's Alamanac
.
Rochester's Oldest Home for Sale is Older Than St. Mary's
A home for sale in Rochester, Minnesota was built in 1875. It's the oldest home for sale in Rochester right now and was actually built before St. Mary's Hospital.