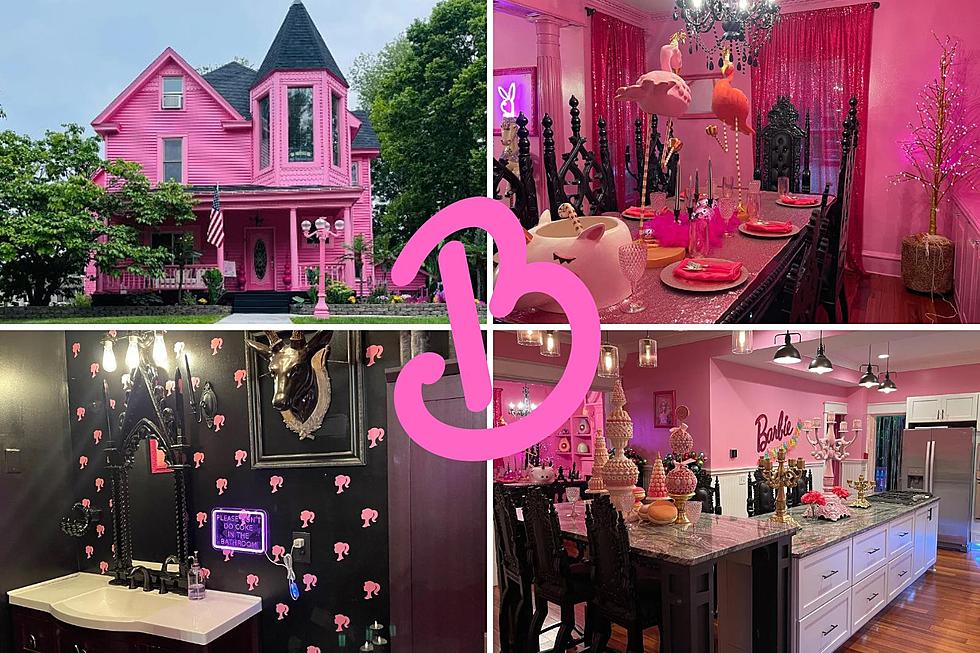 Barbie's Dreamhouse Is For Sale in Wisconsin, and You Need to Own It!
Jennifer Martin Edina Realty, Inc. via Zillow, Canva
Today I learned that Hudson, Wisconsin is home to TWO spectacular real-life Barbie Dreamhouses, and currently ONE of them is for sale!
Barbie Mania in Wisconsin
A while back I discovered this awesome Pink Castle Airbnb in Hudson, Wisconsin that's a great place to experience the ultimate girls' getaway...
Today a post came across my social media feed that Barbie's Dreamhouse is currently for sale in Wisconsin. Is the Pink Castle that I have dreamed about staying at seriously for sale? No, it's not, but another pinktastic Victorian home in Hudson, Wisconsin is.
Are you confused? I was too, but here's what I discovered.
Hudson, Wisconsin Has TWO Barbie Houses
When I clicked on the Zillow link for this Barbie-inspired home for sale in Hudson, Wisconsin and began looking at the listing pictures I quickly figured out this is an entirely different home from the Pink Castle.
The picture on the left is the Pink Castle, the photo on the right is the home currently for sale...
It's obvious from the outside that these two houses have different architectural designs, so why have I never heard about the second pink Victorian mansion in Hudson before? Turns out there's a good reason why.
Hudson, Wisconsin's Goth Castle
The second Barbie-inspired home for sale in Hudson was previously known as the "Goth Castle" and used to look like this...
Further internet sleuthing proved that both the Pink Castle and the Goth Castle are owned by the same woman named Brooke Fleetwood of Fleetwood Rentals. I also learned that the Goth Castle has actually been on the market since October 2022, so I'm assuming its new pink transformation was recently done to cash in on the current Barbie craze and attract more buyers.
The Goth Castle is now known as the "Barbiecore Castle" and here's what it looks like inside today...
If the above is just too Barbie-crazy for you, don't worry. The outside of the home may be covered in pink, but the entire inside is not, and some of its former gothiness remains...
The 7-bedroom, 4-bathroom Barbiecore Castle is currently a vacation rental, (and has listings booked through 2024), but could "easily be converted to a stately residence, or owner-occupied rental".
The Zillow listing says;
Greeted by a gorgeous staircase and original 6ft stained glass windows in turret/2nd-floor reading nook. Main floor, two full kitchens with informal dining, formal dining, and living space with built-ins and fireplace, main floor family room with original woodwork. 4 bedrooms on the second level and 3 bedrooms on the third level with a movie theater room. Enormous owner's suite with en-suite bath, walk-in closet, and laundry.
Now for the big question; How much will all this unique luxury cost you?
$1,100,000.
See the full listing here.
Check out pictures of Hudson, Wisconsin's other pink home, the Pink Castle...
Wisconsin's Pink Castle Makes the Ultimate Girls Getaway
Here's one more unqiue Wisconsin home that will get your vacation dreams flowing...
Gigantic Custom Barn Most Amazing Multi-Family Wisconsin Getaway Rental
This 7,400 sq. ft. barn near Lake Geneva couldn't be more perfect for that dream 'in the woods' vacation with a bunch of your favorite people.