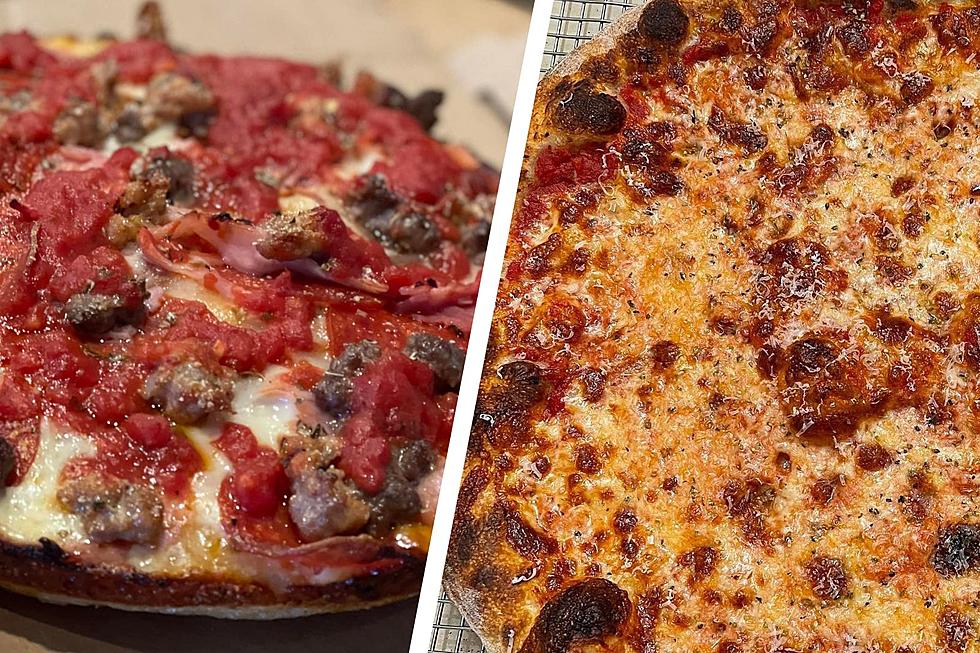 Eastern Iowa Restaurants Have Some of the Best Pizza in Iowa
Tomaso's Pizza Cedar Rapids Location, Smash Pizza/Facebook, Canva
When it comes to pizza, everybody has their personal favorite. Do your prefer the thick crust of Chicago-style? The wide slices of New York-style? Or the crispy edges of Detroit-style? Some would say "all of the above!"
The Des Moines Register recently put together an article outlining the best pizza places in the state of Iowa using a new study by The Washington Post. The Washington Post looked through 7.5 million Yelp reviews to determine the best pizza places across all 50 states, and they recognized the favorites for six different styles of pizza.
Let's start with a Midwest favorite: Chicago-style pizzas. According to the Skydeck website, Chicago-style pizza is defined by its extra-high crust and thicker tomato sauce. Number one on the list from the Washington Post was Zoey's Pizzeria in Marion, followed by Cappy's Pizzeria in Cedar Rapids. Vitale's in Clinton came in at number four, and Wig & Pen in Iowa City is number five on the list.
If you prefer Detroit-style pizza (my personal favorite as a native of Michigan), Tomaso's Pizza is the place to go here in Eastern Iowa. It came in second place, only beat out by a place called Parlor in Des Moines. Wikipedia says that Detroit-style pizza "rectangular pan pizza with a thick, crisp, chewy crust" that is "traditionally topped to the edges with mozzarella and/or Wisconsin brick cheese, which caramelizes against the high-sided heavyweight rectangular pan."
When it comes to Neapolitan-style pizzas (puffy-crusted pizzas that are typically baked in a wood-fired oven, according to the Des Moines Register), Iowa City's Maggie's Farm Wood-Fired Pizza has the best in our part of the state. It came in at number two, followed by Basal Pizza in Waterloo, Lincoln Winebar in Mt. Vernon, and Rusciano's in North Liberty. I'm ashamed to say that I've never had pizza at ANY of these places!
And finally, we have the top New York-style pizzas. Wikipedia defines them as "traditionally hand-tossed, consisting in its basic form of a light layer of tomato sauce sprinkled with dry, grated, full-fat mozzarella cheese." The slices are typically wide enough to be folded in half and eaten on the go. Smash Pizza in Bettendorf came in second, Cappy's Pizzeria in Cedar Rapids is in fourth, and Lopiez in Davenport was ranked sixth in the state.
Out of all the pizza places here in Eastern Iowa, I would say that Tomaso's is my absolute favorite. Which pizza place do you prefer? Let us know in the comments or by shooting us a message in the app!
You can check out the rest of the top pizzas in the state from the Des Moines Register's article HERE.
25 Eastern Iowa Restaurants We Want on 'Diners, Drive-Ins & Dives'
The Food Network show 'Diners, Drive-Ins and Dives' hasn't made very many stops in Iowa, so we wanted to give them a few ideas for their next visit! Our list contains diners, hole-in-the-walls, small town staples, places that have stood the test of time, and restaurants that just have that perfect dive-y vibe. Most of our picks come from the Cedar Rapids/Iowa City areas, but we did include a few favorites that are a bit of a drive! Here are 25 of the places we'd love to see on 'Diners, Drive-Ins and Dives' someday:
The Highest-Rated Cedar Rapids Restaurants on Yelp (September 2023)
We have a ton of great local restaurants in Cedar Rapids, but which ones are the best of the best? To determine the top 15 restaurants in Cedar Rapids, we looked at
Yelp
reviews for businesses that are within city limits. Here are the highest-rated restaurants as of September 12th, 2023: